I Tried J+S Blue Light Glasses and Here's How Much They Changed the Way I Work
If you're looking for trendy frames to ease your tired eyes after a long day at work, look no further than these seriously awesome low color distortion blue light glasses.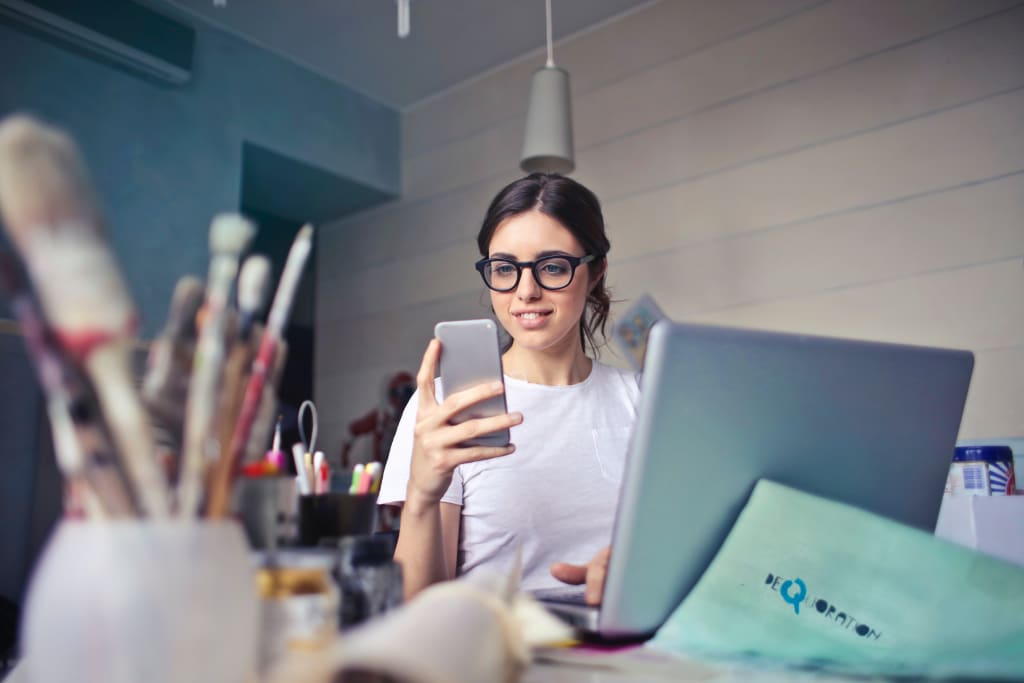 Photo by bruce mars on Unsplash
As a newcomer to the workforce, I had no idea the effect staring at a computer screen all day would really have on my eyes. I mean, sure, I used my laptop a lot in college, but certainly not eight hours a day, five days a week. Needless to say, the transition has been jarring on my poor eyes (and body, but that's a whole other story). For months now I've been coming home every day and feeling like if I even so much as glance at another screen, my eyes will literally fall out of my head (it's fine, I'm fine). They simply can't handle the strain of staring at my computer screen any longer. The headaches and lack of sleep? I'm so over it.
Eye strain from screens is real, y'all, and it's becoming more and more common in our digital-first world. Here's the gist: your computer screen, phone screen, TV screen, what-have-you emits light. Obvious, right? It's actually a little more complicated than that. The two main spectrums of light are visible and invisible. Visible light is made up of red, orange, yellow, green and blue light rays. Blue light contains the highest amount of energy among the visible light rays, and it's everywhere but most notably emitted in large amounts from our electronic device screens. Unfortunately, that high amount of energy from blue light is damaging to our eyes...and our eyes really suck at blocking it. Too much blue light without proper protection can lead to digital eye strain and eventually contribute to vision loss. Digital eye strain can cause headaches, dry eyes, increased light sensitivity, and even be part of the reason you're staring at the clock at 4:39 AM because you just can't fall asleep.
Here's where blue light blocking glasses come in! Dozens of manufacturers have begun making yellow-tinted glasses to appease the eye-strained masses.
Back to me. So the heroine of this story has realized she has a problem at this point. She's heard about the positive effects of blue light blocking glasses on eye strain, so she gets a pair and it's all easy-peasy, right? Folks, I'm sorry to say that this heroine is lazy and picky. On the lazy side, I didn't want a lame pair of Foster Grants from my local Rite-Aid—but I also didn't feel like going to a place that, like, sells glasses. On the picky side, well, see the lame comment. Quite frankly, there are almost no fashionable blue light blocking glasses on the market. The ones that are trendy are often ridiculously overpriced. All this coupled with the fact that I have zero glasses buying experience due to my Perfect Eyes™, I was at a loss. I needed something convenient (preferably that I could buy online while still trusting the quality), trendy (my coworkers are going to see me wear these, so I better look good), and relatively inexpensive (but also quality, again).
I'm now one year into my new life as working adult—calling myself that still doesn't feel real, PS—and after months of will-she-won't-she with shopping various brands and styles of blue light blocking glasses, I finally settled on the perfect pair from J+S Vision.
J+S Vision is a super awesome e-commerce company for high-quality and affordable protective vision gear. J+S Vision sells what are, in my opinion, the best blue light blocking glasses for work on the market. And, yes, they really are affordable! Even a penny pincher like me didn't run for the hills when shown the price. Their glasses are perfect for heavy gamers and workaholics alike, and they come in two levels of blue light blocking—high definition and low color distortion. I wasn't a huge fan of the noticeable yellow tint of the high definition glasses, so I went with the low-color distortion version in hopes they would look more like normal glasses. Specifically, I got the round frames in glossy tortoiseshell. I'm obsessed, to say the least.
J+S Vision really got the fashion aspect right. I look so hip!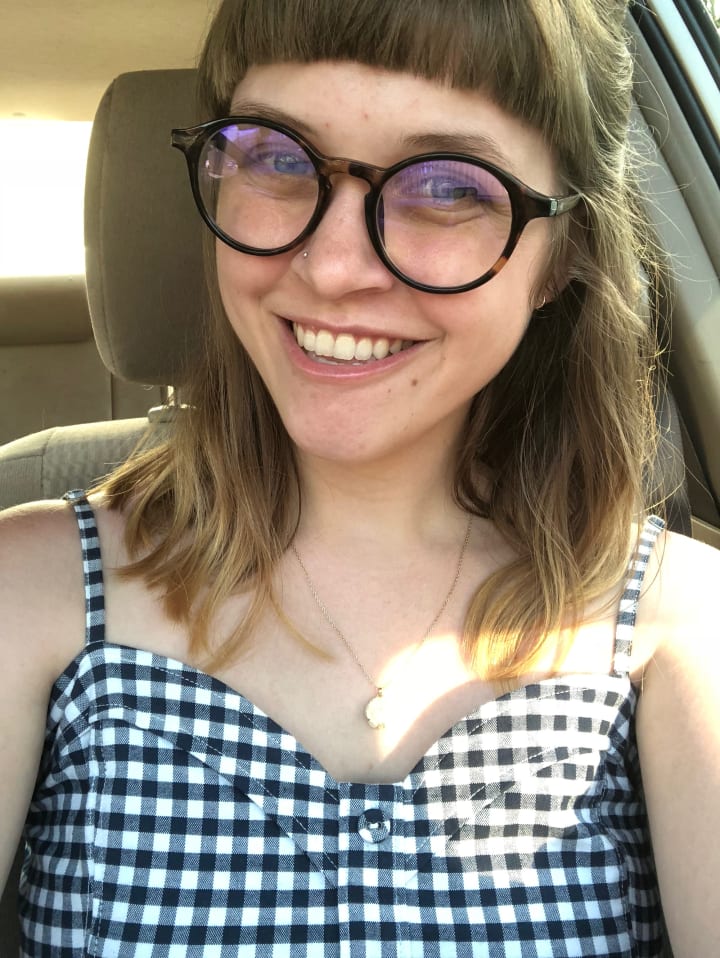 Yeah, yeah, I wanted to look good in my blue light glasses. If that makes me shallow, then sue me. Obviously, the look of my new glasses was the first thing I noticed. I've always wanted to rock Warby Parker-esque hipster frames, and now I can! They fit my face perfectly and I think I look really swell—that's half the battle, right?
Moving on to what you're really here for. Do they work?
An astounding "Yes" comes from the crowd. Seriously, these glasses are a game changer when it comes to the strain my 9-to-5 puts on my eyes. I've been wearing them for about a week straight now and I've already noticed a considerable difference in both my eye health and other aspects of my life!
As far as my eyes are concerned, I could go on for days about how much better they feel. They just feel healthier...it's hard to describe but I'll do my best. My vision is less blurred after a long day at work and they don't feel a sore and dry as they used to.
When I put the glasses on, my screen becomes ever-so-slightly sepia-toned and my eyes breathe a sigh of relief. As soon as I take them off, it's really quite jarring. I never noticed how absurdly bright and white my computer screen is! I took them off for a second just now and my eyes actively winced. So the effect of these glasses seems subtle, but they're really doing a lot of work that you only notice once you take them off again.
On the note of subtlety, the description rings true. The color distortion is super minimal, so you don't need to worry about your work getting ruined if you're a graphic designer. I guarantee you won't notice a difference, and your eyes will thank you.
The other symptoms of my digital eye strain have been relieved as well! I've definitely noticed a decrease overall in stress, headaches, and I feel like I concentrate better now that I wear them. Seriously, I used to complain about having a headache at least every other day. My coworkers can attest to this. Bright-eyed and bushy-tailed college me has made her triumphant return! On that note, I've been wearing them at bedtime while I aimlessly scroll through Reddit and Facebook, and I've been having significantly less trouble falling asleep lately.
Functionality-wise, these glasses are really a win.
They weren't kidding about the quality!
Aside from being affordable, J+S Vision's mission revolves around high-quality glasses. They're not lying! For less than $30, I'll be honest, I wasn't expecting a whole lot. But I'm happy to say I was wrong. J+S makes their glasses wonderfully sturdy and nothing about them feels cheap.
They also go above and beyond with their accessories! The low color distortion blue light blocking glasses come with a case and a microfiber lens cleaning cloth. I was expecting a sad plastic case that would break within a week of use. Instead, my expectations were exceeded again. The case looks super chic and has a leathery feel to it. If you told me the case alone was $30, I would be like, yeah, that makes sense. The cloth is really nice to have, too. And doesn't their logo look so nice on it?
All my boxes are ticked.
Circle back to what I said in the beginning about the three things my blue light glasses must be in order for me to actually bite the bullet and buy them: convenient, trendy, and affordable. Needless to say, J+S Vision gave me all that and more with my fancy new low color distortion blue light glasses. These glasses exceeded my expectations in every way and my eyes have truly never felt better. I seriously haven't shut up about them at work, and I've convinced quite a few of my coworkers to grab themselves a pair as well. If you're struggling with eye strain after a long day in front of the screen, I cannot recommend these enough.
product review
About the author
Just an Indiana gal who heard the call of the East Coast. Twitter and Instagram: @chel_bk
Reader insights
Be the first to share your insights about this piece.
Add your insights