How Vocal Scales the Freemium to Premium Model
Over the past decade, a combination of free and premium memberships has become the dominant business model among internet start-ups.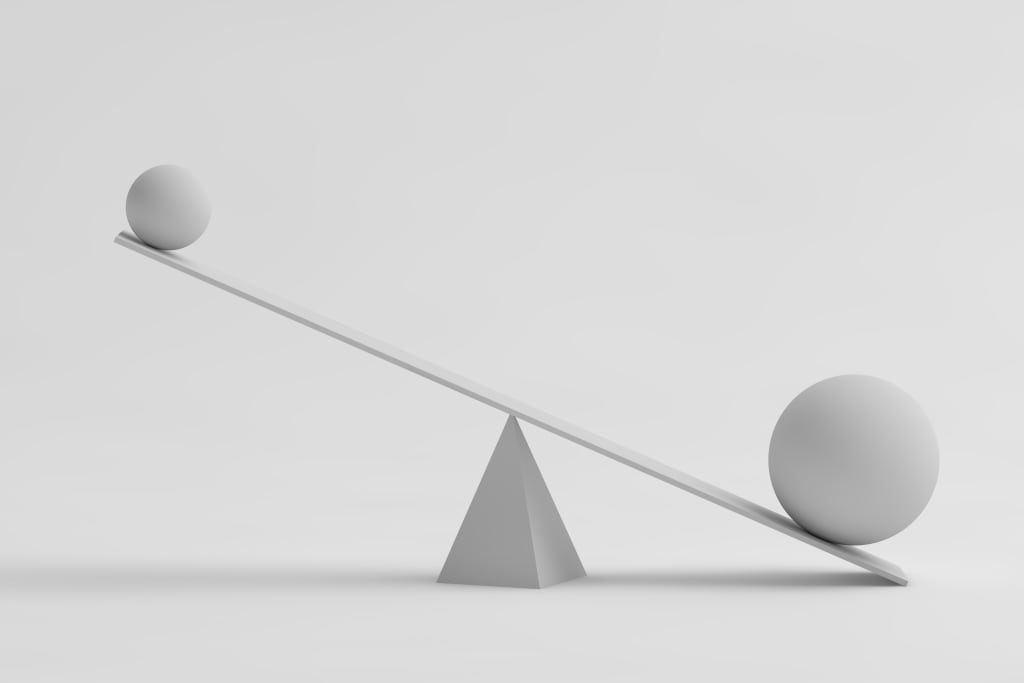 Our company, Creatd, and the four foundational pillars it is comprised of, is the product of an audacious vision that dates back the better part of a decade. Together, my management team and I built and developed a core product, along with a corporate culture that is sustainable, defendable and scalable. We believed we could create significant value as a publicly-traded company by sticking to a partnership with creators that prioritizes their interests—both economic and creative—at the center of our mission.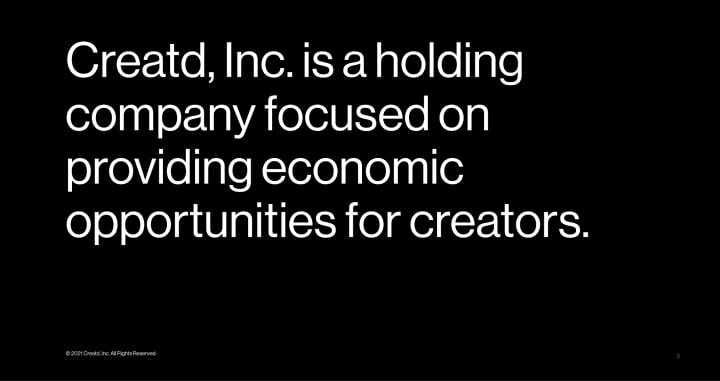 The Vocal Platform
Vocal is our first product and IP asset that Creatd developed in-house, and has come to represent one of the leading platforms in the creator space. The platform is a great home base for creators, and thus a rich source of valuable first-party data that enables an ever-deepening understanding of Vocal's creators and how to best service, reward, and protect them. At the very same time, this first-party data access is also the key for Creatd's own business growth; we study the data in order to enhance creators' experience on Vocal, which in turn drives paid memberships.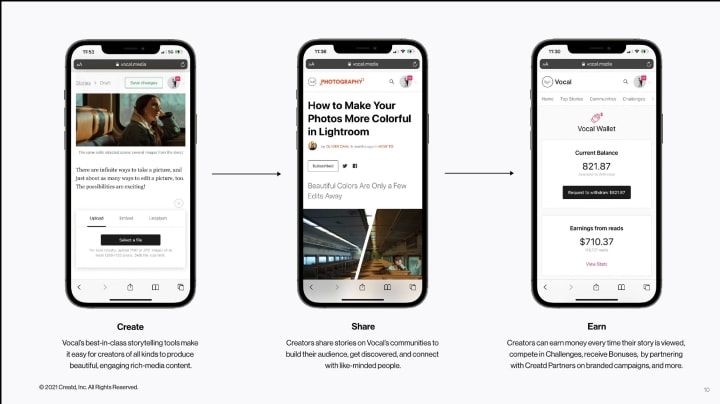 Our goal was to build a company that would be able to continue investing in new ideas that push the boundaries of product innovation within the creator economy and in time turn a profit for our shareholders.
In Vocal, we built a foundation that protects our creators, but also rewards them for their creativity and contributions to the growing creator community. With this foundation in place, and having invested precious time and resources in order to thoroughly analyze our data, now is the right time to scale.
Freemium to Premium
The Harvard business review has this to say regarding the software as a service (SaaS) space:
"Over the past decade "freemium"—a combination of "free" and "premium"—has become the dominant business model among internet start-ups and smartphone app developers. Users get basic features at no cost and can access richer functionality for a subscription fee. If you've networked on LinkedIn, shared files through Dropbox, watched TV shows through Hulu, or searched for a mate on Match, you've experienced the model firsthand. It works for B2B companies as well—examples include Box, Splunk, and Yammer."
Vocal's freemium creators are able to create a Vocal account at no cost and utilize Vocal's core functionalities including storytelling tools, moderation support, and community features, or choose to upgrade to Vocal+ for access to premium features and increased economic opportunities.
As a management team, we have often used Spotify's business model as inspiration for aspects of our business strategy, highlighting our second mover advantage. Spotify continues its dominance in the music streaming market, using a model based around offering free access as a key way to hook in users and convert them into paying subscribers.
The Right Numbers to Measure
The urge for many is to look at the pure numbers (number of subscribers) to judge success, and not take into account the total revenue. While quantity is relevant, and we intend on reaching our stated goals, it does not tell the whole story. Instead, as a management team, our long-term vision and focus centers around ARPU (Average Revenue Per User). More than simply the size of our user base, our ability to boost their revenue contributions to Creatd (as well as their own earnings) is a far better indicator for long-term growth. This means that rather than focusing too heavily on new user acquisition, we prioritize user engagement, track behavioral patterns over time, time spent on site, and monetary value attributed to an individual creator. It's common knowledge that it is cheaper to retain a client than to acquire a new one, and Vocal is no exception.
In the coming months there is a solid plan in place to add even more freemium users than we have today (currently at 1.2MM) and like Spotify, upgrade them to a paid subscription. This usually happens after the creators have experienced roughly 1-3 months on the platform. We have tested this model and know it works today with our creators.
Forward Marketing Strategy
So how do we attract more subscribers? This is one of the most common questions we get from people interested in our growth strategy. Like studying our own data to understand creator subscribers, we also study data that we glean from third party platforms that we use for subscriber acquisition. Going forward, again based on a strategy that we have been testing, we will leverage a greater mix of organic and paid acquisition tactics to lessen our reliance on third parties.
Until now, we have focused our marketing efforts toward targeting new users to sign up immediately for a Vocal+ account (a top-of-the-funnel, or TOFU approach), while at the same time recruiting freemium Creators to the ecosystem. The user base has reached an inflection moment enabling us to strategically accelerate our organic efforts for creator acquisition. We can reduce our reliance on marketing spend on FB but still win free subscribers by immediately gifting free trials and converting large segments of the 1,175,000 freemium Creators. We currently organically onboard between 1,000-2,000 freemium Creators daily.
While the primary purpose of a company, particularly a public entity, is to make money for its constituents, it's become clear that in the technology space, there are no dollars without data. When we initially shared our goal of hitting 100,000 Vocal+ premium members by the end of the year, our preliminary approach was reliant on third party marketing platforms which, while effective, are exceedingly costly to run and without the first party data benefits that are so critical to long term success.
And so, months ago we took the next step following the path of such great platforms as Hulu and the NYT. Both of those companies were able to first gain enough scale that a critical mass has downloaded their initial platforms for free. They then activate premium access for the user, with an expiration date, with the expectation that once you have someone's attention, you can move them through to becoming a willing paying customer. This can create more volatility in churn, but any costs associated with 'gifting' premium memberships are diminutive in comparison to the cost of relying on third party marketing platforms. In our case, as we gift Vocal+ premium memberships en masse, we could see only 5-10% retention initially, but over time we expect a higher and higher percentage to move on to becoming paying Vocal+ members, as we accumulate better targeting data from each segmented conversion group.
We still expect to reach 100,000 Vocal+ creators, as we employ this new strategy akin to the aforementioned Hulu and NYT business models. It is part of a process that must be measured against the revenues it ultimately generates. Vocal+ acquisition costs will come down as our focus will be recruiting freemium creators, gifting them free trials, and converting them to premium subscriptions. None of this could be achieved without a significant reengineering of business processes, allocation of development resources and finally the necessary critical mass to take the risk and move forward with the next stage of the freemium to premium business model.
Financial Results
Our revenues across the company are all growing at an average rate of 36% QOQ, including Creatd Labs where we look at subscriber revenue, in-community revenue which when combined give us an ARPU to monitor and goal the company against as well as guide future product innovation.
In the first quarter of 2021, Vocal+ subscriptions contributed $319,000 in gross revenues, up exponentially from the previous year. This was followed by $479,000 in the second quarter, and $620,000 for the recently closed third quarter. For the fourth quarter, we are on track to generate between $800,000 and $1,000,000 in gross revenues from Vocal+ creator subscriptions. Our agency business is expected to contribute to nearly 50% of Q4 revenues, helping us achieve our goal of near $5MM in gross revenues for fiscal year 2021. Presuming we are successful, churn should decline, increasing the recurring revenues over a significantly growing base of vocal+ subscribers. The focus in 2022 will be to rapidly expand the freemium so that we can accelerate the conversion rate and further reduce our reliance on 3rd party marketing platforms and continue to grow Vocal+ from within.
Forward-Looking Statements
Any statements that are not historical facts and that express, or involve discussions as to, expectations, beliefs, plans, objectives, assumptions or future events or performance (often, but not always, indicated through the use of words or phrases such as "will likely result," "are expected to," "will continue," "is anticipated," "estimated," "intends," "plans," "believes" and "projects") may be forward-looking and may involve estimates and uncertainties which could cause actual results to differ materially from those expressed in the forward-looking statements. We caution that the factors described herein could cause actual results to differ materially from those expressed in any forward-looking statements we make and that investors should not place undue reliance on any such forward-looking statements. Further, any forward-looking statement speaks only as of the date on which such statement is made, and we undertake no obligation to update any forward-looking statement to reflect events or circumstances after the date on which such statement is made or to reflect the occurrence of anticipated or unanticipated events or circumstances. New factors emerge from time to time, and it is not possible for us to predict all of such factors. Further, we cannot assess the impact of each such factor on our results of operations or the extent to which any factor, or combination of factors, may cause actual results to differ materially from those contained in any forward-looking statements. This press release is qualified in its entirety by the cautionary statements and risk factor disclosure contained in our Securities and Exchange Commission filings.
Reader insights
Be the first to share your insights about this piece.
Add your insights