How to Survive in Fashion Retail
...A.k.a 13 Top Tips to Consider Before You Start Your First Fashion Retail Job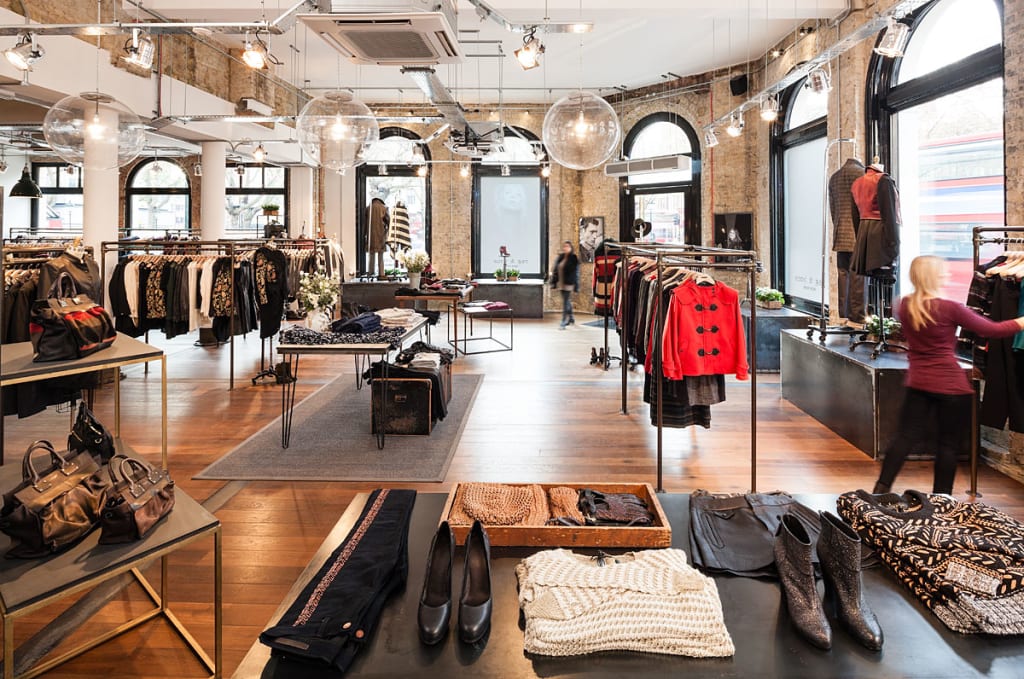 I started working in a women's clothing shop last year and can now say that the smallest things hack me off or cheer me up, some of which I had no idea even existed. Working in a high street fashion store teaches you about the latest styles as well as allows you to develop your personal skills with customers and co-workers. If you're thinking of taking your first job in fashion retail, here are some simple but hopefully helpful tips to consider:
Accept that not every customer is going to be polite and happy when asking you something or being served. Take the advice from the penguins of Madagascar: "smile and wave."
Talking about smiling - try your best to smile. It really does make a difference when dealing with stressy customers and staying cheery as you tag clothes for the umpteenth time.
The sale will be the bane of your life.
Accept that even when you tidy the sale, it will get messy, so don't take it to heart or get too hung up on it (like the pun? lol). Just keep on tidying, folding and letting customers mess it up all the time.
You will want to buy clothes just for the sake of it, so stay strong. Unless, of course, you want to embrace your inner fashionista and spend all your earnings on clothes that you might not need, but want. Yet again, staff discount doesn't exist for anything, does it?!
There will be times that you are bored and ponder about life—that is the way retail goes, just roll with it. This probably happens in every job. It's fun to talk to your co-workers when times like this arise.
Dressing a mannequin can be quite an achievement if I say so myself. Yet getting there can also be a struggle, your hands will go to places that don't look right, but it is a mannequin after all, so just get over it… and don't look at customers when doing so. Focus on dressing the mannequin!
BREATHE - some customers think that you are purely there for them to run around and get their size in this dress and that top. Just remember to breathe and accept that the customer is always right. Patience is a virtue remember.
"Where are the fitting rooms?" will be one of the most asked questions you will hear.
You will know the playlist by heart within a month, so learn to love it and sing along—it helps, especially when it's on repeat.
Establish good vibes with your co-workers. You are all in it together and getting along will definitely enable you to enjoy the experience more.
Wear comfy shoes. Your feet will hurt from running around or standing to tag/sort clothes out all day.
Being assigned to the fitting rooms can either be exhausting or boring. There never really is an in-between, depending on how busy your shop gets of course. It is also, however, really fun to people watch here, it's like free entertainment… hmm, Netflix should come up with a changing room series—that would be a good one actually.
So there are my 13 top tips on how to embrace your first fashion retail job, sometimes it can drag and other days it can fly by. Saying that though, I am sure the same applies to any job that you are going to go into. It's the energy and mindset that you take to a job that allows you to flourish and grow, so good luck!
how to
About the author
Cheese toastie enthusiast, yogi, tea addict, black forest baby, intuitive and open-minded, a wine lover (aka wannabe connoisseur), my tactic is to be optimistic, free spirit seeking endless experiences to flourish and grow from.
Reader insights
Be the first to share your insights about this piece.
Add your insights