What It's Like To Be
How To: Start Your Own Successful Housekeeping Business
A Step-by-Step Guide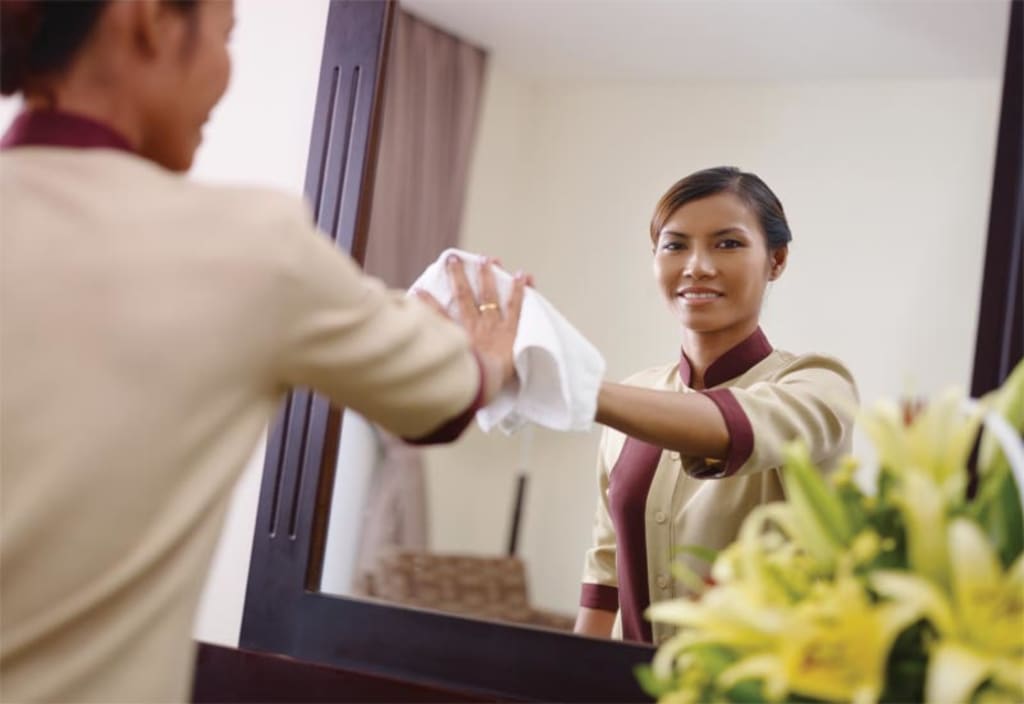 Here's a step-by-step instruction on how to start your own housekeeping business.
1. Make sure that housekeeping is something you would like to do.
If you move at a slow pace and scrubbing the inside of a toilet grosses you out, housekeeping might not be for you. Housekeeping is not as hard as a lot of jobs out there. It requires you to be fast, but thorough. You need to be personable and friendly. The client liking you is so important. Your client is going to need to trust you to clean their home and be around all of their valuables. Building trust equals getting re-hired.
Assess the need in your area. I live in an area that has a ton of people who regularly hire housekeepers. It's a small town that borders a couple more popular scenic mountain towns in Colorado. There are a lot of people who live here that own two or three houses, so they can definitely afford a housekeeper. You're going to want to make sure that a housekeeping business would thrive in your area. Starting a business is time-consuming, and you want to make sure there is a need. Ask your friends and family: would they hire you as a housekeeper or recommend you to anyone they know looking for one? If you determine that there is a need, continue to step two.
2. Find out the going rate for housekeepers in or around your area.
This really varies on your experience level and location. Call some other local housekeepers and ask what they charge. Pose as a potential customer looking to have their house cleaned if you need to. Ask how much experience they have. More experience means more pay!
Decide on your radius. How far are you willing to drive to get to a client's house? Once you have all that down, set your rate. In my area and with my experience (lots of need for housekeepers and 2+ years of experience), I charge $20 an hour if I use all of my own supplies OR $18 an hour if I use supplies that the client provides (more on supplies below). This is competitive pricing in my area. It's not the cheapest around, but not the most expensive, either.
3. Supplies
If you don't have a lot of money to start out with, you can always make sure to inform the client up front that THEY need to supply the cleaning supplies, because you do not bring your own. If you have a little money to spend, here are some things that I use on a regular basis:
Pledge
Cleaning vinegar (can be found in the cleaning section at Wal-Mart and Dollar Tree) in a spray bottle. Can be used to clean mirrors, windows, countertops, showers, and more.
A couple of one gallon buckets (Dollar Tree)
Rags, both microfiber and terrycloth (white). Head to the the automotive section for these! They'll be cheaper there. I suggest having at least 20 terrycloth and 10 microfiber cloths, just as a starter. After a job, just toss in the washer with a little detergent and bleach.
Clorox bleach spray
Degreaser spray (I use Zepps brand)
Dish scrubbies
A toilet bowl brush
Air freshener spray
Stainless steel spray
A good mop. You will want something like the Libman Tornado mop, or something you can easily squeeze the water out of.
Pinesol
Broom and dustpan
A good vacuum. You want one with a lot of power. I recommend one like the Shark Rotator. Of course, you can use one you already have, or just make sure the client has one.
Pumice stone
Of course, these are things that I find I use often. You can buy new supplies as you see fit for your jobs.
4. Advertise, Advertise, Advertise!
This is vital (obviously, haha).
Come up with a catchy, memorable name for your business and run with it. Create a Facebook page for your business. Post in all the online yard sale pages in your area that you offer housekeeping services. Make flyers and post them around. If you REALLY want to splurge, have business cards made. Vistaprint.com usually runs pretty good deals. Ask all of your friends and family to like and share your business page. Word of mouth is important in spreading your business.
5. Schedule your clients.
Answer all inquiries as fast as possible. Make sure you offer all the services they want (light housekeeping, organizing, just floors, etc.). Get an address and contact info. Keep a schedule book/calendar and keep it well organized. Be punctual. When you agree to a set time, make sure to be there at that time.
The actual cleaning process is 99% common sense, Do one full room at a time. If you are skipping from room to room you are more likely to be less thorough and miss something major. Clean like you would want someone to clean if you had hired them for your own house. If the house is a two-story, I start at the top and move from room to room and work my way down.
And that's pretty much it! Good luck.