How To Make Money Writing on Listverse?
Want to make $100/post writing listicles? Listverse is a site that could help you make money writing listicles. The process of submitting a story is very simple and if accepted you get $100 into your PayPal by writing a Listicle.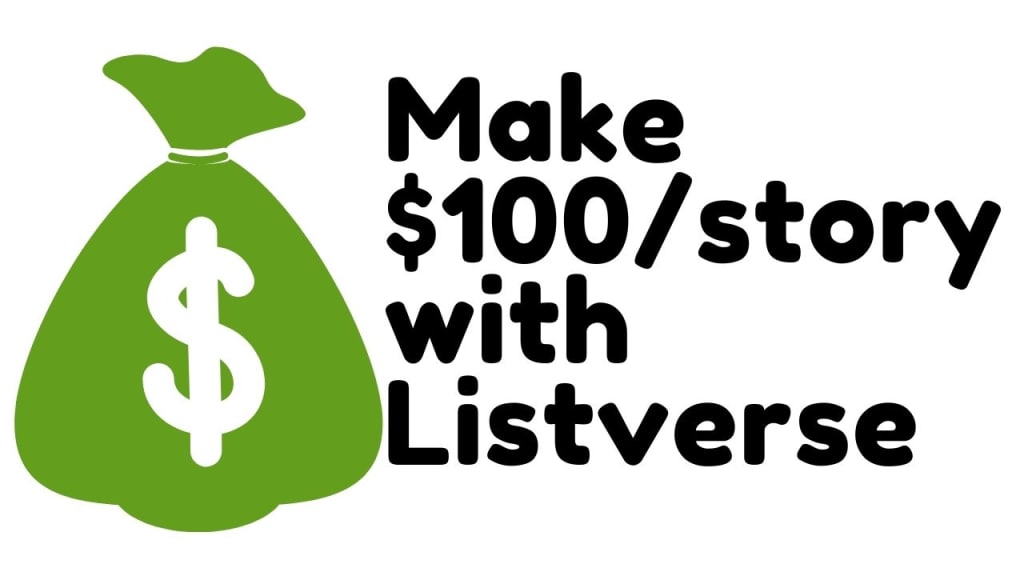 How do you can make money writing on Listverse? Submit a story to Listverse to make $100/post / Picture created by the author
Are you looking for such platforms that pay for writing articles? Then you are on the right page, and here you will get the information about that platform, spending a considerable amount on articles.
Listverse pays $100 for a single article to their writers. Yes! Don't be shocked. The online platform provides millions of readers with the world's best articles related to various topics. This website is for explorers who want to gather knowledge worldwide, and that's why they welcome writers and pay them this considerable amount.
If you also want to make money writing on Listverse, then go on, and not to worry, posting an article on Listverse.com is very easy. Therefore, read this article till the end, you will get all the information about this fantastic platform.
What is Listverse?
Listverse is a website that entertains through posting top 10 articles. This website pays $100 to its writers for an article. Sounds great. Isn't it?
The online platform gathers pieces of knowledge that are rare and most fascinating. They post 3 or more lists of articles that include new facts and data. In Listverse, you will find newly updated data every time you visit.
The website's contents are not limited to particular subjects. Still, you will find all articles here, such as scientific topics, entertainment, lifestyle category, strange or inexplicable issues, etc. It is a platform for exploration.
So, if you are a content writer, you can post your writing to earn some extra penny.
But before that must go through their strict rules to qualify your writing. Check out the instructions on how to earn on Listverse writing articles.
Also read: How to make money writing on Vocal Media?
How to make money on Listverse?
If you want to earn from Listverse but don't know how to do it, keep reading this article. First of all, you have to know the site's requirements for writing quality.
They follow specific criteria and stringent rules for articles. Read the writing guidelines of Listverse, revealed below.
The rules of Listverse are elementary. You can choose the theme or niche on your own. And make it attractive enough. See the following points to write a magnificent article.
Content should be humorous, dark, mysterious, and unique.
The platform likes thrilling and mysterious articles. Therefore, your content must talk about supernatural or enigmatic topics like monsters and UFOs but with your creation or research. Readers enjoy reading scary or imaginary topics, and Listverse always fulfills readers' demands. Or you can pick subjects like- technologies, historical events, writing on dead or living persons, etc.
An article must be unique
Provide rare knowledge, or can't be found on the Internet easily. But if other writers have already written your chosen topic, then you have to include more pieces of information and make it extraordinary. Or you can change your topic. If you want your topic published on the Listverse website, you must pick unique subjects. You can find multiple articles related to social media, pop culture, music reviews, and films. Why not try other topics that are not famous but interesting.
Hidden income from past events
Historical topics can help you earn a huge amount. Some people may be fond of the emperor's story or past great inventions, and some readers may look for information about celebrities. But remember, these subjects may be already available on the site. You must have extra information in your article that is missing from others. Or, if you want to attach sources to your article for support, do not use any other blog links or Wikipedia. For that, you must learn from Wiki how they present their sources.
Unexpected facts in content
Show your creativity through your writing. If you can make people's preconceptions and misconceptions, then go on. You are perfect for Listverse. People like intense topics. If the article challenges readers' beliefs, myths, or philosophies, they may stick to the end. Writing on figures and facts is common; you must think out of the box and disprove those figures and facts. But of course, with a solid reason for every controversial point.
Also: Is Vocal+ Membership worth it?
Some important points
You must follow the following tips to give additional attraction.
Write on small and easy words and sentences. Go through the article for fining any errors.
Try to write in pure English (at least 95%) instead of Latin, Spanish, French, or other external words.
Use 'we' instead of 'you' or 'I.'
Attach facts and their sources to prove your points.
Try to add humor in your article but limit.
How to submit a story to Listverse?
Okay! Then if you have made your list now, it is time to submit it. But before submitting, make sure your article is edited and proofread. In case your list is lacking in originality, then it may be rejected. Same as the writing quality must be high. Moreover, if your list does not follow their 'author guideline' and 'term & condition' article may be rejected without any consideration.
Also: How to make money writing on Wattpad?
Note: Listverse only accepts a proposal from - UK, NZ, US, Australia, Ireland, South Africa, and Canada.
For submission, Listverse.com may ask 'your details' such as
Authors name/nickname
Email address
PayPal email address
Authors Blurb (about you, your social media; these can be published)
Top 10 list-
List title
Clear intro of the list
Full content list (1500–2000 words max.)
Then, tick on 'I agree to the Terms & Conditions' And click on 'Submit List.'
How to get paid on Listverse?
Want to earn money on Listverse? But you are new in this field? Don't worry, and I will help you get paid from the website. As the platform is built on readers' efforts, anyone can write and send it to them.
Though you are less experienced, you can make money. It just needs good English (with a native speaker), good humor, and must have unique imagination power.
So, write your articles (10 items per list), put in a great effort, and send them to Listverse.com. If your piece is selected, they will reply to you saying, "Great - we'll publish it," or if rejected, they would reply saying, "Sorry - it isn't the sort of thing our readers will love- give it another shot."
Note: Your article list must be at least 1 to 2 paragraphs for each entry.
Or, the website will read your list and review them. If they find them unique, your article will be published on the website's front page. And the article will be read by millions of readers a month.
And if your list is selected, they will pay you $100 through PayPal. What! Don't have a PayPal account? Then open an account on PayPal immediately because Listverse.com does not accept writers without having a PayPal account, and they do not support other alternative payment methods.
Go and get an account on PayPal and then write on Listverse.
Story eligibility criteria to get accepted into Listverse and make $100/story
Here is the list of eligibility criteria for a writer:
For writing on Listverse.com, you should know the English language equal to that native speaker.
You have to write 1 to 2 sections or paragraphs for each item on the list.
The most remarkable part is, you don't have to add photos and videos to your list.
Your article must be written in between 1500- 2000 words.
You must have a good quality source that verifies each fact you provide in the list.
You can take the help of an available online authors' guild to figure out the format of writing an article.
Listverse pays only through PayPal, so you must have an account on PayPal.
Also read:
Substack Alternatives: A Huge List of Sites Like Substack Where You Can Create a Newsletter And Make Money
Medium Alternatives: 5 Sites Where You Could Make Money Writing Like Medium
Reader insights
Be the first to share your insights about this piece.
Add your insights