How to make an effective sales training programs?
Sales Training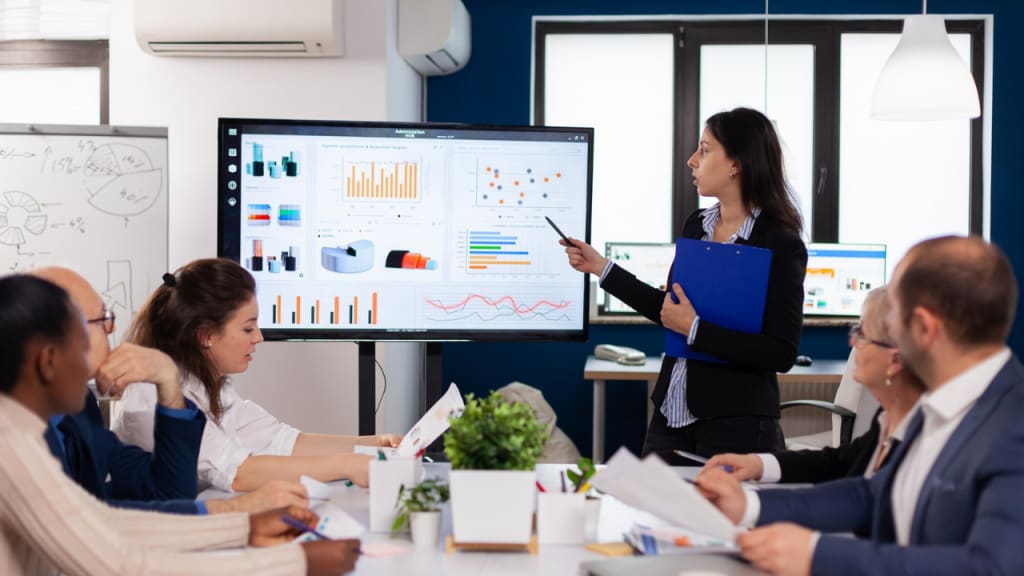 Sales Training Programs For Your Business
Training your sales reps is another way of increasing revenue and customer satisfaction. Sales training helps in developing skills that are necessary for closing more deals. It helps in building rapport with customers too, which amplifies the ROI as well.
Sales training helps you elevate your skills, improve your customer handling and develop better relationships with them.
What exactly is sales training and its types?
A sales training program helps to achieve success for the employees and the company. With the changing requirements, the sales training methods have also been highly modified for better employee retention.
The training requirements have changed extensively with the hybrid environment. The traditional classroom training methods have been shifted to online to make it easier for all the employees. There are many types of sales training according to the employees' requirements.
1) Inside sales training
This refers to selling your product/service via phone calls, emails, or texts and not going anywhere to meet the prospects.
2) Field sales:
It means going out and selling your product/services to prospects. It means conference meetings and on-premises office meetings.
3) Service sales:
This focuses on improving the service experience of the customer to get them engaged for life and make them a permanent customer. It mostly includes consultative services.
4) Sales management:
It enables managers to become better coaches and helps them build a better team.
Why do we need sales training?
Sales training helps the employees achieve their goals easily and in much less time. Investing in sales training can be beneficial for your organization as it helps increase the bottom-line ROI.
But making a training program for your employees is not easy, so how do we do it?
Break the training into small chunks:
Instead of overloading the employees with complete training resources at once, it is better to deliver the information in small chunks. The employees' retention has come down drastically since the COVID era, as they were totally immersed in absorbing content online. Bits of information here and therewith sales training software will help them retain the knowledge better.
Get help from your old employees:
Old employees will tell your new employees about their experience and what to do and not do in the new environment. It will enhance employees' understanding with real-time examples. You can tell
Hands-on experience:
The employee might be well trained and have excellent knowledge, but it is incomplete without field sales training. With practical knowledge, your sales reps will be ready to face the clients and resolve issues.
There are these three fundamental things that need to be present in order to make the training engaging and effective:
1) Interactive session:
Your training program must contain plenty of interactive sessions to let your employees interact with each other for better learning. Situational or role play activities can improve an employee's experience and help them retain the knowledge.
2) Interdepartmental connections:
Improving excellent sales happens when sales, marketing, and product teams collaborate with each other by sharing ideas. Training programs also help the employees come together and make a program that is beneficial and upskilling for all.
3) The customer's perspective:
To make your sales training more insightful, invite customers to participate in the training as well. Your customers can give valuable insights into the product or their sales experience that will help your sales reps improve their methods.
Steps to making an effective training program:
Define objectives and key performance indicators:
Firstly, your sales training needs to have an objective, like if you want to boost your quota, speed up your sales cycle, or just want to get better leads. Once you are clear about your needs, it then becomes much easier to position your training resources.
Identify performance gaps:
Regularly assessing the performance of the employees helps in identifying where the skill gaps lie. You can focus your training on the parts that you think need improvement and help enhance employees' performance.
Make the materials accessible:
Make sure the materials you provide throughout your training are easily accessible to your audience. They must be stored in a single place where they do not have to wander to search for them. With inbound marketing software like Acadle you can easily promote your brand with various courses and academies.
Boost retention:
There might be a possibility that you train your employees and they forget what they learned. To improve their retention, you can do the following:
Updating materials regularly
Regular meetings with the managers
Regular training to teach them the required skills.
Ask for feedback:
Your training program cannot be static. You must understand the changing requirements of employees and change the training program accordingly. Time and again, you should ask for their feedback and see if the training program is actually beneficial for them or not.
You can gather anonymous surveys with sales training software to get the honest reviews of your employees and see what all you can change in your training program.
Developing a training program can be a daunting task, but if you know your trainees, it can be made much simpler with a Learning Management System.
Engaging content:
With LMS, you can create engaging content with video lessons, gamification that will help your employees retain knowledge better.
Personalized training:
With LMS, you will be able to give personalized lessons to your audience, which is not possible with the traditional mode of training.
Reduce training costs:
With the help of LMS, you will be able to save on the training costs that go into arranging the training programs offline. The miscellaneous costs involved in arranging venues, travel costs, and other resources can be cut down with LMS online training methods.
Make your sales reps ready for any situation your customer throws at them with the appropriate training and guidance. Upskilling your sales reps will eventually help your sales increase. Effective sales training helps your employees to utilize their potential to the maximum and increases the productivity of your brand.
Understand your employees and their needs to make a successful and engaging program and deploy LMS to distribute your training program efficiently. LMS can work as your partner training software as well.