How to Launch a Business Startup and Apply Some Tricks to Quick Reach
Sometimes unconventional ideas are required to quickly reach the goal in the startup business.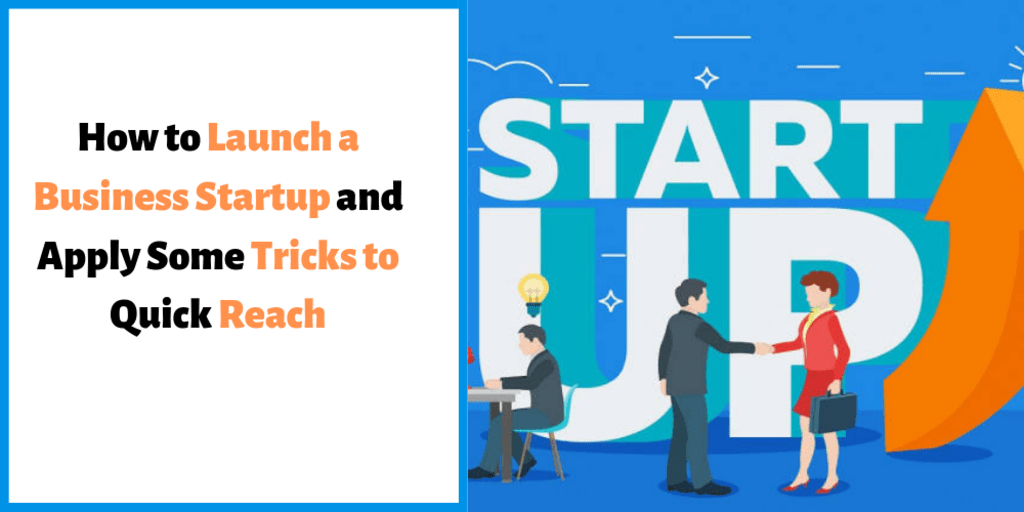 The latest fad nowadays is to launch a startup. Launching a startup has become more of a quick way to gain popularity than passion. I don't know whether they have any idea about the probability of a startup becoming successful. FYI, only one out of ten startups are successful. That said, funding, sustainability, decisiveness, and competition are the biggest challenges common to the startup.
If you really have the competence and passion to launch a startup by facing the challenges, then this article is for you. I have explained briefly about launching a startup and how some factors can be influenced to position your business. Let me start with the factors that influence startups.
Be clear with your ideas
Idea is a commodity but execution is not. So, select an idea for your startup only when you are confident of your competence in executing that idea. For example, launching a startup in the manufacturing sector requires immense technical knowledge and outstanding managerial skills.
On the other side, app-based startups do not necessarily require technical knowledge but the catch here is picking the right idea for the app-based, on-demand model. Less initial investment and quick adoption by people are the real reason why there are many innovative on-demand startups at present.
So, evaluate your interests, strong area, core competence, resources, etc. to select an idea for your startup.
Take a Deep Research on current market
Research on the current market and competitors will give you a deep insight into your area, and, also, it helps to take calculated risks. You can do market research by using primary and secondary methods. In the primary method, you gather information on your own from reliable resources and closely observe the competitors. In the secondary method, you use already available research and reports about current market or companies.
The point is not in gathering the information, but to analyze it and make an action plan. In the end, you will know how to tackle this market or if it is worth pursuing further.
Analyzing competitor business strategy
Analyzing competitor strategy is somewhat an extension of the previous step. Here, you can use a company's annual report, company profiles, brochures, press releases, and articles in the media.
Doing this will help you to identify opportunities and use it to improve the business.
Write an innovative business plan
From the last two steps, I hope you now have a clear picture of the path you are going to pursue. The business plan should take into account the competitors and the current market situation. Let me summarise the steps to follow to write an innovative business plan.
First do a SWOT analysis to assess your strength, weakness, opportunities, and threats.
Have realistic and achievable targets and doing the contrary will dishearten you.
Consolidate all the pivotal financial data regarding loans (if any), ROI, target growth, capital, operating cost, promotion, and many more.
Finalize the unique selling proposition of your startup.
Align the priorities, like what you need to achieve first? Quick ROI or expansion to other markets or wide user base.
Well planned contingency option.
Build a Strong team
Individuals don't build a company, but teams do. True to this statement, you have to organize a qualified and like-minded team. Speak with a lot of people and explain to them your startup, and showcase your intention to create a startup ecosystem.
Have people from diverse backgrounds to get different points of view while working. Make sure the team values customer service over anything.
Target your audience
If you offer a service in your startup, start with the target audience. You can determine how well your service is performing from the target users. To find the target audience, use data from market research and competitor analysis.
Marketing and promotion must focus on the target users. To be more effective, do promotion by targeting the age, gender, and region of the users. This idea is known as customer segmentation.
Develop the service
The service you offer should be allowed to evolve, and to do this, you have to follow some steps:
Collect feedback from the customers and revise the service you offer.
Experiment with different strategies.
Quickly adopt any technology that can ease the way customers use the service.
Find the pain point of users even though it may not be obvious.
Associate with best Solution Provider for your product development
95% of startups use mobile apps, and in most cases, these apps connect the user with the service. The scope for the app to be a gamechanger in your business is huge.
To have the best of the best mobile solution, partner with the right solution provider. For example, if you are going to launch an on-demand startup, then there are solution providers who have dedicated ready-made apps for various services that are affordable and can be tweaked with less customization.
Trust your product/service not the branding
Across the world, many startups market a substandard service to users by faking the details and information related to the service. Such services will fall flat after a temporary spike in growth. Branding is okay, provided the service is good.
In some cases, a quality service needs no branding since it grows because of word of mouth.
Branding should not be prioritized above everything. Quality service with good branding can make an everlasting impression among the users.
Launching a startup is not difficult, but running it is. These tips are common and the problem is that many don't take time and effort to meticulously follow it. It would be very easy for you if these tips are applied as a team. In a team, you know the pluses and minuses of each of them and according to it, you delegate the work.
Funding and every kind of support will follow you only if your service is good and have a comfortable user base. So, ramp up your effort and work towards placing your startup in a stable place.