How to get your Sitecore Certification while working from Home?
Become a Sitecore Certified while working from home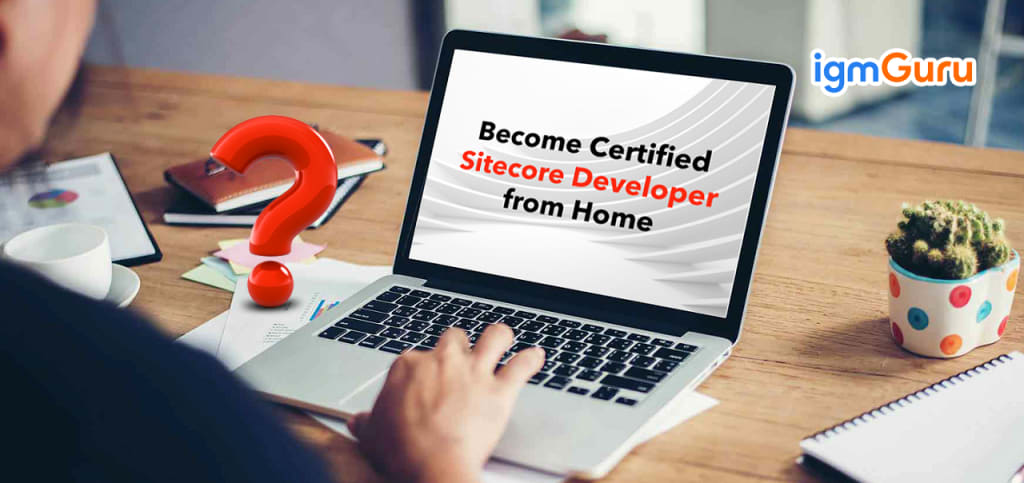 Sitecore is a comprehensive digital marketing solution with a range of feature which creates a powerful, relevant, and personalized customer experience. Founded in 2001, Sitecore has become one of the leading global providers of digital experience management software.
Their continuous thrust on innovation has created a compelling product that has diversified digital experience management with customers to create riveting content, deliver personalized experiences across channels, and measure performance to optimize marketing effectiveness.
The Sitecore CMS is a robust content management system that scales for enterprise needs. It enables marketers to deliver the right content, to the right person, precisely at the right time.
Architecture Overview
Based on a .Net based platform with an easy integration feature together with other APIs, many companies have tasted the nectar of success with the Sitecore solutions.
As their partner for digital marketing, Sitecore has pin pointedly targeted the digital marketing software industry, which has seen tremendous growth in recent years.
This growth is driven by the desires of the companies to have a sophisticated solution that leverages artificial intelligence and machine learning, which can pave the way for the relevant content for a diverse audience in an automated and scalable way. It will lead to improved business through improved conversion and relevant content.
This capability has attracted organizations across the domain to incorporate Sitecore in their business strategy. As a spin-off of this, the demand of the credible developer has increased manifold.
Sitecore training is formally given in various organizations to their developer, marketers, and any other users of the platform.
Sitecore tutorials have flooded the market, but the industrial credibility of the tutorials lies only with a handful of the training platforms.
Sitecore certification is a way that serves the dual purpose of the learning as well as providing credibility to your training. A Sitecore certification that is recognized by the industry will boost your career and will open new opportunities and possibilities.
Sitecore developer certification would be one of the first steps Sitecore developer will take in their career. It essentially means that you have passed an exam which shows that you have a good grasp of the fundamental concept and know how to implement them while developing.
It would be misleading to conclude that you have expertise in everything that Sitecore offers, but it assures that you know the basics, aware of the high-level concepts, and the overall way of functioning of the Sitecore and know the possibilities that it can offer.
Due to the current circumstances, most of the people are working from home and are keen to hone their skills. They are turning challenges into opportunities and are exploring new things.
Sitecore certification may look like a daunting for the new developers though it is relatively easy if the right approach is followed. While working from home, you can enrol in a reputed Sitecore training program. The Sitecore training is offered by many institutes with varying programs. You can select any of the programs according to our pace of learning and the expenditure you can afford.
You will find some of the training is instructor-led while some training is self-paced. A Sitecore training from the reputed organization will offer you certification after the completion of the course, and after clearing the exam. You can also go for official Sitecore developer certification after paying fees on the Sitecore portal.
In the Sitecore official certification examination, there are 50 questions in which you have to correctly answer 40 questions, which means 80% marks are essential to qualify for the examination and get the certificate. A good Sitecore training program will not only help you in clearing the certification exam but also provide a better level of understanding of the Sitecore content management system.
You would be required a local Sitecore installation in your system to apply the knowledge you have accumulated. Sitecore is not an open-source platform. Since you will be setting up a local Sitecore site, Sitecore asks that you use your employer's Sitecore license. People that do not have the benefit of working for a company with an official license, Sitecore can also provide a free 60-day trial license to use during your training period.
What do I need to acquire, to take up the Sitecore Training?
If you knew a few of the basic terminologies before start Sitecore training, then you can have a better understanding of the concepts, and it will also help you I your judgment about picking the right Sitecore training. First and foremost, the Sitecore works with three predominant databases, namely Core, Master, Web, each with specific functionality and are constructed upon installation.
Basis Terms in Sitecore
You will also find user sessions and website analytics databases in it. Sitecore has a tree-like hierarchy for managing its content, and every node in the tree hierarchy is called Item. Templates in Sitecore are not for the presentation, but it is a way of defining data. Just as a class has properties that give shape to its functionality, every piece of content in Sitecore will have a data template to elaborate on the functionality it contains. Templates consist of fields. It usually stores a unit of data like publication dates, article titles, descriptions, etc. Another important concept is the Layout. A Layout is the topmost level object of presentation in the Sitecore presentation hierarchy. A Layout can be seen as analogous to the ASP.NET master page. It defines the presentation elements that persist across all requests for a particular device. These concepts will accompany at every step in your journey to learn Sitecore.
Outcomes
Sitecore learning will give you a rich dividend due to its versatile utility. It provides a seamless facility in which from a central location you can add, edit, deletes, organize, and publish content. Apart from the traditional feature, the new Sitecore CMS proudly flaunts features such as Media management, SEO, Social forums, e-commerce, document management, etc. One can build an impressive repertoire of applications for businesses with the help of the Sitecore and can tremendously improve web traffic and user web experience. Few points which are helping Sitecore to challenge any CMS available in the market
Capable of storing and managing big data for content marketing.
Ability to centrally manage multiple communication channels.
Intuitive and User-Friendly Design
Unlimited content scaling & personalization
Fast Integration with Microsoft Technology & other Third-Party Tools
Marketing Automation
Flexible A/B and M/V Testing
Web 2.0 and Social Media Integration
Apart from this, for the developers, Sitecore can be regarded as a dream framework. With thousands of classes and methods, it is truly a rich framework. It also provides the option of customization to the extent that you can export customize functionality from Sitecore to a package that can be used in another project if required. Moreover, the Sitecore API is very flexible and powerful as compared to others. It supports many technologies to query Sitecore items from standard .NET web forms, MVC, XSLT, Site core Query to Sitecore Fast Query, and Linq.
Why Learn Sitecore
Sitecore usage is not restricted to any national or geographic boundaries. Companies from a different region of the world and diverse domains are using Sitecore Solutions for their business needs. Various MNCs are using Sitecore like P&G, Capgemini, Cognizant, Microsoft, Sapient, Toshiba, etc. all are using the Sitecore. From Retail, IT, Manufacturing, hospitality to Financial Services, healthcare, and non-profit, business from the different spheres are using Sitecore. It has gained such a transaction because of its seamless, centralized, and customized content management system. Sitecore provides Sitecore analytics, which keeps track of the marketing campaign and its effectiveness. It identifies the pattern of site navigation by the visitor. For example, P&G has transformed its massive marketing presence worldwide. In the form of Sitecore, they have switched to an agile, lower-cost solution that delivers a better consumer experience.
With a promising next-generation solution to the need of the client, they have unveiled some new features which have catches the eyes of the people. Some of the features are like a content hub, Sitecore as a Service, and Sitecore AI is prominent. It is an outstanding attribute that truly completes the Sitecore platform.
Sitecore provides a 360-degree view of the content landscape and streamlines it into a single integrated Sitecore solution. It is a total package with product content management, content marketing platform, and marketing resource management. Sitecore as a Service (SAAS)has marked Sitecore transition into a new platform, which is a more agile, intelligent, and connected Sitecore Experience. It will have focussed abilities of core content management with further adding abilities to the Sitecore Experience Manager and Sitecore experience platform. Sitecore AI is a much-anticipated feature, which is Sitecore own machine learning services.
It promises to bring auto-personalization to the platform. Once plugged, it tags the entire site, and it will track customer behavior on-site and do the segmentation. It will then deliver personalized content according to the segment with the option of feeding existing marketing segments in the system. It is a tremendous opportunity for the organization with lean marketing departments.
Conclusion
Finally, it turns out that learning Sitecore is a good bargain in which you would be benefitted tremendously. Working from home will become an opportunity in disguise if you are reequipping yourself with the new skills. Sitecore has an excellent base of developer community who are ready to help and guide the beginners. You can also contribute it fruitfully and enrich it more through your knowledge and innovation. Taking the first step always comes with little hesitation and requires more courage; hence we are reluctant to go on a new path. But Sitecore is a journey that is worth taking, and you will cherish the thrust it will give to our career. You can select the Sitecore training and then go for certification depending on your comfort level; they offer various kinds of programs to select from. What a Sitecore certification can bring to an individual, customer, agency, or community is limitless. On a small scale, the certification can be that extra level of expertise that'll help to do a job better. It could also be a stepping stone into pushing a practitioner's dev Sitecore skills to new limits. And lastly, the benefit will boil down to be reflected as an increase in your salary figure, if you are a certified developer.
industry
About the author
Tarun Saini is a strategic thinker and an IT Pro currently working with igmGuru. With more than six years of experience in the digital marketing industry, he is more than a results-driven individual.
Reader insights
Be the first to share your insights about this piece.
Add your insights