How to clean and maintain display racks in-store?
There are some points to keep the display racks of the store clean and well-maintained, leave a good impression on customers, and play a considerable role in turning them into long-term customers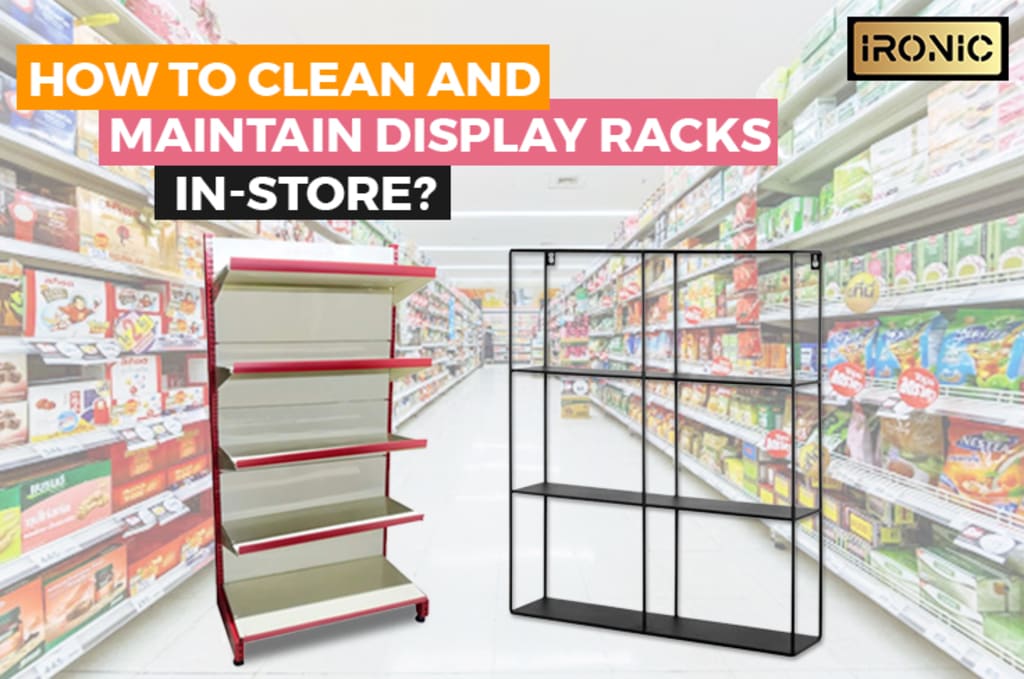 Merchandising products is crucial to retail stores and supermarket stores. The display units are crucial business investments that bring in the main source of income. Keeping the display racks of the store clean and tidy is an important part of making customers feel welcome. A store that is clean and well-maintained, leaves a good impression on customers and plays a considerable role in turning them into long-term customers. Cleaned and organized display racks encourage customers to buy more because it helps customers to find what they want. You can begin with these fundamental cleaning, and maintenance tips and tricks to keep the store's display units in good condition.
Tips and tricks to clean and maintain display racks in the store
• Combine a 1:1 ratio of white vinegar or lemon juice and warm water, pour them into an empty spray bottle. Clean up the display racks with a quick spritz from the bottle and wipe the surface up with a clean cloth every day. Warm the solution up before using it to clean your glass, metal, or wood display racks.
• Apply a little portion of regular toothpaste to a damp towel and rub the toothpaste over the stain in a circular motion. Rinse it off with warm water after a couple of moments.
• The chromium-plated surface will lessen the gloss of the display rack surface, and immediately affect the quality of the surface due to the long-term residue of several detergents and bath lotions. You might clean the surface of the display rack with a soft cloth at least once a week, preferably with a neutral detergent.
• The acid-base that has a corrosive effect on iron is the "number one killer" of the iron development frame. If the Iron exhibition rack is accidentally stained with acid or alkali, you should instantly use clean water to wash the dirt, and then dry it with a dry cotton cloth.
• The stubborn dirt that is hard to remove should be treated with mild liquid cleanser, colorless glass cleaner, or polishing liquid without friction, followed by cleaning the display shelf with clean water and drying it with a soft cotton cloth.
• If the rack is rusty, you might not sandpaper it. If the rust is tinier, use cotton yarn dip oil besmear at the rust place, wait for a moment then wipe with a cloth. It can eliminate rust. If the rust has become heavier, the related technical staff should be asked to repair it.
• Wax oil having strong decontamination ability can be applied on a clean white cotton cloth to thoroughly clean the whole display rack. The duration is usually 3 months, which can lengthen the life of the display rack. Keep in mind that every time you finish cleaning, you must wipe the water stain dry, otherwise, there may be a water stain and dirt on the surface of the pendant.
• Make sure the cloth is clean. When we clean the display cloth must be clean. After cleaning or dusting, be sure to turn or replace with a clean cloth Without being lazy. Using the dirty cloth will only cause the dirt to rub against the surface over and over again which can damage the glossy surface of the display rack.
• Technology is upgrading, so, use it. In the market, there are innovative cleaning pads and non-scratch sponges instead of the formal rough scrubs. This might take extra time than harsh commercial cleaning agents, but the lifespan of your display racks will be extended.
Hope these tricks and tips will help you to clean, and maintain the display rack of your store. These are all meant to be promising long-term investments that assist you to impress your customers when they visit your store.
how to
Ironic Racks is the Display Racks Manufacturers in India, offer best deals on Departmental Store Racks, Shopping Mall Display Rack, Floating Wall Shelves & Display Racks for Retail Stores and etc. All ae products 100% Made-In-India.