How to Build a Good Reputation to Convert It to Revenue
Practical Guidance From Reputation Management Experts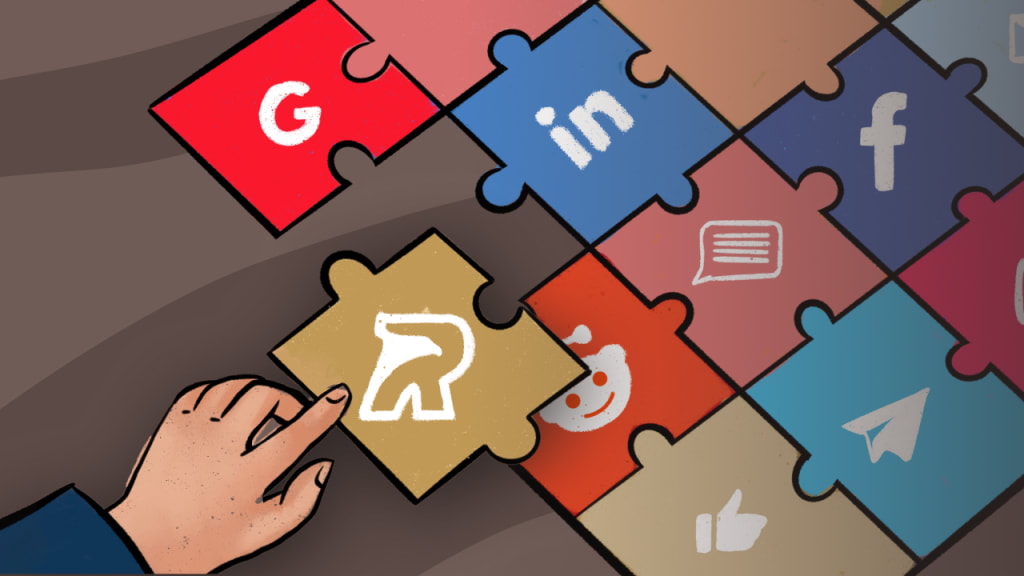 In the era of high technology and the global development of online search and communication, a good reputation is no longer just a marketing term. It is an essential part of success. Today people and businesses, knowing how to keep a good reputation, can benefit from it.
With the escalating competition among businesses and specialists alike, standing out from the crowd is no longer a necessity but a must. Being an experienced reputation management agency, we at Reputation America know that a reputable online image serves as a measurable and manageable tool to distinguish yourself from competitors. We saw how deleting or deindexing harmful information helped businesses restore trust and improve relationships with customers.
The Importance Of Positive Business Reputation
Companies with good reputations have greater opportunities to increase their profit and customer base, unlike companies with a poor image. Below is some data proving that knowing how to build a good reputation is essential or business success and development.
According to the Local Consumer Review Survey 2020, 93% of respondents tended to search for local businesses online. In general, 87% of consumers read through companies' online reviews in 2020 compared to 81% in 2019.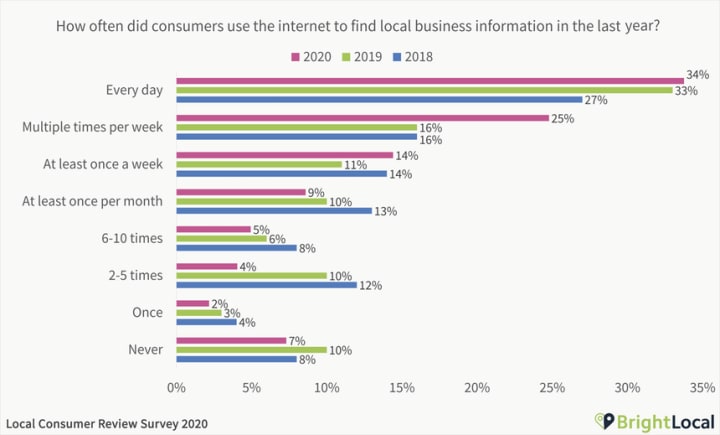 In total, a vast majority, over 73% of respondents, searched for online information at least once a week. Moreover, 34% of them did that every day.
But does that growing trend mean that there are benefits of having a good reputation in business? Most definitely, and here is how.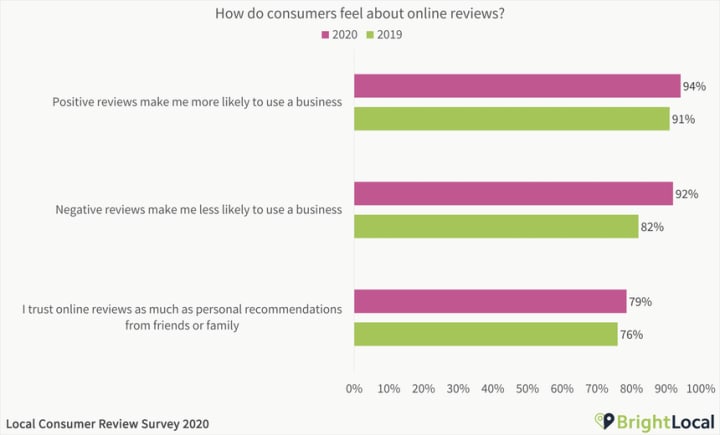 Positive business reputation attracted 94% of customers in 2020, while 92% were less likely to use a business due to negative reviews.
Corporate Reputation Matters
As stated in the comprehensive report, TheState of Corporate Reputation in 2020, a positive business reputation today does not only build on the quality of goods or services. It became much more complicated to involve numerous factors, such as ethics and values, quality of CEO, or environmental responsibility. Moreover, those factors are almost equivalently important.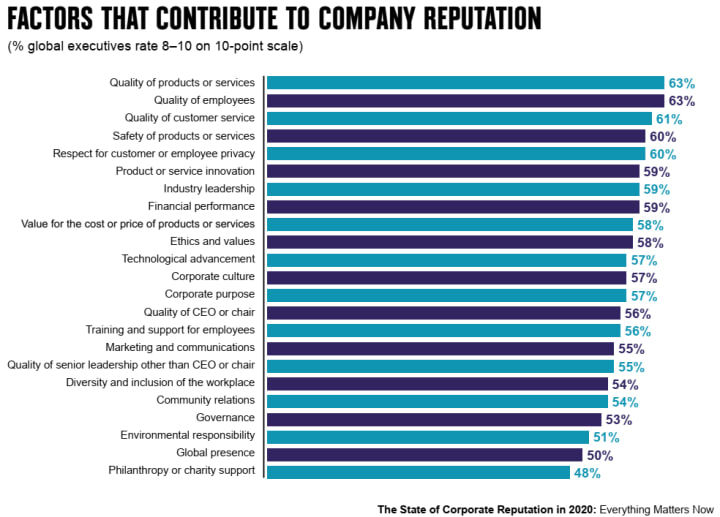 Along with traditional reputation drivers, companies likewise need to focus on marketing and communications. Such factors as communications to the public, social media interactions, and others are rated over 50% importance.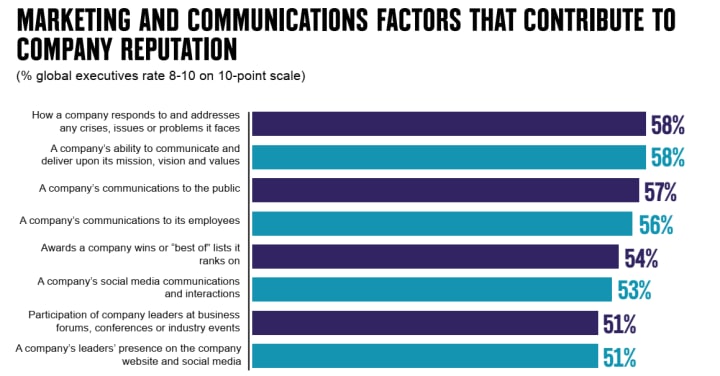 All those statistics illustrate how wise it is nowadays to pay more attention to the image and learn how to build a brand reputation or improve it.
Influence of Bad Reputation
Here are a few examples of companies suffering from a bad reputation and how it affects them financially.
Everyone knows the story of Harvey Weinstein, a famous producer and movie distributor who suddenly became one of America's most hated public persons due to an assault scandal. Three days after the exposure, the board fired him, yet the brand's reputation was already ruined. The company had two paths: either to rebrand or to dissolve as a corporate union.
The social network experienced a loss of reputation in 2017 due to a scandal with a $100,000 payment for political and social ads to inauthentic Facebook pages supposedly operated from Russia. As a result, consumer satisfaction fell below the industry's average - 68 points out of 100 on the ACSI scale.
In 2020, there was a dramatic drop in the Boeing company's share prices due to several factors, including reassignment of thousands of workers, Iranian air disaster, and scandalous emails' release.
General Tips on How to Build a Good Reputation for Business
There are common guidelines of how to build a good reputation in business, and they concern employers, customers, negative reviews, and company management.
Focus on Employees
Satisfied employees are a strong base of a company's great image. They work with passion, are pleased to cater to customers, and strive to meet the needs of both employer and clientele. It is vital to build a HR brand and gain the employee's loyalty. The relevant tools are team-building events, proper working conditions, satisfying salaries, additional health insurance support, possibilities of education and promotion, respectful communications, etc.
A strong HR brand drives visible business effects:
Enhanced retention rates: Attracting and retaining experts with a high salary is hardly a working solution, as other employers offer the same. A reputable company's image, on the contrary, is rare to find and, therefore, it can become a great motivator. The same applies to positions with high turnover rates.
Hiring star-employees. Why did Apple hire a legendary Pepsi.co's marketer, John Sculley, back in 1980? Because famous names attract attention and, consequently, customers. However, no celebrity will risk working for a company with a bad image, so you need to keep up.
Focus on Customers
Customers form another significant factor for your reputation. Depending on your sphere, you should pay a lot of attention to the review resources that attract your customers - for instance, Yelp, Tripadvisor, Amazon, Facebook, or other top review sites. Besides, you need to track the sentiments on the web on the whole. For this, you can either assess reputation yourself simply by googling the company's name and calculating the ratio of positive/negative/neutral reviews or delegate the job to reputation management professionals.
How to manage a corporate reputation online:
Monitor online environment. If you come across outdated, irrelevant content, contact the website's admin, author, or hosting provider and request information update or removal.
Set up Google Alerts to get notified every time someone mentions your company.
Give preference to catalog sites. They are mostly free and drive great SEO outcomes.
Optimize content. When publishing it, follow fundamental SEO rules to get top SERP positions for specific requests.
Benefit From Negative Reviews
Never skip negative reviews. Instead, respond to them to showcase your strive for customer satisfaction. When it comes to negative reviews, express your regret, highlight some good points, and note the changes you applied in terms of the mentioned problem. Then come up with an attractive offer to switch a negative impression into a positive.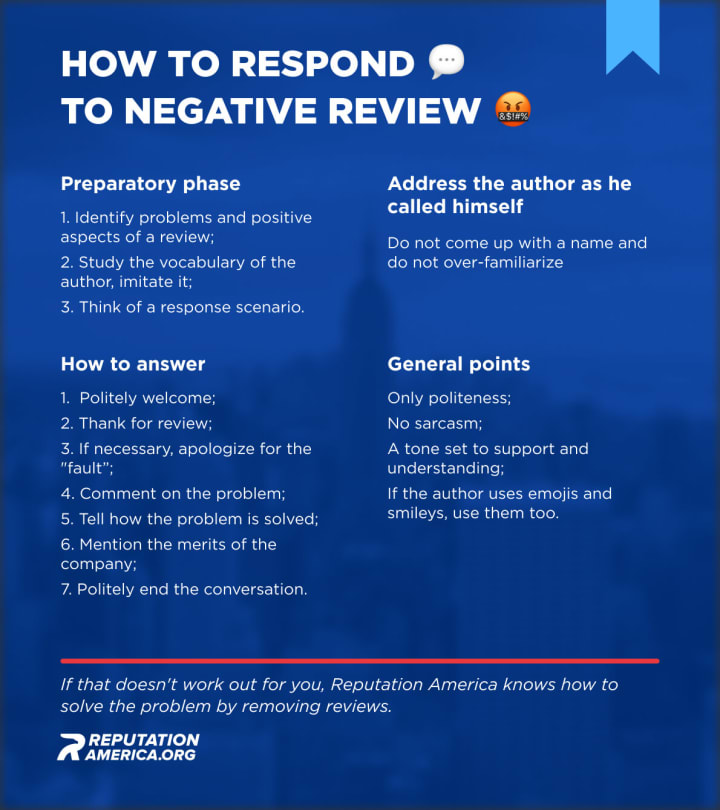 Does Personal Reputation Matter for Business?
Some people do not even know that reputation-harming information exists online. That's why ensuring top management and other employees have a good reputation on the Internet is a must. It explains why regular background screening is an ordinary practice in top companies.
Poor online reputation isn't a life sentence, though. With a proper strategy, harmful information can be removed or deindexed. For that matter, you might use the help of an expert who knows what's good for a digital reputation.
Here are two real cases of how to build a good reputation from our experience.
Case 1: IT-Specialist Involved In a Scam Project
An IT specialist used to work for a binary options company. After a while, it was named a scam project and led to a series of negative reviews and accusations of fraud online. The specialist developed company software but had nothing to do with its cheating schemes. Yet, his name and picture were mentioned online in connection with this company, which did not let him find a new job.

How did we solve the problem? Our specialists crafted a unique strategy to delete the information for every website. We negotiated with the platforms and explained that the published content was incorrect and harmful to the personal image. We used different approaches for every resource to gain their support. In the end, the data was removed, which helped the client to build a positive reputation.
Case 2: Former Interests as an Obstacle for Future Career
About five years ago, a young woman posted numerous videos where she was singing. There is nothing bad about those videos except for the low quality of the picture and poor sound. However, her past hobby was harming her current reputation and served as an obstacle for career building.

To solve the problem, Reputation America specialists contacted the platform's owners and successfully negotiated files removal. Once again, our specialists reached every party personally and used custom tactics to explain the problem. Such an approach is the most efficient as the videos were promptly deleted.
Regain The Control Of Your Reputation
Reputation is only a candle, of wavering and uncertain flame, and easily blown out, but it is the light by which the world looks for and finds merit, James Russell Lowell once said. To find the merit, however, you need to constantly monitor your online image to prevent negative implications.
While you can't change your past, you can bury your secrets by removing or deindexing harmful information from the web. Since solving client's problems is our mission, we at Reputation America can clear your reputation legally, confidentially, and with a lifetime warranty.
Sometimes, it's easier to conceal harmful or outdated content from the target audience. After all, negative information cannot harm you if no one sees it.
About the Creator
An expert in the information removal and reputation management field. Arsenii Katkov is the creator of online services for reputation management and hidden marketing. Arsenii is the CEO of Reputation America.
Reader insights
Be the first to share your insights about this piece.
Add your insights