How Do Roll-up Banners Help Your Real Estate Business?
Are you looking for real estate roll-up banners? This story is for you.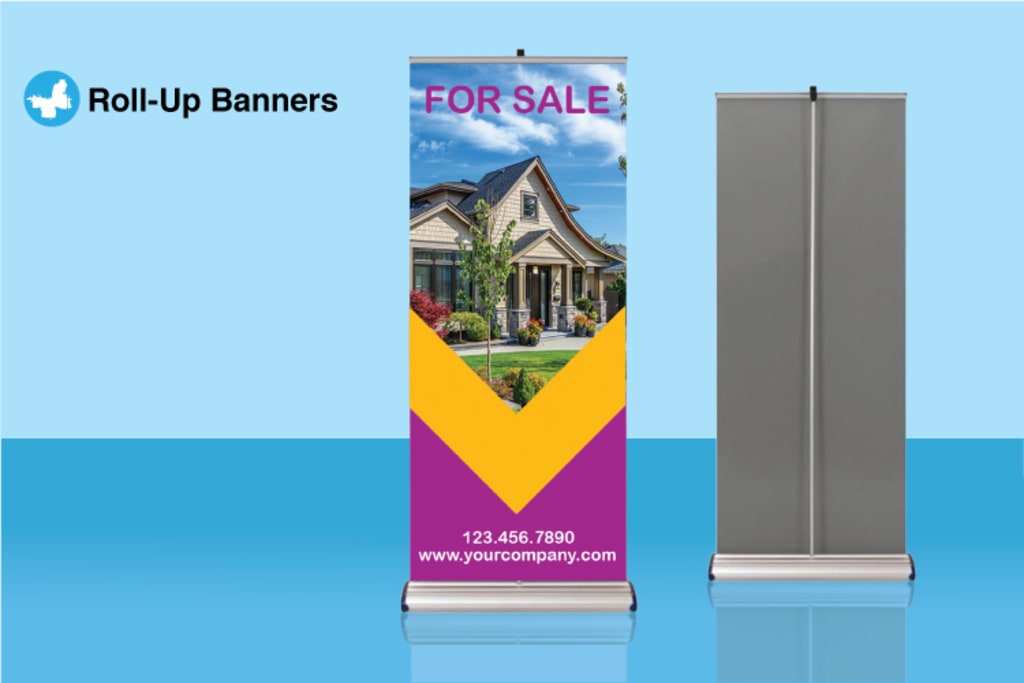 Real Estate Roll-Up Banners
The printing industry has a lot of products to offer to real estate companies. Online advertising may bring about some positive outcomes. But physical and real-life banners are sure to get the attention of passersby. Prospective clients could be walking or driving past these banners. One glimpse is all it takes to know about the work and services you offer. Skilled printing suppliers like Agent Print give the opportunity to order these printed products online, too. Do you have a printing supplier on your mind already? Now it is time to decide on the characteristics you want your real estate roll-up banners to have. Therefore, you need information about them. You may start by answering the following questions. As an instance, how can they help your real estate business? What are their advantages? What are their effects? You can find the answers of your curious mind by reading more about roll-up banners. Here, too, is fully dedicated to finding out more about this exquisite kind of banner.
What Is a Roll-up Banner?
As the name suggests, it is a banner that you can fold or roll. Therefore, it takes up a small place. Different companies like real estate businesses rely heavily on introducing their brand using them. They come with positive features that attract most real estate agents and prospective buyers. Like a mini-billboard, they come in where you most need them. They have a wide range of applications, as well. Moreover, they are easy to see and give out the most prominent information about your brand. You can include your logo, contact information, and motto for everyone to observe right away.
Where Should We Set up Real Estate Roll-up Banners?
Roll-up banners are versatile. It means you can utilize them in various locations and situations. Do you have an upcoming conference or presentation to attend? You can mark your stand in the exhibition using customized roll-up banners. The good thing about them is that you can later replace them, as well. So, you can use them multiple times. Plus, you can use them in different places for your open house event. By using them, you remind guests and other real estate agents that you are in charge there. They would know who to refer to when they have questions. Plus, you add to your credibility. You may use them both indoors and outdoors for maximum exposure. Showings, in your office base, trade shows, and wherever you have a chance, you can work on promoting your brand. All you need to have are these roll-up banners at your disposal.
Roll-up Banners Are Portable
The materials in roll-up banners allow them to be portable. They are lightweight and easy to set up, as well. As a result, everyone can undertake the task of putting them up in a few minutes or less. Assembling them is a feasible task for any real estate agent or broker, as well. You can carry them around with you and inspect the best‌ locations. Placing them where there are more onlookers means there is a greater chance of reaching out to potential leads, too. In the end, you can choose the most appropriate place with more possibilities of people noticing these banners. Remember that the hardware needed to install them is included in each purchase most of the time. The stands are responsible for keeping these banners upright and standing.
They Increase Your Brand Visibility
Roll-up banners are hard to neglect. Most of us have our visual sensory powers powerful enough to detect our surrounding objects. Therefore, those prospects who observe your roll-up banner notice your presence and the work you do. Do you install them in local places? More people living in the area will understand the changes to the neighborhood, as well. So, you can be sure people have an eye to detect signage placements. The more people notice your brand, the more buyer leads you can expect to get.
They Are Customizable
Like most other printables, the design is in your hands. You can decide on the details and make it unique the way you want. Do you think you can do the designing job yourself? Perhaps the following tips will help you more. First and foremost, include the most notable information on top. The top-bottom strategy makes sure your main message is delivered successfully. Adjust your logo on top of the design. Also, include high-definition pictures with vivid colors. In general, try to make your roll-up banner pop up by using attractive visual features. Still, keep the overall template minimal. Do not make the design messy. Sometimes, the passersby have a few seconds to survey your signage. Therefore, you should inspect your roll-up banner's location. You can proceed to estimate the average time anyone has time to assess your banner. In the end, you can decide on how much information is suitable for your roll-up banner. Still, some data like your contact information, office base, website, and QR code are essential parts of your final design.
They Are Durable
Another convincing constituent is the durability of roll-up banners. These banners last under most weather conditions, and you can use them multiple times. You can set them up for different open house events, showings, or conferences. Therefore, the initial cost seems insignificant compared to their usages. After a while, they return their expenses by generating more leads.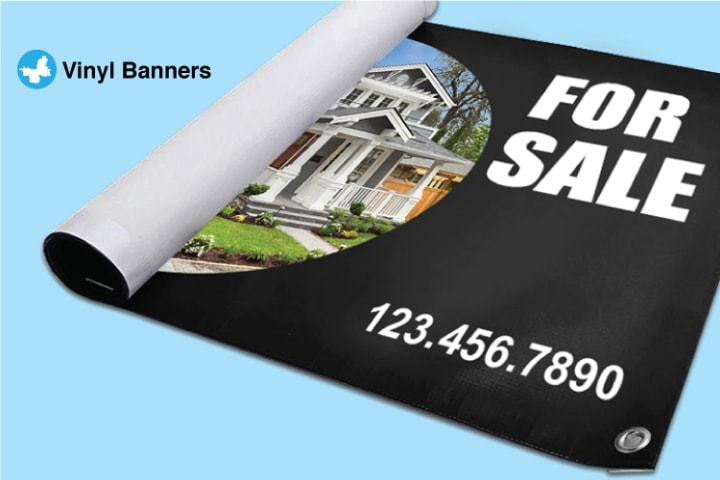 Roll-up Banners Are Affordable
These low-cost banners are accessible to all. They are not expensive, to begin with. But they last a long time and help you in getting more buyer leads. You may find roll-up banners next to real estate vinyl banners and similar products. However, depending on the stand you choose, the prices may change. What are they? They are the piece keeping the banner straight. The two options available on most professional real estate printing suppliers' websites are premium and luxury stands. Both are durable and of high quality. Still, the latter presents us with more glamor and quality in the longer run. In the same way, you can expect its prices to be steeper. Still, they are both durable options that are worth the initial cost.
Some advantages of roll-up banners:
Portability durability
customizability
increasing brand recognition rates
generating more leads
affordability
In the end, it is worth mentioning that roll-up banners in the real estate industry are not a new invention. But they have stayed with real estate businesses for a reason. Their practical features make them ideal marketing tools. Setting them up is easy, and they are affordable. So, it is wise to take advantage of them by placing them for different occasions.