How Do Flyers Help Your Real Estate Business?
Are you looking for real estate flyers? This story is for you.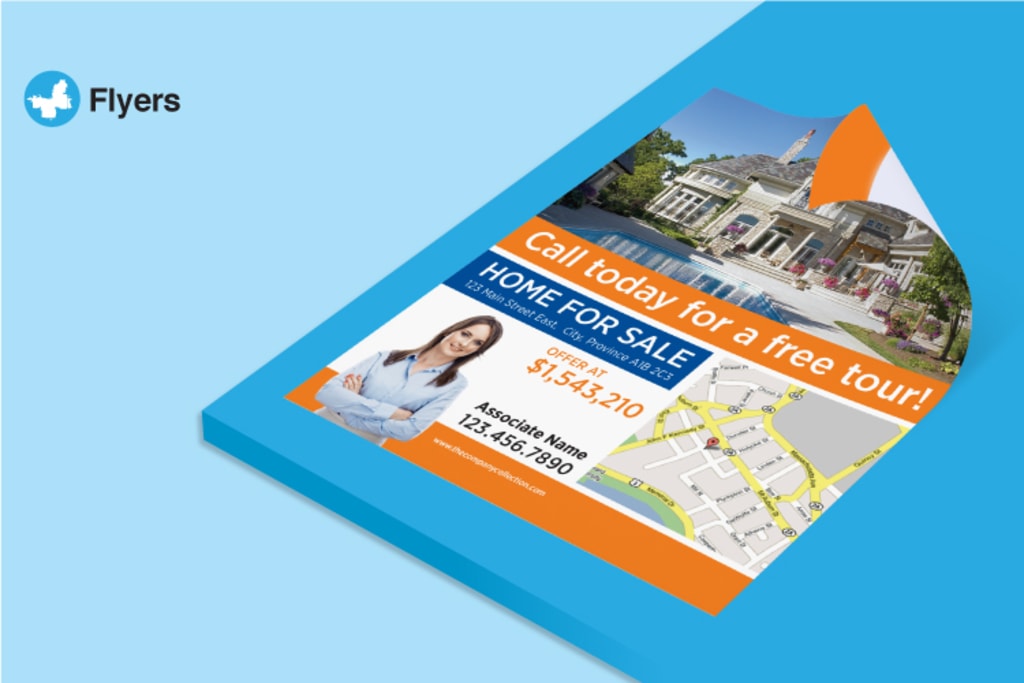 Real Estate Flyers
Real estate flyers are one of the convenient real estate marketing tools that increase the number of buyers. You can distribute them in different places, as well. A coffee shop, an open house event, or a nearby street can turn into your showroom. All you need to have are the flyers you have carefully purchased. The quality of these flyers is as significant as their design. Therefore, you need to get them from professional suppliers. Many online printing suppliers, such as Agent Print, offer easy access to their products. So, the next thing you need to know is why these flyers are essential. What are the points we need to consider while ordering them? Is there the best material for flyers? And in a nutshell, what makes a flyer unique?
Flyers Are Cost-Effective
Some real estate agents may turn to online advertising. While their techniques may lead to more prospective buyers, their way is not always the highest way. A combination of online and printable advertising may best deliver your expectations. Flyers are cheap and fast to provide. Their production takes a short time. Therefore, their popularity is justified.
Distributing Flyers Is Simple
The simple ways of distributing flyers are another reason why they are a must. You could distribute a flyer about a particular listing near places where you think prospective buyers attend. For example, if a property best matches a family with kids, you may want to distribute the flyers near parks where kids play or around schools when parents come to pick up their children.
Distribute Flyers at Open House Events and Showing Sessions
The second way is to hand them out at events and open houses. All those who take part in your event may get a flyer to remember you and your listing. The additional care and support you provide helps prospects consider your offers more seriously. You can build trust and communicate with these prospective buyers and start a working relationship with them that would last long. The benefits of friendships made in this industry will affect both parties involved. So, you can consider your journey starting with well-designed and high-end flyers.
Place the Flyers in a Box
Is there a for sale sign on the lawn of the property? Why not include a box to it and put these flyers inside? This way, all who pass by the property or participate in your open house and showings will take one as they walk by it. Your flyers give so much information to your prospects without you even noticing. These people will appreciate the extra attention you have paid. These flyers have the information that they find useful. Therefore, you want to be super careful and handpick every piece of data to fit your clients' needs.
They Take their Undivided Attention
Flyers are short and to the point. The amount of time to focus on anything is limited these days. So, flyers are the best way to give any information in an instant. Their visual effects, too, help in taking in all the information at once. High-quality photos of the listing will more than anything help prospects remember why they loved the listing in the initial step. The highlights of a property emphasize its strong potentials to your prospective buyers. As a result, you can expect more buyer leads generated from each event.
They Increase Business Exposure
Any marketing tool aims to increase visibility rates. A sound marketing strategy takes help from any available resources to see their full effects. Flyers are a direct way to boost the number of people noticing you. Therefore, you can count on more brand awareness, provided you do everything carefully. Part of your job is to make sure the design is top-notch. The other part is dedicated to the real estate printing companies. By finding professional and credible real estate printing websites, you increase your chances of having the best flyers. They do their fair share by adding to your business exposure and brand recognition. These effects are the ultimate wish any real estate business should aim to reach.
Printed Flyers Engage Readers
Flyers are not only practical but more engaging, as well. Printed flyers, more than online ads, entertain people. We are often used to closing any online ad popping up on our screens at any time. Sometimes, we even find them irritating and unnecessary. However, printed flyers are distinctive. They seem to be more professional and truthful. They have a call to action. So, any prospective buyer may go and see the property for themselves. The full-color printing and the high-quality material turn flyers into a unique chance to promote a listing's special features.
What Is the Best Material for Flyers?
Now that you know why flyers are essential, you can focus on their quality. A high-end flyer is made with the best printing materials. The two popular options are 100lb Gloss Stock and 100lb Matte Stock. Both are trendy and stylish, making them perfect for flyers. Their core difference relies upon the amount of coating they get. The matte stock paper has less amount of coating, making it less prone to keep fingerprints on it. Also, the matte paper stock is more suitable for flyers that have more written information covering them. However, gloss paper stock has a thicker layer of coating. The results make this material shinier. Moreover, gloss paper is best suited for flyers with lots of visuals and pictures of the listing. Both are equally delicate materials. Their price on most professional websites is also the same in most cases. So, you may want to consult your past experiences with flyers and see which best fits your expectations.
How to Make Flyers Unique?
The best flyer with the mentioned features is unique per se. It delivers the expectations that both the prospects and you may have on your mind. Therefore, paying close attention to the listed features of a professional real estate flyer may better help you recall the necessary points.
A professional flyer has:
Engaging photos
Necessary information
Your logo and ways to reach you with your contact information
A call to action
Open house or showing time and address
Now that you have all the necessary information regarding flyers, you may proceed. You may order your real estate flyers with your dream design in your mind. All you need to do is take one step at a time. You can always consult your real estate printing providers for more information.
list
About the author
Reader insights
Be the first to share your insights about this piece.
Add your insights