How Direct-To-Consumer Derive Ecommerce Supply Chain from Manufacturing to Delivery
Ecommerce Supply Chain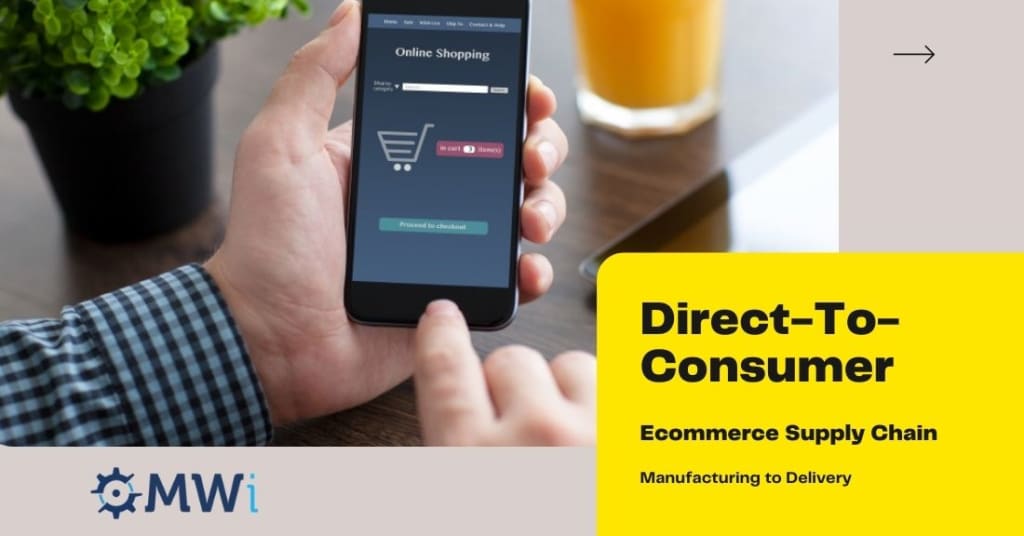 eCommerce Supply Chain
In the times of COVID-19 pandemic, with retail stores under attack, manufacturers' direct-to-consumer channels have never been more crucial. Retail foot traffic is expected to decline in the near future, thus manufacturers are looking to implement new tactics to protect their businesses, better match supply and demand, improve real-time responsiveness, and allow world-class logistical execution capabilities down to the last mile.
Many firms are overhauling how they make and move items in unexpected ways in order to enhance service levels, create a fantastic customer experience, and boost loyalty and market share.
The D2C channel brings new benefits for brands, including brand loyalty and engagement, consumer data that provides real-time insight and optimizes operations, and the capacity to create highly targeted and unique products that build brand affinity. A tighter contact with the final consumer enables a company to provide more specialized services, better forecast demand shifts, and optimize operations accordingly.
Impact of Online Shopping on Supply Chains
Volatility became increasingly widespread once the internet and online purchasing were introduced. Word-of-mouth can be amplified through the internet, and e-commerce makes it relatively simple to order anything, at any time, from anywhere. Furthermore, search engine algorithms might have a significant impact on your brand's visibility.
The landscape has evolved substantially and continues to do so. When it comes to retail supply chains, Amazon has a shipping cost that is 20% lower than multichannel retailers. As a result, Amazon has a monopoly on e-commerce, whereas multichannel merchants may miss out on things that people want to buy online.
Customers in the electronics supply chain, for example, were among the first to switch to digital consumption. By 2011, consumer electronics purchases were primarily digital, with over 65 percent of customers ordering gadgets online, up from over 10% in 2010. The ordinary multichannel store faced an uphill battle to offer gadgets directly to consumers via e-commerce, as Amazon had them beat by approximately 500 basis points in terms of cost.
The COVID-19 crisis in 2020 highlighted the brittleness of supply chains. Due to "pandemic pantry" preparations, sales of certain consumer-packaged items, such as oat milk, increased by as much as 305 percent. This demand was not anticipated by brands. Retailers benefited from e-commerce since some suppliers gave them with mobile apps for sourcing orders. Suppliers can see retail inventories and place speedy orders to manufacturers using these apps, which rely on data sharing.
A Real-Time Supply Network is the Need of the Hour
Failure to communicate in real time with upstream partners produces major inefficiencies and expenses for companies who source globally. It's like being chained to an anchor trying to do so across dozens of distributed ERP systems. Today's businesses must aim to reach out to all tiers and levels of their supply chain, collaborating more closely with suppliers and manufacturers to fine-tune production methods and ensure that they are in sync with downstream operations.
So, much more than a basic e-commerce platform is required for efficient demand-driven logistics to support the consumer-direct supply chain. It comes with a complete supply-chain solution that includes integrated multi-tier inventory optimization, order brokering, merge and cross docking, last-mile delivery, and the ability to create an allocated Available-to-Promise (ATP) for order promising to a delivery window in a space within a few hours. And all of this has to be done at a low cost.
Today's network systems enable it, allowing the entire ecosystem to benefit from the change toward direct-to-consumer delivery and accomplish a rapid ramp in consumer-driven last mile deliveries. Furthermore, as economies recover, the organization and its partners will be properly positioned to take advantage of increased demand and new opportunities.
It's Still an Omnichannel World When it Comes to Supply Chain Solution
Even when more of your business moves to direct-to-consumer, you still need to manage numerous channels on a single platform, with integrated logistics management from the first mile to the last. Leading business network platforms, fortunately, can handle this easily, providing a unified view of demand across all channels, as well as the capacity to execute, forecast, and plan.
The Profit Potential is Massive in Controlled Supply Network
Let's sum up the opportunity now. A demand-driven consumer-direct strategy allows manufacturers and suppliers to reclaim control of their supply networks and generate value in the following areas:
With end-to-end visibility, everyone in the network can see what's going on in real time, making it easier to spot and resolve problems.
Using multi-echelon inventory optimization (MEIO), optimize inventories throughout the whole network and free up working capital.
Implement autonomous supply chain management to better balance demand and supply, as well as better manage transportation costs.
Increase ecommerce sales and market share while maintaining revenue growth by implementing consumer-direct "drop ship" logistics.
The Shift Towards D2C Approach in the Year 2021
The interaction between the brand and the consumer is more friendly and engaged in the direct-to-consumer world. This relationship has the potential to be more long-term, since it will develop brand ambassadors who will provide product feedback, reviews, and recommendations. Furthermore, organizations that take a holistic and integrated approach to this shift can decrease costs and enhance efficiency across multiple parts of their business.
Finally, reconfiguring supply chains for a D2C approach comes at an ideal time, allowing companies to build in greater adaptability and resilience at a time when supply chains have become more vulnerable to a wider range of potential disruptions, ranging from trade tensions to key material shortages to pandemics.
Therefore, a shift to a D2C model can provide a chance for a company's operations and approach to undergo a deep profit-enhancing makeover. To accomplish these and other benefits, brands have every reason to collaborate with their supplier partners.
Are you looking to boost your supply chain network? Get a free consultation with MWI Solutions today.
business
About the author
How ERP (Enterprise Resource Planning) software system helpful in organizations and industries. Looking for best ERP solutions for your business and industry?
Reader insights
Be the first to share your insights about this piece.
Add your insights