How Did I Get Here Again?
An Accidental Business Story.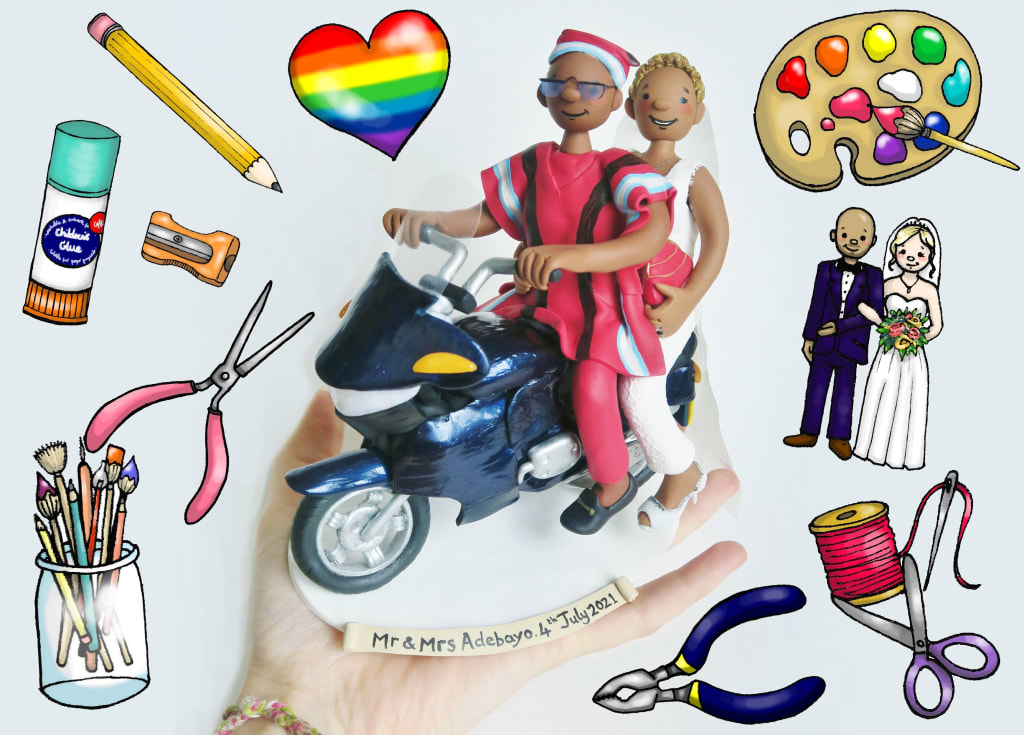 One of my latest, (and greatest,) commissions.
I had no idea what was going to happen when I made the first one. I was just doing a favour for a friend. But I guess all the best stories are born out of an act of love. My friend was finally marring her high school sweet heart and she was completely absorbed in planning the wedding day. But when it came to finding a cake topper that represented her and her fiancé, she was disappointed. Every little figure she found had a tall, thin, blonde bride with a long, puffy dress and an equally bland groom. My friend is short in stature, with curly brown hair, glasses and a distinctly shorter and beautifully unique dress.
I was gifted in art and had always played around with modelling polymer clay to make unusual jewellery and miniature food for my dollhouse, so she asked if I might be able to make her a cake topper that actually looked like them. Relishing any creative challenge, I agreed and set about making the perfect replica of them both. I asked for photos of his suit, her dress, the shoes, the flowers, how she was wearing her hair, what colour tie he would wear, then I painstakingly recreated every tiny detail in their personalised figures.
I didn't have any expensive equipment back then; I used cocktail sticks to curl the clay into tiny roses for her bouquet. A thin, wispy paint brush, that came in a value pack of twelve created the detail of their smiles. And using a borrowed pair of fabric scissors, I carefully cut a tiny piece of netting to make the miniature veil. The rest was just me and my fingertips.
My first ever personalised cake topper is a little embarrassing compared to the elaborate designs I can make today, but I still proudly display the photos in my commission book. On the very first page of my scrapbook, is the one that started this unexpected eight year journey of adding a personalised touch to hundreds of weddings, birthdays, Christenings and Anniversaries. I had no idea back then, proudly watching my friend gush over seeing her tiny miniature self, that I would come to serve and represent so many communities who were otherwise entirely overlooked by much of the wedding and events industry.
Now, as I flip through the pages of my commission book, I see the hundreds of LGBT+ couples, racial minorities, physical disabilities and people who just wanted to see themselves accurately represented as the unique individuals that they are. I can't even begin to explain the sense of pride and purpose that swells up when I think; 'I did that, I gave that to them. With my hands and skill, I helped someone feel seen.'
Of course this was never the plan; to make a business out of crafting personalised art. Hell, I never thought I was someone who could run their own business! I'm Dyslexic and spent most of my school years struggling to catch up with what seemingly came naturally to my peers. But being creative was always were I had the edge. I would make, all day, every day and I would try everything. Painting, drawing, sewing, printing, pottery, collage, sculpturing, quilting, anything and everything that would allow me to express and create a little happiness, I would have a go.
At risk of becoming a craft hoarder, I began giving some of my creations to friends and family but quickly noticed strangers would stop me in the street to ask where I got my earrings, or the painted converse I was wearing. My sense of self-worth would always increase, every time I would answer; 'thank you, I made them myself.'
It wasn't until after my friend's wedding and the photos of her cake topper circulated on Facebook that I started receiving real requests. People I had never met wanted me to make their figures for their wedding day too. I had no idea how to run a business, but one clearly wanted to be born, so I learned on the job. I read every book on the subject, listened to podcasts on how to file a self-employed tax return and set up a website, all the while honing my personal style and craft. I made some beginners mistakes and had some hard lessons as I learnt to become an organised person, an alien concept to me and all who know me.
The designs got more challenging, someone wanted their four dogs included, then a horse, another wanted their motorbike recreated. One couple wanted an entire carousel, complete with the bride and groom riding the horses up and down. My mother would hear the details of my next commission and shake her head; "how on earth are you going to make that?" She would ask in disbelief and stare at me blankly when I reassured her that I could 'just see it in my head.' Within a few days, everyone else could see it too. I adore the making process, especially the tricky designs, they're the most fun!
But the very best part, still to this day, is right after the customer sees it. Once the cake topper is made, I send the photos to the customer, just to check they are happy with it before I post it to wherever they are in the world. If I ever have a bad day, or feel like I've failed at something, I go back and read the messages they sent me right after they see their finished commissions. The shock, delight and gratitude that they express in those immediate messages makes me feel like I have given them a gift almost no one else can give. It's these reactions that made all the struggling through long hours, uncertain income and people asking when I was going to get a 'real job,' worth it.
It's from the reactions of the people my art has helped that made me realise I was providing value. I worked in part time retail since high school and never before had I thought; 'yes, I just provided a totally unique service that has enriched that person's life. This is something they can cherish forever.' Now I can. And I do, every time someone thanks me for my hard work in painting in their tattoos in tiny detail, or adding in their beloved pets, or making their baby son and his favourite teddy, I can proudly tell myself that I am using my art as an act of love.