House of Gucci - My Thoughts 💭
Film Review, 2022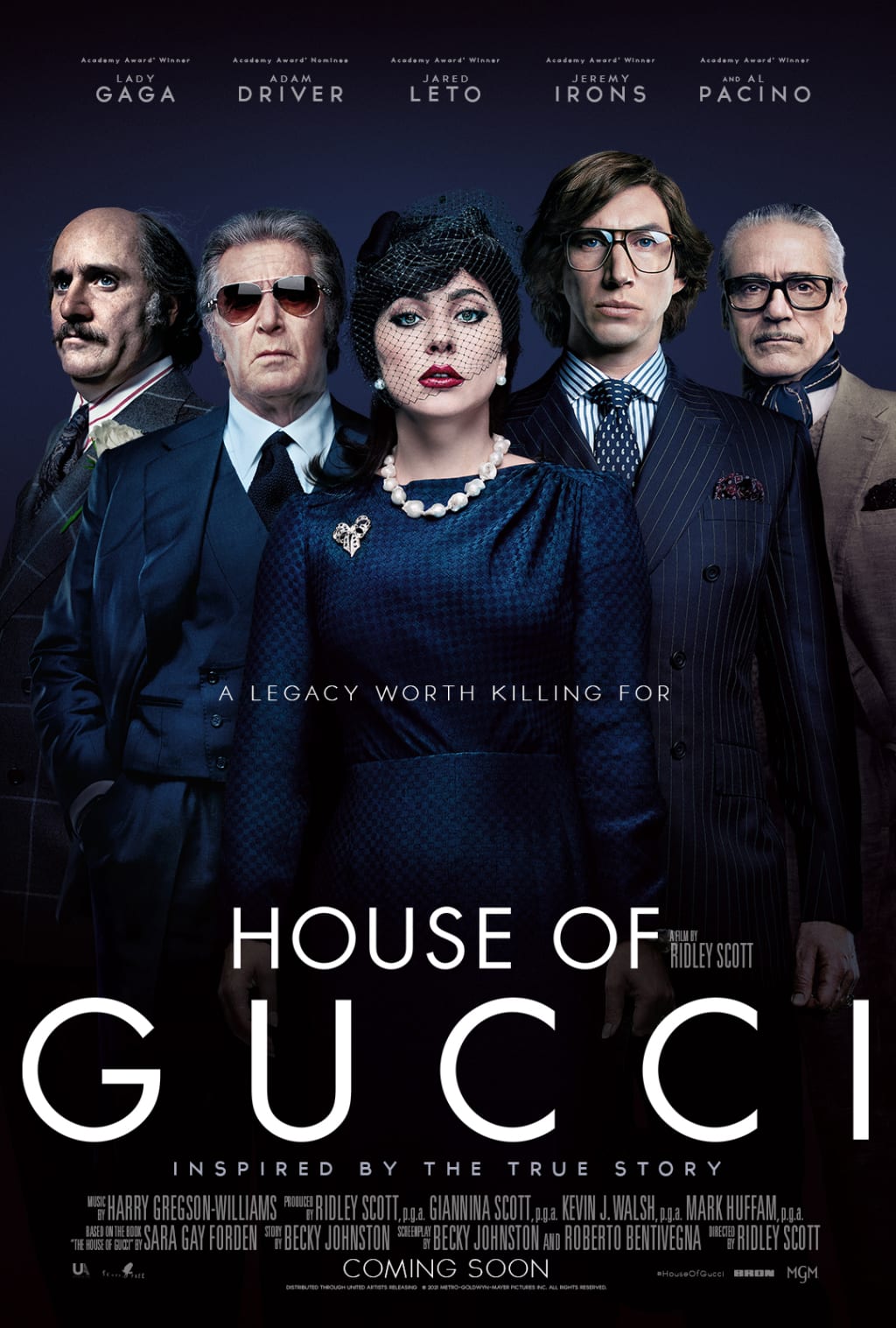 House of Gucci - Dir. Ridley Scott
Based on the true story of the, at once, gradual dissolution of the esteemed brand Gucci and its family legacy by the ambitious, yet reckless Patrizia (Lady Gaga) wife of Maurizio Gucci (Adam Driver). What begins as an awkward romance between the two, dissolves into an, at times, soapy tale of betrayal, deadly ambition and murder. Also starring Jeremy Irons as Maurizio's father Rodolfo, Al Pacino as his uncle Aldo, as well as Jared Leto as his nephew Paolo Gucci. If that was not enough, we also get scenes with Jack Houston, Salma Hayek and France's Camille Cotton.
Ridley Scott directs with a sometimes cold and detached approach, matching its warped characters with their chilling lack of morals. Yet, this style sometimes puts us at a distance from the characters. Exactly who are we rooting for here? If anything, perhaps greater characterisation in the script could have been given to Maurizio's character played by Adam Driver, as he comes off too feeble and weak with little explanation of why he is the way he is. Perhaps it's just his personality and his attraction to his polar opposite was his huge downfall - just like many abusive relationships. Regardless, there is plenty for Lady Gaga to sink her teeth into, but very little substance for the audience to bite into and continually keep a hold of.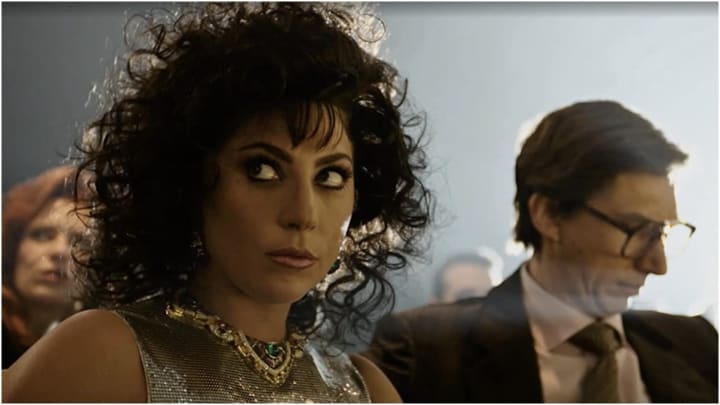 Like another recent true to life film "The Eyes of Tammy Faye", with another terrific performance by a leading actress (Jessica Chastain) yet not in a terribly fulfilling nor substantial movie, - do solid and transformative performances make memorable films? Both women are up for best actress at this year's Oscars. Granted, Gucci is superior to Tammy Faye as there are more interesting character dynamics, tension and higher stakes at play. Ridley Scott also pushes the satire a little further at times, yet it's an overlong and uneven film at 158 minutes. I gather the writers and director have gone for a camp vibe, at least according to the performances by most of the larger than life characters that garner the screen, so I suppose that can be afforded a little over-exaggeration, although I don't know what the real people involved in the story were really like.
Furthermore, the film it is not so much about the police procedural following particular events, but rather the slow decline of the prestige of the name GUCCI due to all the familia trappings and well, murder! You are gradually watching things fall apart on a family relationship level, rather than turning the film into a crime thriller. Although, greater emphasis on these crime aspects of the story may have been more intriguing for viewers, as everything happens very fast in the last fifteen minutes or so by suddenly fast-forwarding two years to the trial's sentence.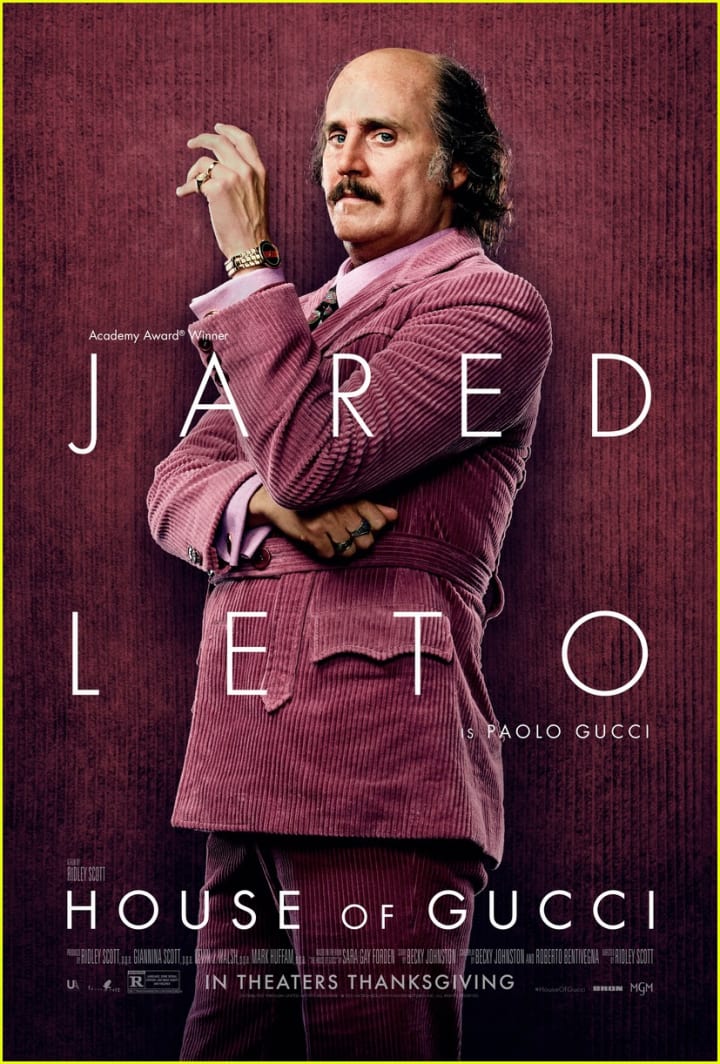 The performances have much gusto that even when I'd lose interest at times, the characters and their crazy antics and nuanced and comedic performances would reel me back in. Each actor worked well off of each other. Jared Leto as Paolo Gucci is fantastic (I only realised it was him after about thirty minutes). It's a very dedicated and lived in role, yet somehow in the popular media his role has been singled out with criticism than any other, which I believe is unwarranted. Indeed, he has loads of prosthetics to make him into the character and possible weight gain, but he is quirky and his interactions and humorous scenes with his family were highlights for me. Surely not a performance to garner such distain. If the film is meant to be camp, and he helps fulfil that objective to a degree, how exactly is that a problematic performance? Overall, the film is overlong, a little directionless at times and its comedic and camp tone may not work for all viewers. On the whole it is not a terrible film by any means, just an uneven one.
I'm giving "House of Gucci" 2.5 ⭐️ out of five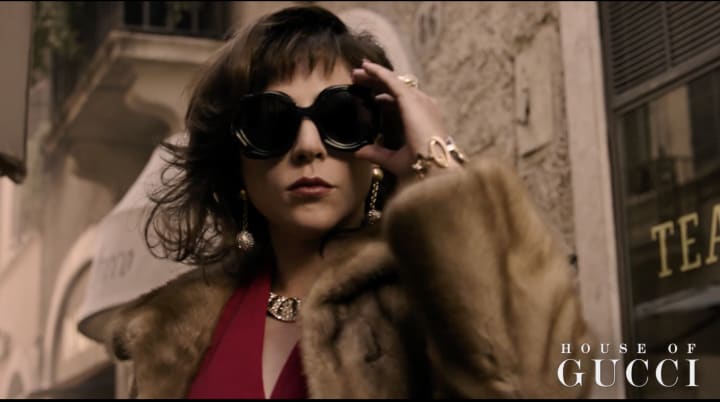 * Thanks for checking out my film review. I am a massive film buff, so if you are too please subscribe for more. If you liked it, please let me know by hitting the heart and consider dropping a small tip to help encourage and support further film reviews and stories from me. Many thanks.
You can also check out my recent review of "The Batman" below: