Height-Adjustable Workbenches for the Manufacturing Industry
Sustema | Innovative Technical Furniture Solutions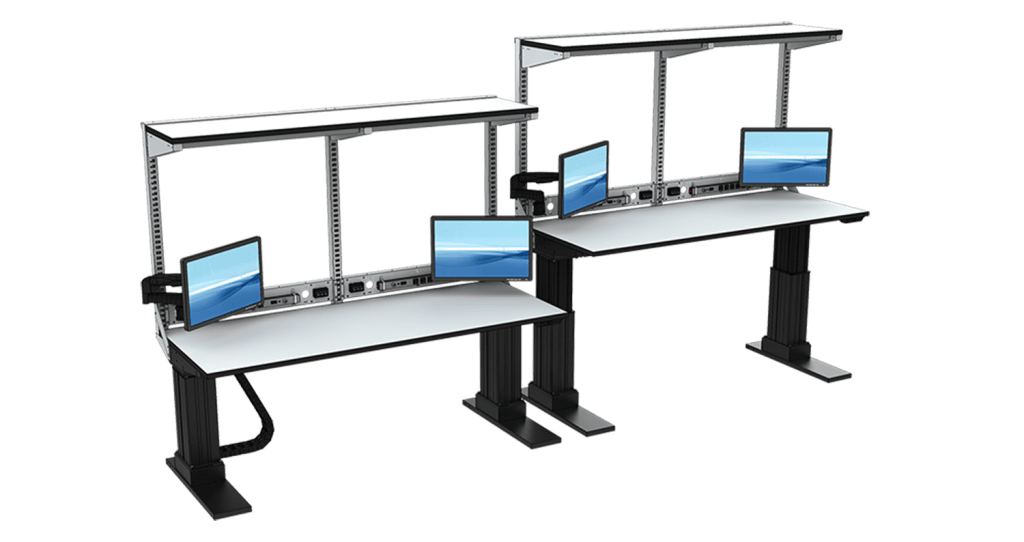 Adjustable Industrial Workbench
Electric Height-Adjustable Workbenches (EHAW)
It may be practical for operators to be able to adjust the height of the work surface, when working with a heavy component to assemble, or simply to be able to perform the work standing, which is known to be healthier. Thanks to Sustema's high-end actuators and knowledge in designing height-adjustable desks, our benches can easily lift anywhere from 500 lbs up to more than 1500 lbs, depending on the structure of the workbench and the worksurface material.
There are also quite a few options to choose from for the work surface, typically we'll provide a high-pressure laminate finish on a 1'' high-density particleboard, but depending on your environment and requirement we can provide a wide range of finishes such as compact, high-pressure laminate with Chemtop, (for chemical resistance), Stainless steel or Dekton (for high-temperature resistance) and ESD mats.
Custom Features & Accessories
The structure and substructure of the work surface, as well as the backing, are all built out with a heavy-duty steel frame. You can choose from a wide variety of color options to make sure it fits the design you are going for. Just like our consoles, our adjustable workbenches series comes with a lifetime warranty because they are built just as strong.
If you decide to integrate a lot of electrical components to your bench, we can also take care of making your bench CSA certified. Since all the components are integrated into the bench directly, it makes it much easier to move and relocate the benches on your production floor in the future.
If you're in the process of choosing and designing your height-adjustable workbench model with your Sustema representative, we can plan a cut-out space in the work surface to fit your retractable monument, or if you're retrofitting it on existing workbenches for computer staging we have options that can be clamped easily.
There are many options to choose from, beginning with where and how we want the connections to be made available. Then we must choose how many and what type of connector we will need. Here are a few possibilities; 15A power receptacle, USB charger, USB 3.0 extension, USB-C, Cat6, HDMI, microphone jack, and many others. If you settle on the connections required before ordering your console, it is possible to have those monuments factory built so the extensions cables come with the monument, you can also choose the length of the USB/network/other cables as well, making it easier for your IT department to set up the unit after our technicians installed your brand new IT workbenches.
Design, Manufacturing & Installation
In conclusion, we can help you design the perfect workbench for your production line that will enhance productivity, team morale, and reduce the risk of accidents by providing a clutter-free and organized workspace. We will also take care of manufacturing the workbenches and installing them at your facility. Given that the possibilities are endless in terms of configuration and options, make sure to get in contact with your Sustema representative and start designing a workbench that will push your assembly line to the next level!
About Sustema Inc.
Founded in 1996 as a systems integrator company, Sustema has over 20+ years of experience designing specialized furniture solutions 24/7 for mission-critical environments and operations. We specialize in manufacturing control room & dispatch consoles, video walls, technology meeting tables and tech benches tailored to our customer needs. Sustema offers in-house design, consultation, manufacturing, and installation services. We have had the opportunity to serve customers across a wide variety of industries including public safety, energy & utilities, transport & logistics, finance, process control, security, technology and governmental agencies.