Happy Anniversary, Vocal + And I Have Been Together For A Year
A Cautionary Tale Of Writers Hope And Pondering Divorce
Welcome To Vocal + From Creatd, Formerly Jerrick Media
Doesn't that advertisement look enticing? Yes, it's true. Vocal is offering twenty-five people the chance to win 5,000 in cash for their best short stories. Even better, Vocal + members who win, because you've got to be a paid member, will be featured in Vocals' first book of short stories. It sounds like a great opportunity. This time last year, there was a similar linked advertisement promising to make up to 6,000 dollars a month to tell your stories. What do you know about Vocal + or Creatd, Inc?
Don't worry. I knew nothing about Jerrick Media or Vocal + when I joined. Let's fix that, shall we?
Run by C0-CEOs Jeremy Frommer and Laurie Weisberg, Jerrick Media became the entity known as Creatd. Their mission statement, from their webpage, says-
Give creators the opportunity to make a positive global impact through storytelling.
Vocal media and their parent company Creatd have come up with the perfect money maker. For $9.99 a month you can write stories and enter them into the challenges available to Vocal + members, the most recent of which worth $5,000 to the 1st place winners. Their biggest one offers twenty-five 1st place prizes and inclusion in the first short storybook published by Vocal. Their latest news is about the biggest ever challenge, "Expected to Drive Vocal + Membership Growth."
So, there I was, in November of 2020, just 12 months ago. I was actually combing the internet late one evening during the height of the Covid crisis. It was then that I stumbled onto an advertisement that offered the promise of making up to $6,000 to write stories from home. Perhaps it was just the perfect time. It was, after all, during the peak of lockdowns and rising unemployment. Any opportunity to make extra money from home looked tempting. And, I'd written hundreds of stories, a few poetry works, and some professional reports. So, it wasn't like I hadn't spent a good chunk of my life writing.
So, I started writing pieces for Vocals' platform. I worked on one that was just a personal piece, discussing the end of the show Supernatural. After that, the next one that I wrote was about the year behind us. Let's face it, 2020 sucked. My favorite one from around that point might actually be a mystery about a bakery robbery. Like anything new, it takes a little time to get your momentum going. I was trying different things, getting familiar with the different communities, and having fun coming up with ideas.
Over the course of the year, I have gotten to know some wonderful people. I've seen some real talent in unknown writers. I've had the opportunity to get to know people in different countries, see their work, their passion, and even casual pictures of their worlds. The entire time, as we all took parallel courses on this journey, I've even learned about myself and the art of writing. Most of which has little to do with content creating. Creating content is about putting something out there that is of interest to the masses, will invite people in, and will hopefully hold them as fans. The reality of content creation, if you haven't noticed, is that even mediocre content will do better than content nobody wants.
My most recent piece is something I can't say is mediocre. Sure, you might say it is, but I know it's got more than just mediocre potential. On Vocal it's hard to hold a fan's interest. Unless you're responding to a social media posting, there's no way to communicate with the writer that you've read the post, left a heart, and what you might have thought of the author's work. Hopefully, someday that'll be a thing on Vocal +, as they work to make improvements. Be kind with what you say. Artistic types are usually carrying some issues and an argument can be made that they're very sensitive.
If you, by some miracle, found this on the internet, then great! Even if you found it floating around social media and it went viral, I'm happy as hell about that. Either way, if you're new to the scene or considering trying vocal, you might wonder how someone did after a year.
Earnings From Reads After One Year On Vocal +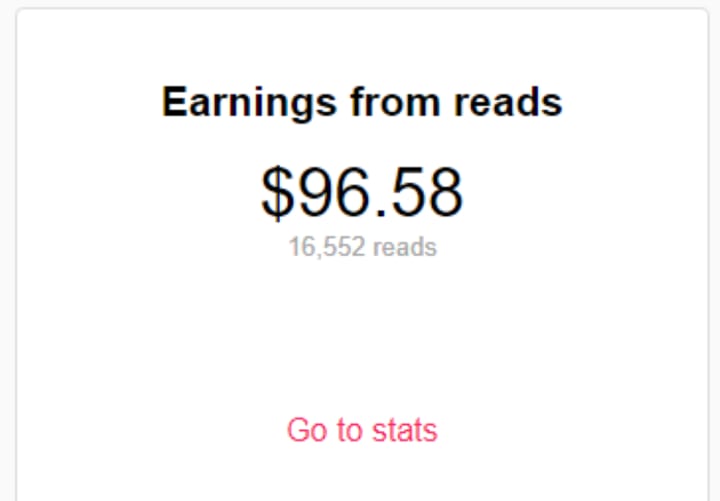 Well, there you have it. This is what the average, or even slightly above average, person can expect to see from reads on Vocal + after one year on the platform.
As you can see, that's from over sixteen-thousand reads. Until July of this year, 2021, I could see an audience growing and was really confident in the platform and my abilities. To put it into a little perspective, it took a while to build momentum. On April 22nd, 2021 I hit the one thousand reads mark. Then on June 28th, I hit the 10,000 reads mark. That was 9000 reads in 62 days.
Here we are in mid-November and it's taken me nearly six months to add a couple of thousand reads less than I did in two months. Vocal is a neverending struggle and it's filled with bad optics. Anyone that spends a year on Vocal is going to notice things that are perplexing at best, infuriating at worst. There really are no answers that anyone can prove. However, if you watch the cycles of things, you'll find patterns that will tell you more than you can get from anyone else. The one thing that even the good folks at Vocal cannot escape from, numbers don't lie.
Vocal isn't all bad. As I consider my future, I think about the friendships made. I even opened up a Facebook page. Mostly, because I felt like I could do something positive for the people that joined. When you can't place in a challenge, you're never going to be the top story, and the only recognition you get is from Creators We're Loving (Computer chosen at random) it's easy to get discouraged. Everyone should know they have an opportunity to have a spotlight on them. This is where myself and my fellow administrator, Rosa Wilcox, several times a week pick someone from our members and point out their profile and a piece or three of their work that we found amazing. It's a tough one sometimes, but people really work hard on their pieces and they deserve recognition for that.
At the end of the day, all of the 25,000 plus that came to Vocal and pour out their guts onto paper, should be looking for success. How though, do we measure success? If you had a viral story just run and catch tons of reads, reads into the thousands, would that be successful? Well, by the very nature of Vocals' original campaign, I'd say yes! What about a top story? Would that be the mark of a successful experience? Again, I'd say yes! What about the possibility of taking something you did on Vocal and turning it into a success story? If it happened, would you be successful in your journey as a writer? Again...yes!
In the meantime, people will continue to write for the challenges, looking for the big paydays, and not remembering the long game that is writing. This really should be a long game approach. Vocal's algorithm is set to pay you .006 cents per read. That's the trick, getting the reads. For this not to take the rest of your life, you have to consider how to get the reads. Consider every option that you have because I honestly don't know what really works.
Getting ranked on Google is the idea, but there's no sure-fire way to get ranked on google and you'll be hardpressed to pull it off if you are only writing fiction. Don't get me wrong, I understand it as well as anyone. I've got 8 to 10 pieces entered into the current big challenge myself, just in the hope of one of them striking a nerve or getting a wow out of the judges. But, I'm not counting on any more of a chance than before. I don't tend to write the style that the judges find to their fancy. So, even after a supremely polished piece, I'd still not end up in their wheelhouse.
One thing to remember is that numbers don't lie. At present, there are over 4300 entries. There are also still 43 days to go before the end of the challenge. Realistically, this challenge is going to have at least 8,000 entries and I'd dare say, 10,000 is not out of the realm of the possible. It means, if my math skills aren't too rusty, that for each entry you have a .25% chance of winning, before taking into account that the judges may choose whomever, or whatever piece they want.
So, there's the long game. The challenges are, without a reasonable doubt in my mind, extremely tough nuts to crack. In English terms, they're extreme long-shots.
It's A Marathon, Not A Sprint
Writers, creators, authors, bloggers, or whatever you want to be called, remember it's a marathon, not a sprint. Sure, the quick fix of a challenge win would be great. But, the one thing that we have control over, is the fertilization and growth of an audience. Like many, I'm not getting any reads. Not on the scale that it would take to feel even adequate with my work. Serialized fiction doesn't work here, or if it does, people lose interest pretty easily. That I've learned. But, poetry works. Why? Because you can slide onto someone's profile, give them two or three reads, and not have been there as long as you've been reading this, my Anniversary On Vocal Tell All edition.
Genuinely interesting articles. There's a novel idea. There are 8, probably more than that, million articles on the internet. Which ones are done time and time again? Which ones warrant being done repetitively because things change with time. If you did a listicle about the ten best-haunted locations in the United States, you might have to redress that article a year later, depending on the rankings.
This was written 9 months ago and put in GEEKS. It poses the question, who had the highest kill count? Realistically, it shouldn't be a guessing game here. From one Jason to another, kudos Mr. Voorhees. Now, after the recent release of Halloween Kills, for it to be current I'd have to redo Michael's kill count to accommodate for the new bodies. Thank god for the edit.
To me, it would seem, that writing on a platform with an algorithm like this is going to be confusing, frustrating, and at times overwhelmingly depressing. However, there exists the possibility of gaining control over your outcomes should you choose to take it.
First and foremost, genuine reads are a must. Not the ones that you use a heart after a quick scroll down just to entice someone into reading your work. But, genuine time with the page open, scrolling down, reading what is in front of you, and then leaving a heart. The Facebook comments and encouragement are always nice, but even I get sidetracked and lose my page at times. Spam bombing someone's post on one of the group pages is always a great way to get reads. No, it's really not. As a matter of fact, the whole read for read thing is turning it into a barter system. If you're confident in your work, drop your link, then go read someone else's works. Drop them a comment on what you thought. A good chunk, the majority, will find you and read something you did.
This takes me to the whole purpose of this article. Vocal + has been hard lately. Creatd does not care about optics. But, they're not hiding anything either. They know how to keep things running in a way that reads aren't going anywhere. They've kept us distracted by going out on a limb with high-dollar marketing schemes to increase paid membership. They've cut out our biggest supporters from being our most accessible readers by keeping us distracted as we chase the win falls. They are in a business, and the business intends on getting rich, not making anyone better off but themselves.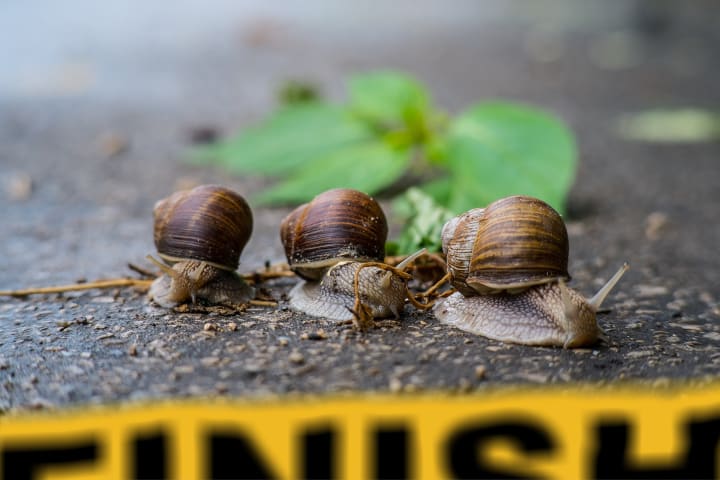 My Final Thoughts
As I settle into my journey as a writer, I feel like a teenager going through puberty. Vocal + from Creatd was my first girlfriend. While she's tempting, has potential, and will keep you going, I wonder if she'll get me there. If you were to ask me a year ago, do you think you can win a challenge, I would have said yes. However, I didn't know what I know today, and I no longer have the confidence to think I can.
If I were to get a "divorce" from Vocal +, it's barely cost me a penny. I can walk away as someone who broke even on the financial side. If I got that divorce, I might feel like something beat me. That feeling absolutely sucks, in case you weren't aware. I guess we'll wait and see.
In the meantime, don't be fooled by the glamour and the glitz of a fancy advertising campaign or fancy contests. If you're not already a published writer, aren't an educated individual with some genuine skill, or don't have anything but free time to sit and write article after article, mastering SEO principles, chances are you'll struggle until you've had enough.
That's just the reality of the platform. You'll meet some great people, you'll make some new friends, you'll shoot for Jupiter and be lucky if you land on Mars.
Does anyone have the number for a good attorney, I might need one. I hear divorce courts are a messy thing.
Thanks for reading, and if you're not a Vocal + member, and would like to try your luck and be a wordsmith, give it a go. Click on my special ambassador link below. Right now, current members can make $20 dollars for any new member that signs up through the link. Well, now I've done the plug for the company. My job is done.
product review
About the author
I have always enjoyed writing and exploring new ideas, new beliefs, and the dreams that rattle around inside my head. From the current state of the world to the fantastical ideas of science I've enjoyed exploring them. Time to share them.