Hand-stitching Your Way To Mental Wellness
An exclusive interview with Sew Northern's Kelsie May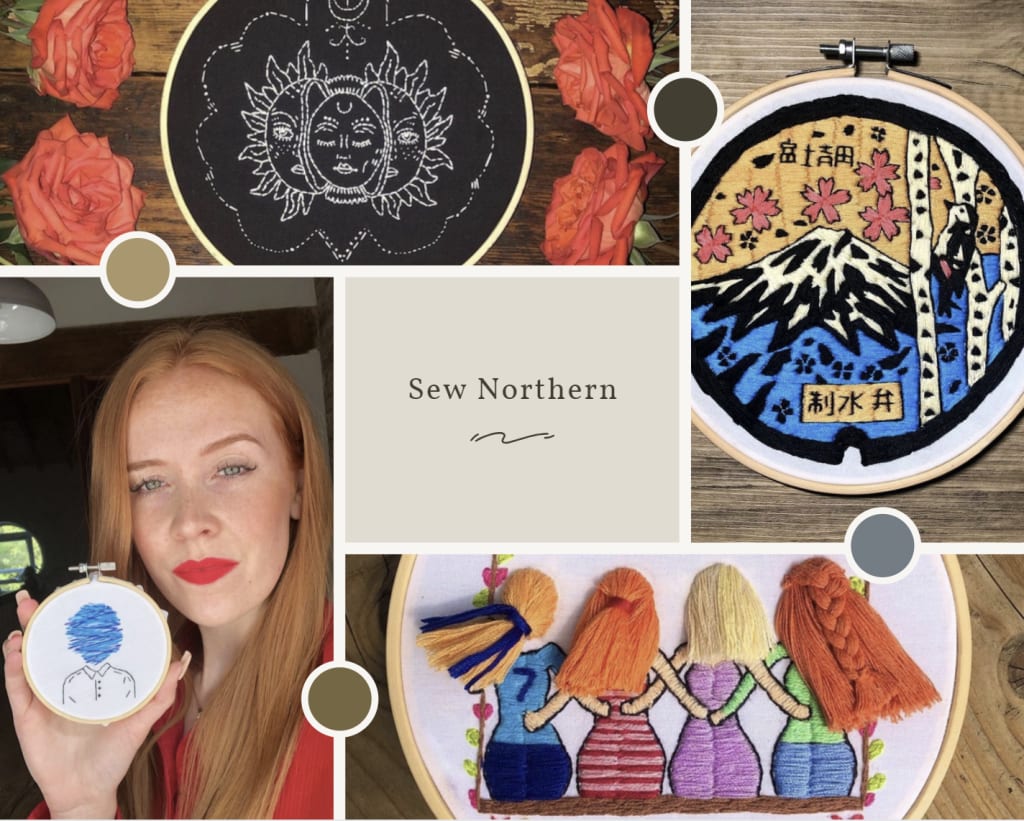 Life is full of difficult moments – whether it be times in which we feel overwhelmed by the sheer number of tasks we have to get through or are struggling with the feeling that our efforts don't seem to be getting us to where we want to be very fast. Perhaps it seems like we get no time for ourselves, or alternatively, that nobody has any time for us, making us feel isolated and disconnected from those we care about. The Coronavirus Pandemic, for many of us, has accentuated these worries, bringing them to the forefront of our minds. If we aren't mindful of this, we risk spiralling. Finding ways to occupy ourselves or give ourselves a break then, becomes imperative – as we learn below from our interview with the one and only Kelsie May!
Kelsie May is a self-taught embroidery artist, who started embroidery as a hobby during the Pandemic and then developed it into a small online business. She is a northern working-class woman from the UK which has always been very relevant and important to the designs she creates. Kelsie likes her embroidery designs to be fun, colourful and bold.
Tell me a little bit about why you started embroidery and the moment you made the decision to turn it into a small business.
It was March 2020, and I was made redundant from my job, then all of a sudden the chaos of the Pandemic began in the UK. The country was locked down and I remember feeling massively overwhelmed by the dramatic U-turn the country was facing. So, in order to distance myself from the turbulent media and the distressing lifestyle we were living in; I thought it would be useful to explore a new, creative hobby.
From there, I began embroidery and sketching design ideas for future embroidery hoops. I absolutely loved it! It brought me so much calmness and peacefulness at a time of absolute chaos. I started making them for friends' birthdays and posting photos of the embroidery hoops on my own social media page.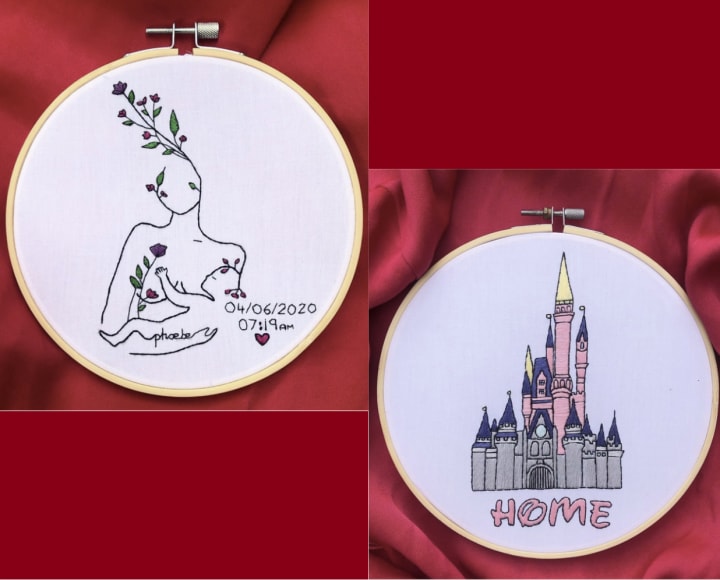 I got so much support and interest from both friends and random people that I began to think about maybe developing my hobby into a small side business. Next thing you know, I created a Sew Northern Instagram account and built up a portfolio of work which generated more custom orders.
So, you started embroidering and sharing your work during the Coronavirus Pandemic. Since then, you have made a lot of people's lives a little brighter with your designs. Could you elaborate on how embroidering has helped you personally to stay grounded and keep a sense of inner peace during these trying times?
Thank you very much. I remember during the Pandemic I would wake up in the morning and endlessly scroll through job websites to find that no-one was employing new staff because of the uncertainty of the Pandemic. I would feel greatly unmotivated and hopeless because I had nothing to focus on or keep me busy. However, once I got into embroidery and spent each day getting creative and making new designs, I felt a new sense of purpose as well as calmness. I started to realise that I didn't have to feel guilty about not applying for jobs every hour of the day and in fact it was important to dedicate time to do my embroidery because it was good for me and my wellbeing.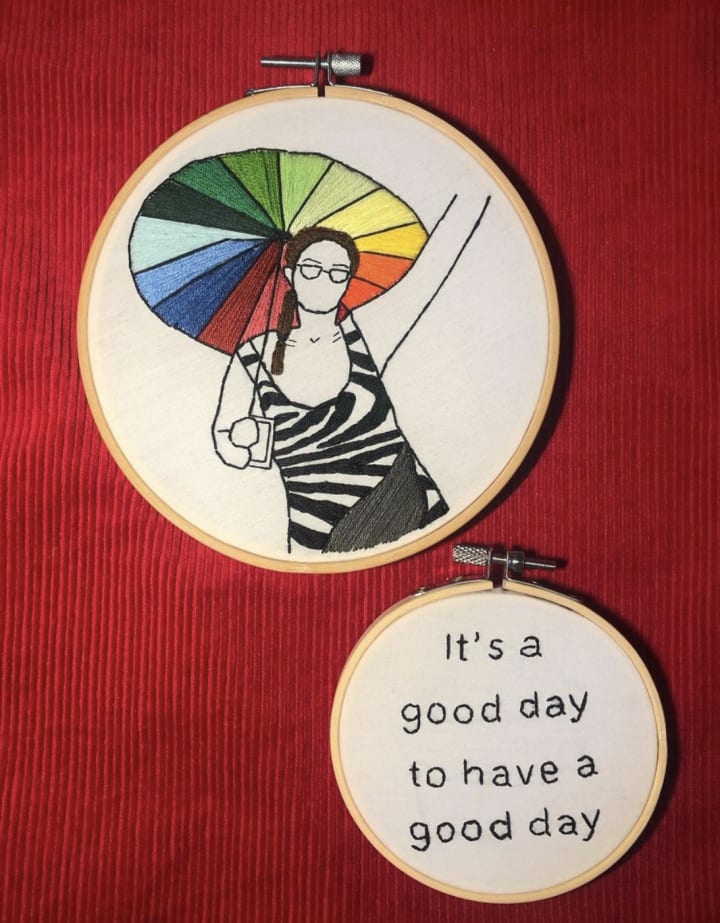 Understanding that you can take a step back from work or life related stress and actually do stuff for yourself that makes you happy is such a breath of fresh air. It makes you feel more in control and helps develop a better self-awareness. Embroidery made me realise this because it requires a high level of concentration which gives you that extra time to relax and reflect whilst getting creative.
For Mental Health Awareness Month 2021, you partnered up with MhIST (Mental Health Independent Support Team) in Bolton, Manchester, UK, to raise money for their charity. During this time, you donated 80% of your proceeds to MhIST! Could you elaborate on the reason for the partnership and how it all went down?
I initially created a design titled 'Feeling blue yeah me too' during the Pandemic in 2020.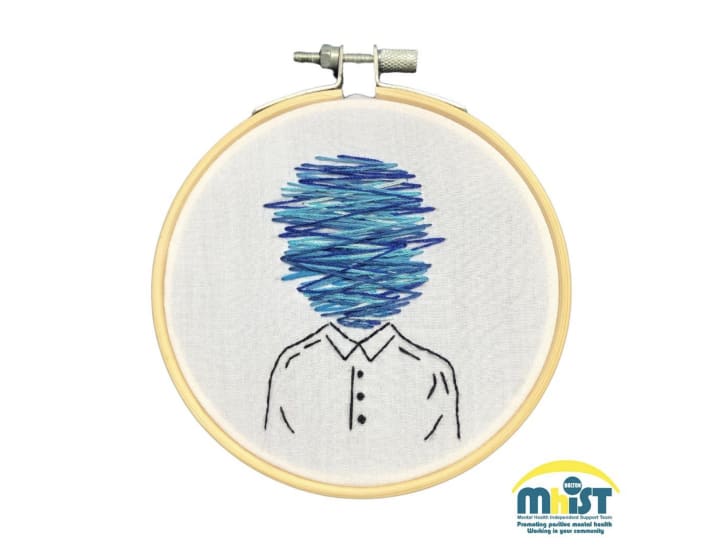 The design represents the challenges of mental health and, at the time of making it, it reflected how I was feeling: sad and frustrated in the midst of the lockdown. Then fast forward to 2021 and it was Mental Health Awareness Month and I wanted to do something extra special that would help create a positive conversation around mental health and also raise money for a local mental health charity.
MhIST is a fantastic local charity that offers a range of mental health services and support groups so I knew this would be a great charity to do it for. I partnered up with them, and for a couple of weeks, sold this piece of artwork and donated 80% of the profits directly to them. In total, I raised £70.20 which was fantastic, and I look forward to working with this charity again to continue to fundraise more money for them.
Talk to me a bit more about the different kinds of designs you offer and the response you have received from your growing customer base.
I offer two types of designs. Firstly, I have my own designs which I have designed and sketched myself, transferred onto fabric and used colourful embroidery threads to make them bold and playful.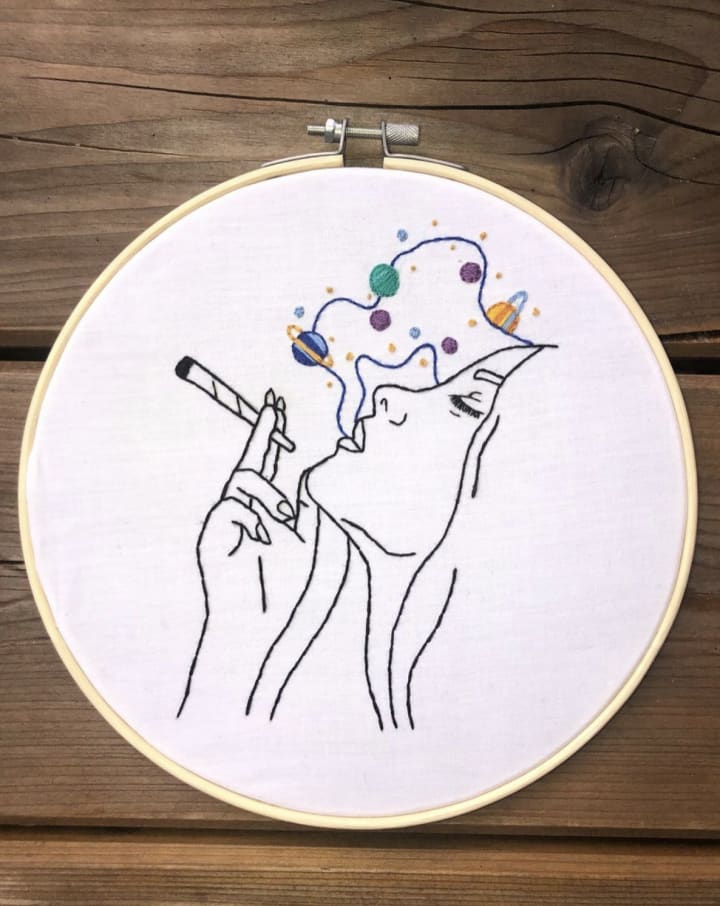 Some of my designs are fun and have a purpose as a gift so they are designed for birthdays, anniversaries etc... My other designs explore a variety of topics and ideas, for example, mental health and Black Lives Matter. The designs that explore topics are my favourite to do because I like art that makes people think and provokes conversation, so I really enjoy making embroidery art that does that.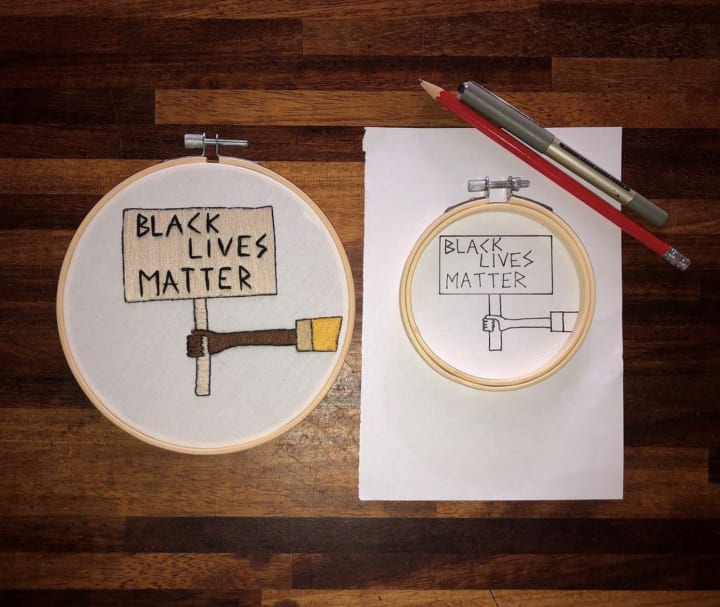 The second type of design that I offer is a custom design. This is where a customer can send me a design idea, or a photo, and I will recreate it through embroidery.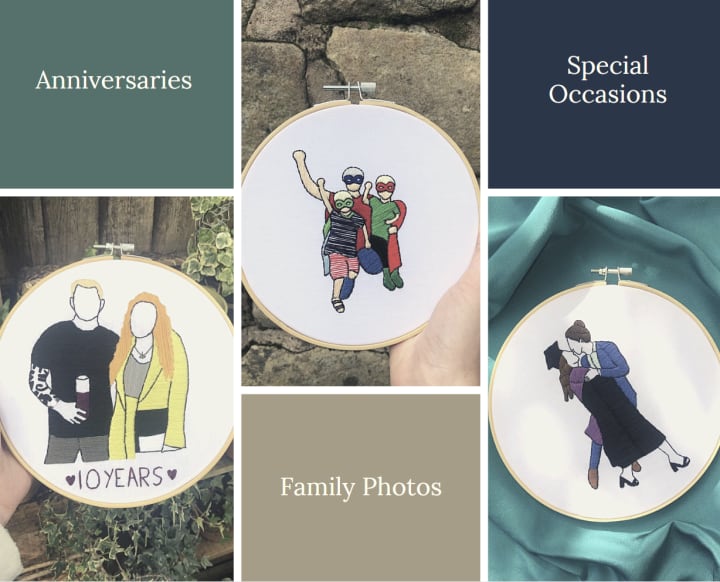 Recreating customers' favourite photos is my most popular design. I have recreated a variety of different photos from selfies to old family photos. It's a beautiful gift idea and has become very popular.
Where do you go from here? Are there any Sew Northern plans for the future?
My full-time job is in education, so at the moment I am enjoying the summer holidays which gives me plenty of time to develop Sew Northern further. I really want to create an Etsy shop or my own independent website in order to really expand and outreach to new customers.
In April, I also got a sewing machine, so I have been practising how to use it. I am hoping to expand from embroidery hoops and also offer a range of other products too (which I will make myself on the sewing machine) with embroidery designs incorporated into it. For example: pillows, blankets, make-up bags and other accessories.
I am very conscious of how I can make Sew Northern ethical and eco-friendly too. This is really important to me and the future of Sew Northern, so I am currently experimenting with recycled cotton and visiting charity shops to find clothing and material that I can upcycle into a new product. I am excited to see how Sew Northern develops. I make sure I don't put too much stress and pressure on myself because embroidery brings me calmness and I don't want that positive quality of embroidery to be ruined.
Thank you so much Kelsie for speaking to me at Outrageous Optimism today! It has been a pleasure speaking to you and getting to know all about Sew Northern.

If Kelsie's story or these wonderful hand-made embroidery hoops piqued your interest and you would like one for yourself – or even if you would simply enjoy seeing some more of her work – you can find her on:
Instagram – @Sew_Northern
Facebook – Sew Northern
She is typically very quick to respond and is more than happy to help with any questions you may have should you shoot her a message on either of the above pages. 2021 is the year of supporting each other in all of our endeavours on this crazy planet. Let's support small businesses! The big ones can't have all the fun after all…
interview
Writing on a variety of subjects that are positive, progressive and pass the time.
We're here for a good time AND a long time!
Official Twitter: @OptimismWrites
Author Twitter: @gabriellebenna
Receive stories by Outrageous Optimism in

your feed