From 0-2,500: How DearDoc Founder Joe Brown Made Adversity into His Strength
Making the Most of Adversity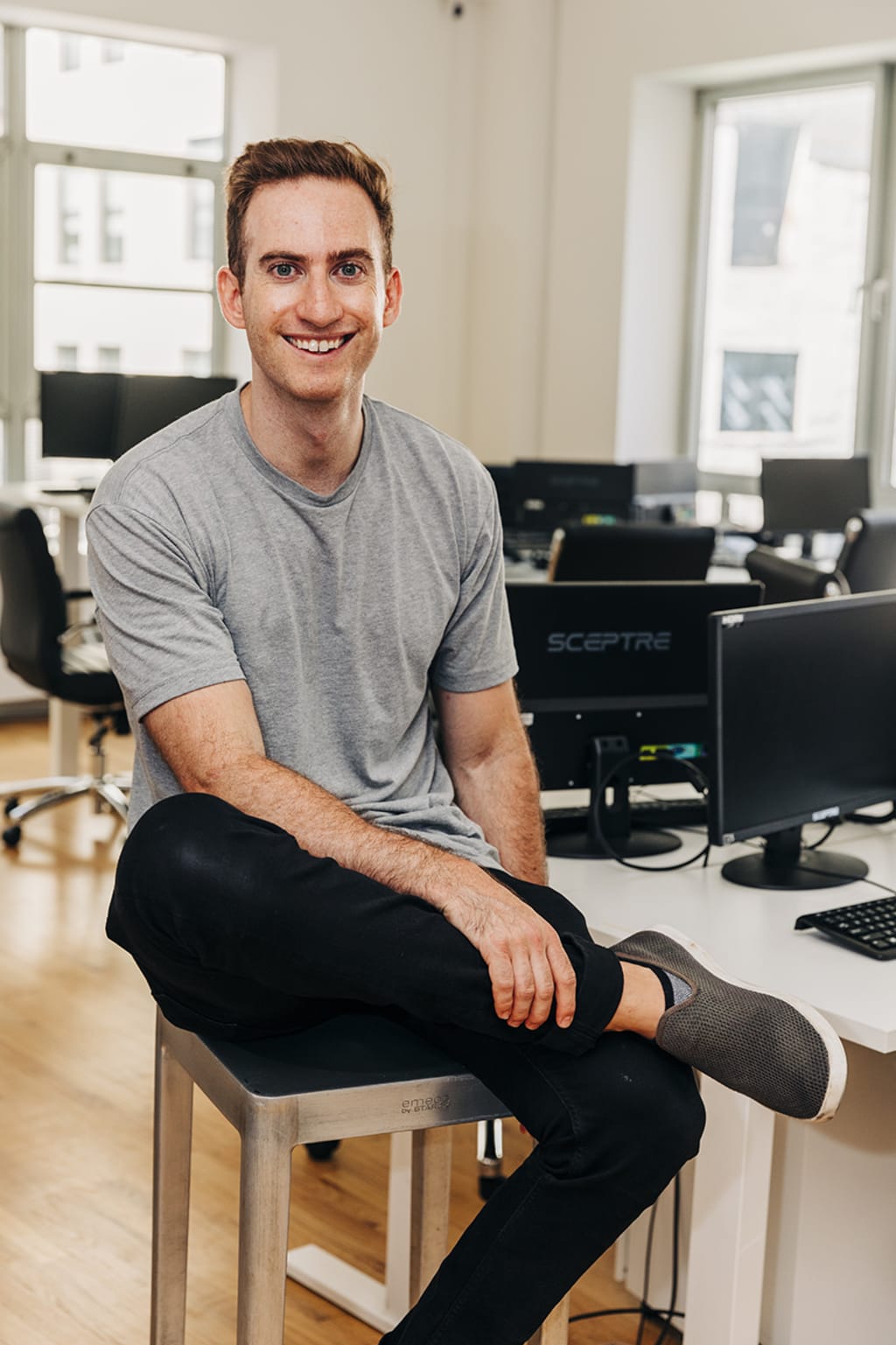 Joe Brown at DearDoc offices in NYC
When Joe Brown was in high school, he was a terrible student. It's okay, he said. You can laugh – he admits it!
"Especially the last two years, I was a terrible student," he said. "No matter what I did, I struggled to take tests. My parents hired tutors and everything, but I was just a bad student. However, I was doing great at my part-time job."
Brown, now the founder and CEO of DearDoc, a practice growth platform for doctors and medical practitioners, said his father rooted for his success at his part-time job – and wanted to see that success carry Brown through college.
"I'll never forget, on my first day, I nearly shattered the company's sales record," Brown said. "It was the first time I actually felt like I was good at anything. So when I was in tenth grade, I knew I needed to get through college so I could do this."
Brown's father, who also worked in sales all his life, cheered him on. Brown said he and his father grew even closer, regularly spending hours on the phone talking about sales and strategy and entrepreneurship. When Brown's father died six months before he was set to graduate college, Brown was crushed.
"He was more than just my dad," said Brown. "He was my mentor and my partner. As a businessman, all he wanted was to see me go into business and do well. So I took all the things he instilled in me and tried my best to make it in the real world."
A few years later, as Brown sits in DearDoc's new offices – the physical manifestation of a company that scaled from zero to 100 employees in two years and brings in eight figures every year – he can safely say he's done just that.
Filling Family Needs
After graduation, Brown moved up through a software sales company, where he learned not only the ins and outs of software development, but some key lessons about himself.
"I learned that I was better at training other people to sell than actually selling," he said. "I was training about 15 or 20 people every month, and grew my team to over 100 people. It was great to practice my leadership skills and hone all the things my father had taught me about over the years."
And then, DearDoc came about, almost by accident. Brown's grandfather, a Boston-based dermatologist, inadvertently set Brown on the path to founding DearDoc after a simple conversation. Once again, Brown's family played a vital role in his growth as a businessman.
"He was telling me that he was getting a lot of hits on his practice's website, but couldn't convert any of those hits to actual clients," Brown said. "At the time, there was no chat that was HIPAA-compliant that could make that happen. I thought if we could create an AI to answer messages for him but make it HIPAA compliant, he'd really be in business. That was my 'a-ha!' moment."
DearDoc has the potential to make a world of difference for doctors and patients. Quitting his day job to dedicate himself to this venture full-time wasn't even a question.
"My dad would've been telling me to go at this 100 percent," he said. "It was a no-brainer for me. I want to honor his faith in me through what I do now."
Making the Most of Adversity
DearDoc began with one simple goal: to take AI developments and turn them into tools doctors could use to connect with patients.
"We're trying to democratize AI," Brown said. "Historically, AI has only been used for big corporations. What we've done is to simplify it, make it easier to use, and give it to private practices across the US and Canada. Now small dentists and doctors can leverage AI in the same way as giants like Amazon and Fortune 500 companies."
DearDoc started off as a small operation – without even any investors, Brown said – but when the pandemic hit in 2020, Brown seized the unlikely opportunity to fill yet another untapped need.
"That's kind of been my pattern, I guess," he said. "We were struggling at first because doctors couldn't take new patients or see their existing ones because of the pandemic. We had on our product roadmap to have telemedicine in place by the end of 2020, but we accelerated that and we were able to save the company. In April 2020, we had the best month we had in history."
The key ingredient of that success, Brown said, was investing in salespeople. That was how DearDoc was able to sell their product and find the success needed to survive.
"We took adversity and converted it into one of the best months we've ever had," he said. "It's about adversity turning into success, and it's how our team reacted that made it the most successful."
Now, Brown is paying the mentorship from his father forward to his team of 160 people. For him, he said, it's the most rewarding part of being a business owner.
"It's amazing to pay it forward, absolutely," he said. "But it's made me a better entrepreneur, too. My character has gotten much better because any misalignment in your character is something people feed off of. You can't be a good leader unless your character is aligned, even if people aren't looking at you at all times. So my team wins, and I win. And the doctors and patients we serve reap the rewards."
About Joe Brown
Joe Brown is an entrepreneur, optimist, and the CEO and founder of DearDoc, a practice growth platform for doctors and medical practitioners. He has been featured in Built In NYC, Business Insider, and MarketWatch. Click here to learn more about his AI software that is helping doctors get more patients: https://www.getdeardoc.com/