First NFT Auction Completed by The OG Gallery
All six inaugural OG Gallery NFTs were sold at an average price of $1,000 USD per piece.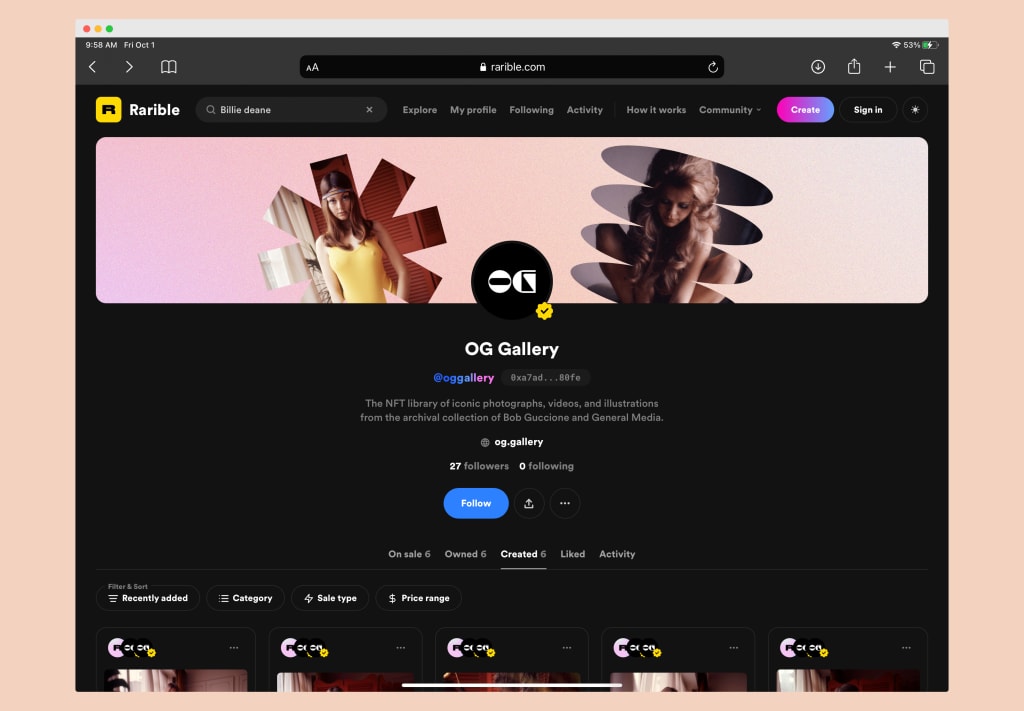 We announced this morning that all six of the NFTs in Creatd's inaugural drop–featuring the model and Penthouse Pet Billie Deane, also known as Gillian Duxbury–successfully sold at auction, and I am happy to report that I myself purchased one of them. My plan is to keep mine for a long time to come, as I can be sentimental and will want to hold on to my first NFT purchase ever. I was encouraged by the data we were able to gather from metrics including sentiment and general demographic of those interested in the OG Gallery. This data is instrumental in determining our company's next move.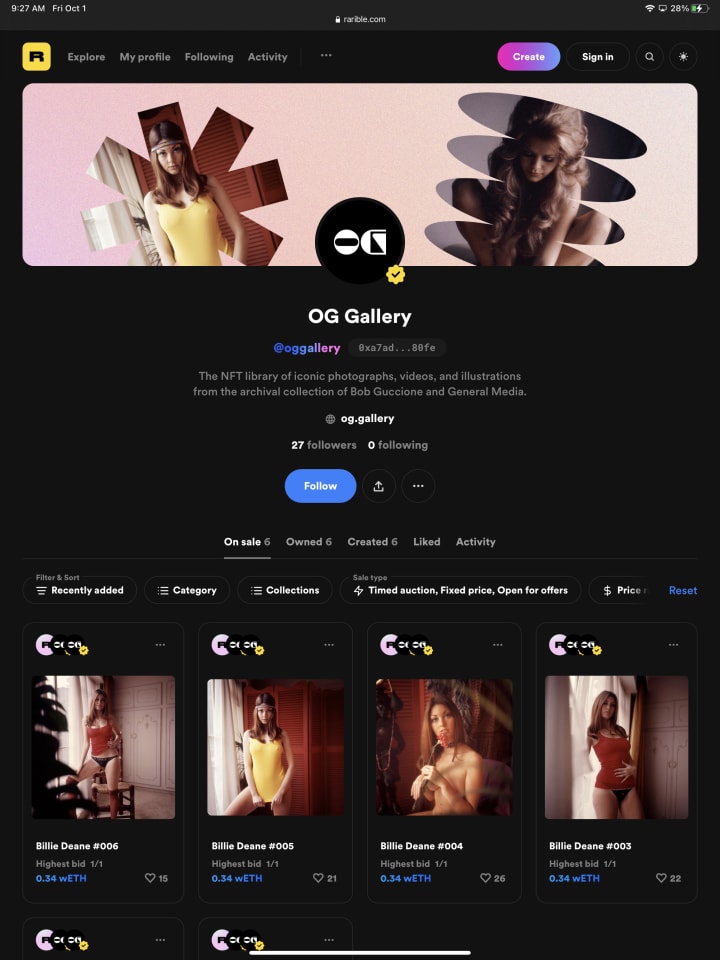 Next for the Business
While Rarible is not the best UX for the non-NFT-initiated and could use significant changes in its design to create a more frictionless experience, it gets the job done eventually. We had to explain a bug to them early in the process, and while clearly, this had been going on for a long time, they addressed it efficiently, after becoming aware of it. Still, until Rarible works out many kinks we will be exploring other platforms. That said, on our first outing, I have learned that the NFT market is literally at its infant stage of platform development. This says two things: first, that as a business, we should slowly commit resources to what is a long-term play on potential value. Second, the essential problem that Rarible and the entire NFT industry faces is that there is a barrier to entry for non-crypto holders and early adopters. The path to reaching a critical mass of adoption for NFTs more likely lies in smart contracts and the other derivative opportunities that blockchain technology provides. If there is anything I know our company does well, it is our ability to bring awareness to creators. I believe we have that same capability to bring awareness to the specific creators of NFTs.
We now face the decision of what to drop next, given that we only expect to create small collections of NFTs per subject, and release them over a very long time. We expect to mint between 5,000-10,000 of the original collection that contains hundreds of thousands of images and illustrations. A similar number of assets from the original collection will be utilized to partner with the digital artist community and work with talented people who can participate in evolving the original pieces we have and help bring further awareness to the collection and the creators.
Next drop?
That was simple for me to decide...