Finding a Career in Tech
Jon Heindel on how to find a career in the technological industry.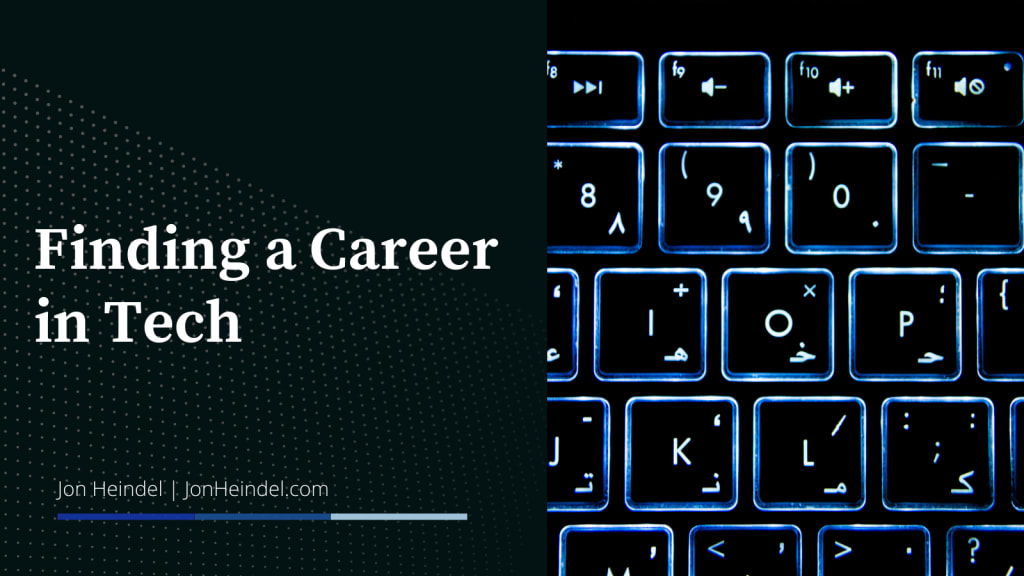 It can be tough to find a job in your desired field with the current job market. If you're looking for a career in technology, it can seem downright impossible. But don't give up hope! There are many ways to break into the tech industry.
1. Establish Your Own Tech-Company
One of the best ways to get a tech job is to start your own technology company. This may seem daunting, but it's not as difficult as it sounds. If you have an excellent idea for a new product or service, all you need is some funding and a team of talented individuals to help you bring your vision to life. Of course, starting your own company is a considerable risk, but it can also be extremely rewarding. Not to mention, it's a great way to get your foot in the door of the tech industry.
2. Start as an Intern
If you're not quite ready to start your own company, don't worry - there are still plenty of ways to get a job in tech. One of the best ways to get your foot in the door is to intern at a tech company. This will allow you to learn about the industry and make meaningful connections. Plus, many times, internships can lead to full-time jobs after graduation.
3. Networking
Another great way to get a tech job is to network. Get connected with people who work in the industry and attend relevant conferences and events. This will help you meet potential employers and learn about new job openings. You can also use social media to connect with other professionals in the tech industry.
4. Attend Interviews
Attending job interviews will help your chances of getting a tech job. However, it is essential to remember that the interview process is not just about selling yourself to the employer. It is also an opportunity for you to assess whether the company is a good fit for your skills and career aspirations. To make the most of the opportunity, you need to be prepared.
Research the company in advance, and take the time to think about how your skills and experience can benefit the organization. During the interview, be honest and open and build a rapport with the interviewer. If you can show that you are a good fit for the company, you stand a much better chance of being offered the tech job.
So there you have it - a few of the best ways to get a job in tech. If you're willing to put in the work, you can find a job that you love in the tech industry.
About Jon Heindel
Jon Heindel is the Chief Executive Officer, Chief Information Officer, and the Chief Technology Officer of Southern California companies, Heindel, Inc, and Dirbos, Inc. With over two decades of experience in technology under his belt, Jon is a seasoned veteran in the industry. His extensive resume includes brands such as Dakine, Huf Worldwide, Lib Tech, Billabong, Gotcha Sportswear, and Z. Cavaricci. To Jon, the technology industry has a number of educational opportunities to learn things from challenges that he faces daily.
Jon grew up wanting to be a musician, and worked incredibly hard to do, even creating a band and playing a number of gigs up and down the Sunset Strip. However, as he grew older, he realized the importance that technology had on the music industry as a whole.
Most recently, Jon Heindel has created his two companies, Heindel, Inc, and Dirbos, Inc. Dirbos, Inc's mission is to help cultivate client's ideas with the help of technology. Jon knows that the tech industry is ever changing, so the thing that sets him apart from the crowd is that he understands when to ask help. He not only uses in-house experts, but he also uses his network of connections that aid him in creating solutions to problems every day. To learn more about Jon Heindel and his unique hobbies, be sure to check out his blogs.
how to
About the author
Jon Heindel is a musician turned technology expert, currently working as the Chief Executive Officer, Chief Information Officer, and Chief Technology Officer of Heindel Inc and Dirbos Inc. To learn more about him, visit his websites!
Reader insights
Be the first to share your insights about this piece.
Add your insights