Every Time I Lose My Media Voice Vocal Finds It
Giving feedback and sharing further insight about Vocal's upcoming features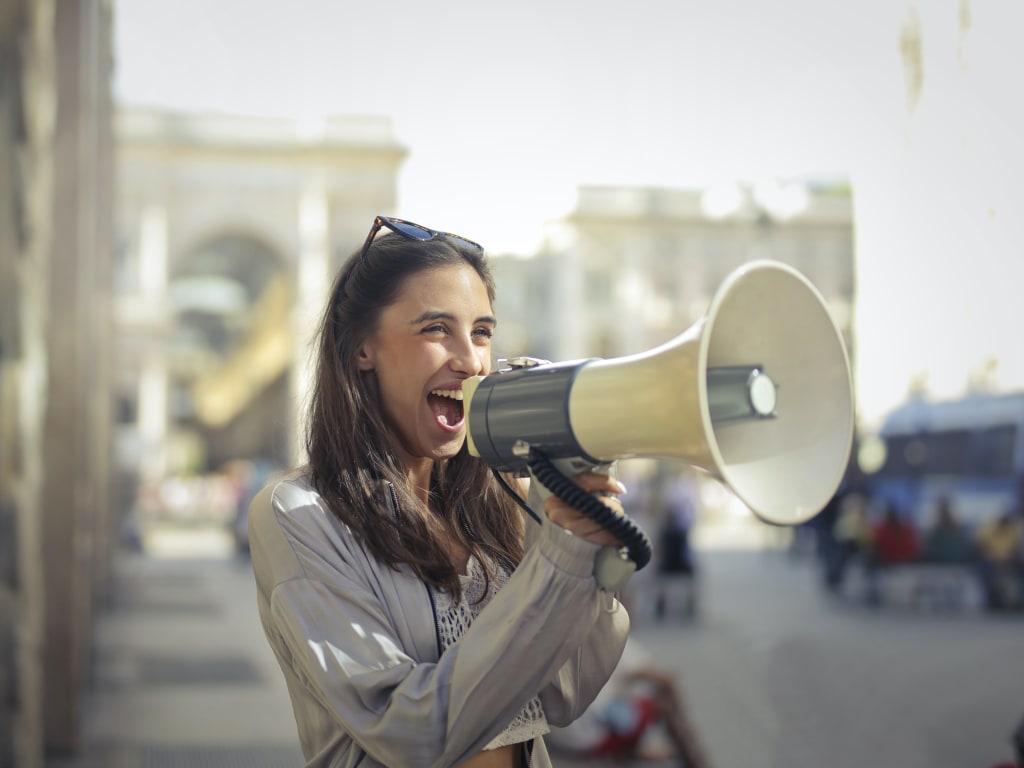 Photo by Andrea Piacquadio from Pexels
Seven months ago, I published my first Vocal story on Filthy. Wednesday, November 4, 2020, is a day to remember, as it was a giant leap forward in my new career as a freelance content writer.
I'm a seasoned writer and editor, don't get me wrong. I managed and edited Rock n'Heavy, Portugal's most prominent alternative music webzine, from 2010 to 2018. Working with a great guild of writers and photographers for my publication gave me the tools to scale my freelance career after the magazine went offline at the end of 2018.
It took me a while to revamp my creative career online. I had invested a great deal of my passion and creative energy into my previous project, and after its downfall, my writing drive just wasn't the same. I had forsaken all hope of building a successful writing business, lost faith in the internet gods, and was suffering from the worst lack of confidence to date.
Those that have experienced this type of writer's block know how this awful feeling drags you down in a downward spiral into the dark pits of depression. You struggle to climb out of it, but your energy fades aways, and you sunk even deeper into the quicksands of despair.
Then, in 2020 the COVID pandemic forced me to stay home, and I found Vocal (or it found me). Vocal awoke my latent inner voice, and I was finally free from writer's block.
My Vocal Journey So Far
There have been ups and downs along the way. Sometimes, I still think about giving up. But thankfully, every time this happened so far, Justin Maury, Founder, and President of Creatd and Vocal, came forward with an inspiring piece about exciting new features.
Four months ago, I was taking the downward route, and Justin introduced a "New Look for Vocal" and the "Creator Bonuses," and my Vocal mojo sky-rocketed.
Twenty hours ago, on May 26, Justin did it again with his "Update on Updates: Vocal's Upcoming Features." The President has an eye for what creators want, and his vision is in line with our expectations. That's also what keeps me going because I feel supported by his overarching plan to provide us "with a platform that's enriching and inspiring."
Reviewing Vocal's Upcoming Features
From the creator's perspective, this is probably the most awaited feature of the lot. It was something long do for both sides of the playing field. Even Homer nods, hence typos and other issues are bound to happen to the most seasoned writer. A simple, quick edit feature will also free the support team from the burden of replying to editing-related tickets.
Nowadays, you can't scale a social platform without introducing relational features. Their audience drives creators, and they thrive when the community gives back the love. We need to feel that we are part of something greater and that our work echoes in the reader's hearts across the platform.
Until now, we had to rely on social media groups on Facebook, Quora, or Reddit to receive feedback on our pieces. That was the main reason why I founded the Vocal Media Creators Guild.
Vocal already had outstanding monetization features like Creator Bonuses, Reads, Tips, and Challenges. Reading about the "recurring monthly support model" and how fans will be able to subscribe to their favorite creators' profiles is another terrific insight towards a more relational creative platform.
By directly supporting creators on their quest to provide the utmost valuable and inspiring content, readers can bond with writers and give back the love in the form of meaningful financial support.
Further Insight on Scaling Vocal
After reading Justin's piece, I got an email from him as a token of gratitude for my feedback regarding Vocal's resources.
"Hi Rui, (…) I want you to know that your previously published story providing us with feedback about Vocal had a direct impact on these roadmap plans. Without you, or your ideas and suggestions, Vocal wouldn't be what it is today, and I think you'll be excited about what's in store."
Justin was probably referring to one of my latest stories about Vocal: This Is How I Enhanced My Earning Power With Vocal Creator Bonuses, and Lessons Learned After Landing 50 Stories on Vocal.
Following up on Justin's kind and encouraging message, I felt enticed to pitch my ideas and share further insight.
#1. Scale the user interface
Autosave
I've lost count of how many times I had to rewrite parts of my articles because I forgot to press the save button. I'm a fast writer; however, English is not my mother language. Hence, I've got to put a lot more energy and focus into my writing than native speakers. Halting my line of thought to press the save button sometimes is not an option. From my perspective, a built-in autosave feature would improve Vocal's UX.
Insert alternative text, aka alt-text
The vocal editor is intuitive and straightforward. However, some add-ons would improve SEO and help boost exposure. I'm a writer but also a marketer; hence I recommend the use of alt-text for images. Search engines crawl web pages and require alt-tags to understand image files.
Adding these tags helps AI algorithms provide the best results for online searches. Moreover, these snippets help the blind and visually impaired understand what an image is about online. A better user interface (UI) tends to improve User experience (UX).
#2. New voices on the forefront
I also love Vocal because the website homepage is minimalist neat as a pin, and follows dazzling webzine design I cherish. It's nicely structured with the hand-picked curated stories on top. I love that Vocal devotes time and human resources to find the best stories, which sets this platform apart from the competition.
However, wouldn't it be great if we could have the best from both worlds. Staff-picked stories and randomized AI curated pieces on the home page. We are all human, and we have our personal preferences that will favor one type of story or subject. Thus, providing an automated curation process would probably bring unsung new voices to the forefront of Vocal.
Hence, developers could add a slot on the home page for a more randomized AI-managed section of trending stories. This could even be directed to personal preferences by making the algorithm recommend stories based on the creator's publication habits. For instance, if I'm mainly publishing on Beat, I would get more trending stories about music.
#3. Revamp the 'read next' section
The read next section could also be used to bring new voices to the forefront. When I finish reading a story, I'm eager to learn more about the author and jump straight into the following thread of their writing. However, when I click "read next," sometimes I get the dreaded "Page Not Found.", or the AI takes me to an article written three years ago.
Wouldn't it be better if the "read next" button directed us to another piece by the same author? The See all posts by → section is there, but we barely notice it because of the small lettering, and it only links to the creator's profile and not to a specific story.
Final Thoughts
I share Justin's excitement while rolling out these new features, and I will always be happy to help scale our guild of extraordinary creators by sharing further insight and giving feedback. I look forward to digging into the new features as soon as they are implemented.
I've since joined the Vocal Ambassador Program. Vocal has a limited-time offer where you can get a month of Vocal+ for only $1. This is a great chance to upgrade and join 24506 Vocal+ members. I plan to share my thoughts regarding the program when I have collected enough data about its full potential.
Finally, I want to leave a word of appreciation to Justin Maury and the Vocal Team. I'm grateful for all your work and devotion toward our common goal. You've all been an inspiration, and thanks for having me here, with you and my fellow creators; I always feel like I'm walking on the shoulders of giants.
___________________
Thanks for reading this article. Feel free to come back at any time and pick up another thread from my Vocal book of content by clicking here. Small tips and big hearts are highly appreciated. Till next time, cheers. - Rui

Rui Alves
I write to find the surrogate writer in me.
Rui is a graduate of the University of Porto, teacher, and life-coach.
He is also a partner of Rock n'Heavy and the founder of ZENite.
See all posts by Rui Alves →