Effective Tools To Target Decision Makers in B2B Sales
Effective Tools To Target Decision Makers in B2B Sales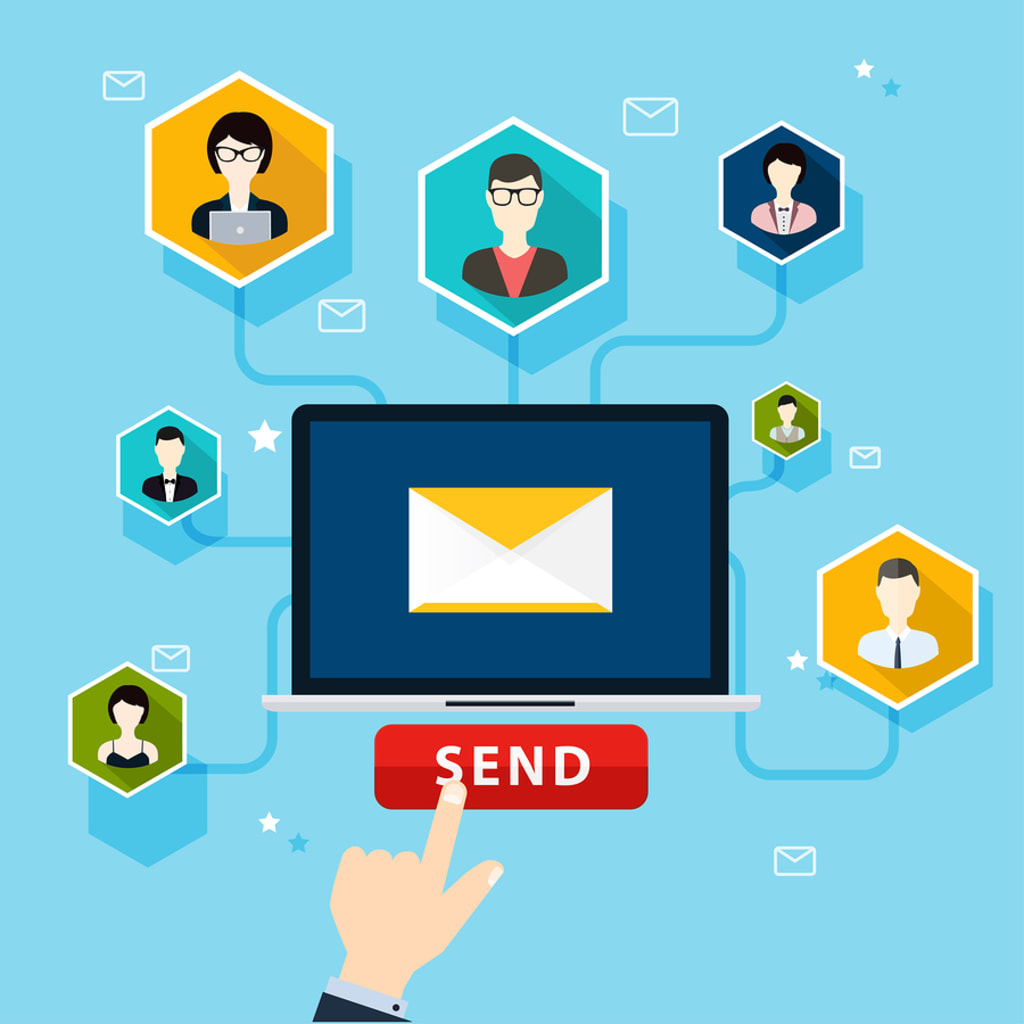 waetechsolutions.com
In the times of enhanced data protection and when privacy is at a premium, getting C-level executives emails in your email list to offer them your product is harder than it's ever been. While in the B2C world every consumer makes his own buying decisions, sales in the B2B setting operate in a dramatically different way. Getting to speak to the company's business decision-maker about your ground-breaking product or service is a little more puzzling, starting from getting that person's email address to making the final pitch and to closing the deal.
While it's a no-brainer to build an email list of prospective customers for a B2C email campaign, assembling such a list of prospectives in the B2B world is more complex. Your team most likely spends hours and hours researching a prospect and his company on Google or LinkedIn. Let's face it, chances of breaking through the walls and getting to the company's business maker are low. But the good news is that there have been a number of automated tools that sprouted on the market not that long ago. Read on to find out what they are, how they work, and how your business can benefit from them.
Lusha
Lusha appeared on the tech market not so long ago but it has already gained popularity among sales teams and recruiters. Lusha is a Chrome extension that allows you to find contact details, such as email addresses and phone numbers through social network profiles. The two out of three problems that Lusha solves are:
it helps recruiters reach top-candidates and
it helps marketers increase conversions by up to 2x with their short data-enriched forms.
However, its primary and the most valuable feature is to supply top-executives' correct and verified contact details — something Google search doesn't solve. Lusha can be added as an extension to your browser making it even easier for your sales team to find prospects anywhere, from B2B sites to social media networks. Lusha offers a free trial and a variety of pricing options, so you can choose what best fits your company's situation.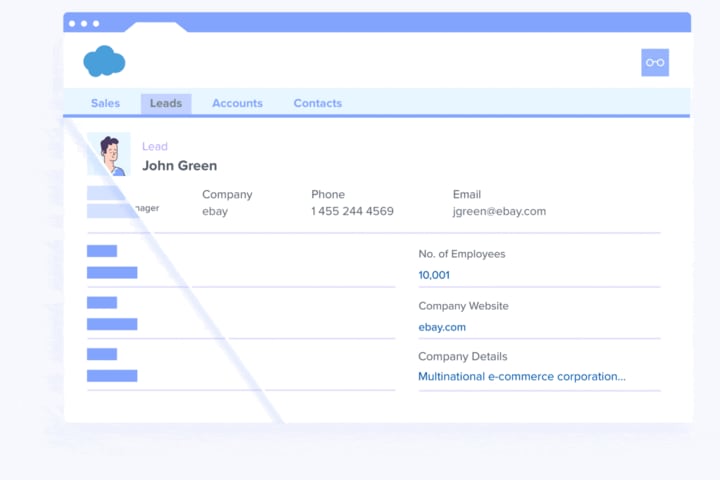 Zopto
Zopto is a cloud-based automation tool that is mainly used by startups & sales teams to automate their LinkedIn lead generation efforts. Unlike Lusha, which is installed as a browser extension and is mostly used to dig out the desired contacts, Zopto is a software that integrates with your LinkedIn Premium or Sales Navigator account and is primarily used to automate your campaign outreach. All you have to do is open a Zopto account, use your LinkedIn Premium or Sales Navigator accounts to filter the prospects you want to target, create a campaign using Zopto with the desired level of engagement, paste the URL with saved search filters or upload a CSV file generated from your Sales Navigator account, and voilà! Your email campaign is working for you and bringing you new hot leads! The best thing about Zopto is that your campaigns require minimum supervision and engagement. This saves your sales team a lot of time and effort making Zopto a great B2B sales tool.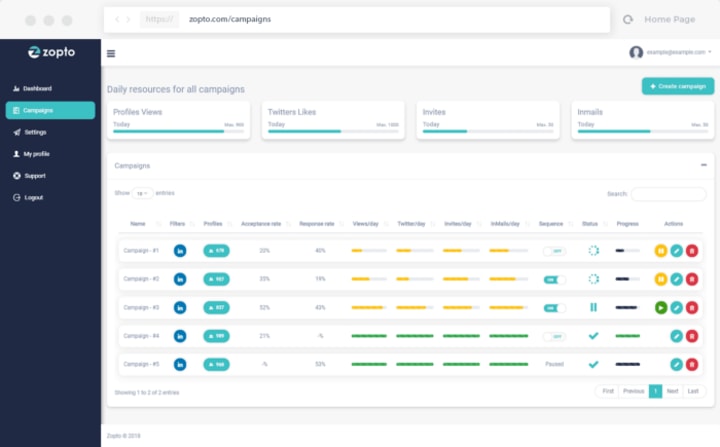 SignalHire
Available as a browser extension (Chrome and Firefox) and a web app, SignalHire will find work and personal contact information as well as social media accounts like LinkedIn, Facebook, Twitter, GitHub, and MeetUp. Like Lusha, it is used by sales teams, recruiters, and marketers. However, one feature that makes SignalHire stand out amongst its competitors is that it also has its own database of over 10 million companies and 400 million profiles. SignalHire also offers highly reliable email finder API to find email addresses or phone numbers. SignalHire claims it provides the most accurate data which you can it check yourself by signing up for a free trial.
DataMiner
Another way to retrieve information for B2B sales purposes is by using DataScrapper by DataMiner — a data extraction tool that lets you scrape any HTML web page. It allows extracting tables and lists from any page and upload them to Google Sheets or Microsoft Excel. DataScrapper works with any recruiter tool, sales lead management tool, or email marketing campaign. It is used for extracting emails and ID from social media profiles, get email and addresses and phone numbers from website directories, get contact info from professional social profiles, and more. This tool is the most efficient for salespeople prospecting leads, recruiters looking for top candidates, and leadgen companies.
Adapt
An alternative to SignalHire is Adapt — a sales acceleration platform that provides solutions to marketing, sales, and recruiting professionals. Like SignalHire, it has its own database of 100 million business contacts including an industry-specific company database and contact information such as job title, direct dial, and email addresses. With Adapt you can build powerful "target lists" with their 100M+ database, install it as a Chrome extension to find emails from any LinkedIn profile, and drive sales engagement from multiple channels.
SimilarWeb
When searching for new leads, you have to look not only for the company's CEO contact details. You also have to conduct thorough research on the company itself, e.g. its marketing strategy, site reach, ranking and user engagement, and so on. You might spend a massive amount of time if you attempt to find all that information manually. Fortunately, there are tools that offer all these services in an automated form, like SimilarWeb — an online competitive intelligence tool that provides traffic and marketing insights for any website. It provides a quick overview of a site's reach, ranking, and user engagement, as well as an overview of any website metrics such as traffic sources, organic versus paid search, social traffic, related sites, and more. Like other tools, SimilarWeb offers a free trial as well as different pricing options.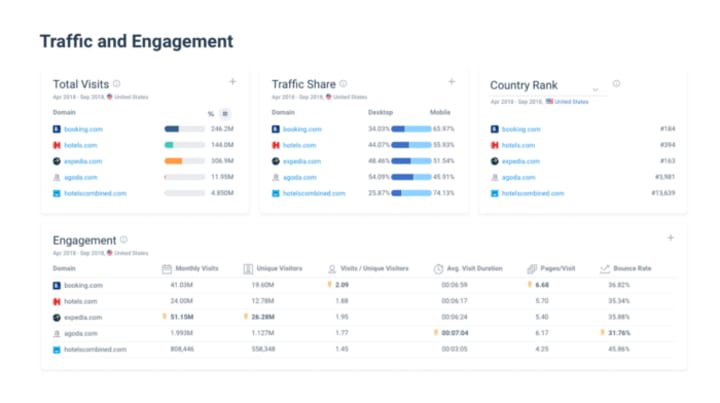 Mailcheck
While automated tools are confidently conquering the market, old methods of digging up contact information like manually researching your prospects on the internet are still trendy and no less reliable. And if you don't feel like investing in the automated tool you can go with a manual search like searching by a generic email such as [email protected], [email protected], [email protected], or try guessing your prospects email by using his first and last name succeeded by @company.com. However, when choosing this method consider running your list of prospects through an email validation service, like Mailcheck — an email validation service provider that validates emails through social networks. Apart from automatic search and validation, Mailcheck also provides manual moderation and offers an API integration feature so emails get verified on the go. Out of all lead generation products, Mailcheck seems to be the most cost-effective option as it offers several affordable pricing solutions.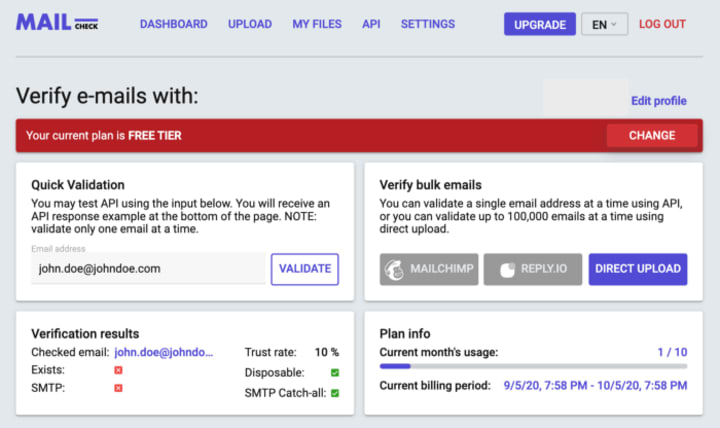 It is strongly recommended to validate your email list, even the one retrieved by an automated tool. Giving your newly composed email list a validity check will ensure that emails you were able to retrieve are real and valid, so the time you spent on finding these emails and the time spent composing an email campaign does not go in vain.
As you can see, preparing a list of prospects for B2B sales requires thorough research and relatively deep dedication. However, marketing strategies evolve, and so do the tools used for putting them into practice. These days businesses have all the tools required to make their sales efforts as seamless as possible. It is all about integrating these tools into their workflow.