Drupal vs WordPress: Which is the best CMS in 2021?
Choosing the right CMS for your new website is difficult yet incredibly crucial if you want to make your business reach exceptionally new heights.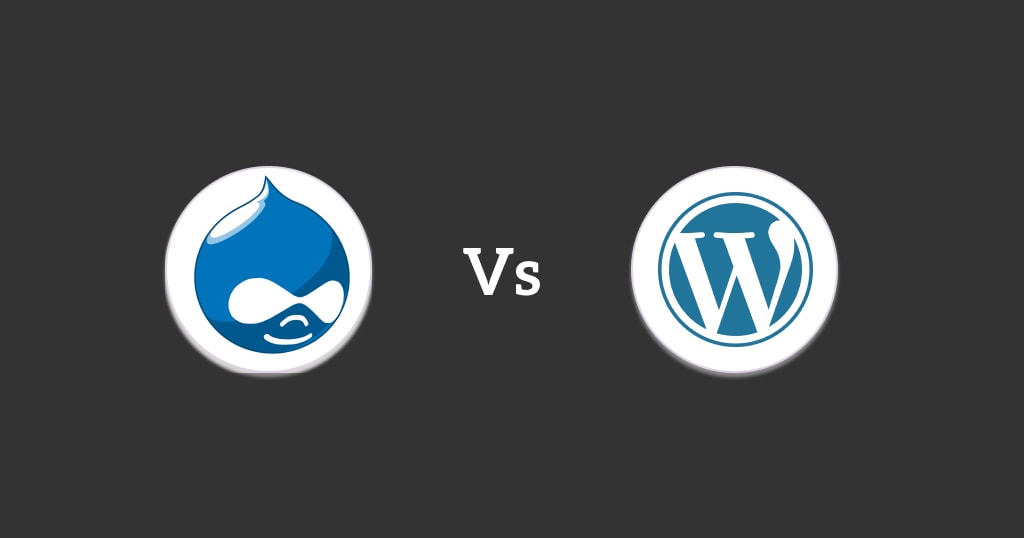 When it comes to selecting content management systems (CMS), two popular names stand out -- Drupal and WordPress.
But you can choose only one between these two. Drupal vs WordPress: Tough choice to make, no?
Of course, yes.
Why?
Because both the CMS are the best in what they offer, WordPress and Drupal are two of the most widely used CMS in the world. And that's why it becomes challenging to choose one over another.
So which one should you choose in 2021?
WordPress is easier to use and more popular compared to Drupal. Yet most large enterprises choose Drupal over WordPress. Why? Let's figure it out! In this post, let's dig into Drupal vs WordPress, get into some nitty-gritty details, and see which one is the best CMS for your business and why you should choose the one you choose.
Let's jump right in and find out!
Drupal vs WordPress: The Introduction
WordPress is the world's widely popular CMS, currently powering nearly 40% of all websites in 2021 with a market share of 64.1%. One of the main reasons WordPress is so widely used is because it's incredibly easy to set up and use. If you want to make developing your site as easy as possible, go with WordPress. You install WordPress in a matter of minutes. The intuitive dashboard makes it easy to install themes, plugins and create content.
Drupal, on the other hand, has been around for longer than WordPress. Though it powers only 2.3% of all websites, it is highly adopted by mostly large-size enterprises. The Drupal system was constructed with flexibility and customization in mind. That said, Drupal has become the clear leader as an enterprise-level CMS platform for more complex projects, tending to be on the larger side.
Drupal vs WordPress: 9 Comparative Factors You Should Look For
Ease of Use
WordPress is easy to install and set up. Even beginners can start and move around quickly with WordPress. WordPress offers a user-friendly dashboard, WYSIWYG editor, drag-and-drop functionality, and more, making it significantly easier to go from "zero" to a "fully functioning website" that looks stunning.
On the other hand, Drupal is not easy to install and set up and can be challenging for beginners. Therefore, you will need a reliable Drupal web development company for developing an intuitive Drupal site. All in all, WordPress is the clear winner here.
Website Extend and Customization
You can extend WordPress and Drupal with add -ons. WordPress is backed by a large number of themes and plugins you can use to extend its functionality and features. You can customize your site the way you want with WordPress. Drupal, on the other hand, is also backed by powerful extensions and modules and highly customizable but less than WordPress.
WordPress is ideal for small and medium-sized businesses that are looking to build a straightforward website. However, Drupal is often chosen for those looking to develop an enterprise-level solution or site that contains multiple forms of content, features, functionality, and integrations.
Functionality and Flexibility
Undoubtedly, Drupal is more complex than WordPress, but that complexity comes with advanced functionality. With over 46000 modules, Drupal can organize large amounts of data and content more efficiently than WordPress.
However, WordPress heavily relies on themes and plugins. With over 30,000 themes and more than 56,000 plugins, WordPress provides increased functionality and flexibility. Leverage WordPress if you're a beginner and reap the benefits of Drupal if you want a unique and standout website.
End-User Experience
WordPress is user-friendly and easy to manage and maintain for non-technical users. Though when it comes to Drupal, it doesn't have a good reputation when it comes to ease of use or so. One thing to remember is that the more complex your site is, the steeper the learning curve will be to manage it. Hence, here WordPress plays a significant role. However, Drupal is always advisable if you're looking for large enterprises. As a result, Drupal offers an optimal user experience to big companies.
Performance
Having a fast-loading website is an absolute necessity if you want to rank in the search engines and please your visitors. That said, both Drupal and WordPress can do a lot in terms of performance. In terms of resources, both WordPress vs Drupal is globally supported, coded mostly in PHP, and work well on even the less powerful servers or shared platforms. Thus, they both produce high-performing websites.
Search Engine Optimization (SEO)
Search Engine Optimization (SEO) is of utmost importance for your website. If your website doesn't rank higher in the search engine result pages (SERPs), your online presence will suffer badly. Luckily, both WordPress vs Drupal is good with SEO. WordPress is packed with SEO, and the Yoast SEO plugin can help in terms of SEO.
The good thing is this plugin works well with Drupal as well. Plus, native caching is supported by Drupal out of the box, whereas WordPress needs additional plugins for caching. Page caching makes load time faster, resulting in a page rank boost. Yet, due to several plugins, WordPress stays ahead of Drupal in terms of SEO.
E-Commerce Development
Both WordPress and Drupal are not specifically designed for e-commerce; however, both have modules/plugins that can help you turn your website into a customer-bringing online store. Drupal Commerce is powering more than 60,000 websites with numerous versatility and scalability options.
It's ideal for both small businesses and enterprise clients. WordPress, on the other hand, can leverage the WooCommerce plugin and convert its normal site into an e-commerce store. WooCommerce development is extremely easy and boasts a modern, clean interface. So both WordPress and Drupal can do wonders in terms of online store development.
Security
Technically speaking, both WordPress and Drupal are secure CMS solutions. However, if you need to choose one between these two, it is highly advisable to choose Drupal because it ends up being more secure. The issue with WordPress is the security is created via third-party plugins, but Drupal is internally secured. Beyond its enterprise-level security, Drupal publishes detailed security reports and is more transparent than WordPress.
The Price
The cost of a website is ultimately based on the specific needs and wants of a business or organization. That said, both platforms are open-source and free to use, though some initial fees you will need to pay.
WordPress offers more "outside the box" solutions, and WordPress development services are usually more affordable than Drupal Developers. If you are looking to build out websites with no little help from outside, WordPress is the best option. However, Drupal is widely adopted for a more customized solution that helps businesses to thrive better.
WordPress vs Drupal: The Final Verdict
So which one is better? You came here looking for this question, right? But you know what? It's a flawed question. You can't just pick one between WordPress vs Drupal and say that it will work for all types of websites. No, it doesn't work like that! No CMS can work with a "one-size-fits-all" ideology.
So go ahead and choose the one that is best suited according to your business requirements. If you want an easier-to-use and deploy CMS, WordPress is perfect. But if you need a lot of "out of the box" features, go with Drupal development.
Whatever you choose, choose wisely!
product review
About the author
15 plus years of experience in digitizing businesses & transforming Startups into Brands.
Reader insights
Be the first to share your insights about this piece.
Add your insights