Does Digital Marketing work for all businesses
Digital Marketing work for all businesses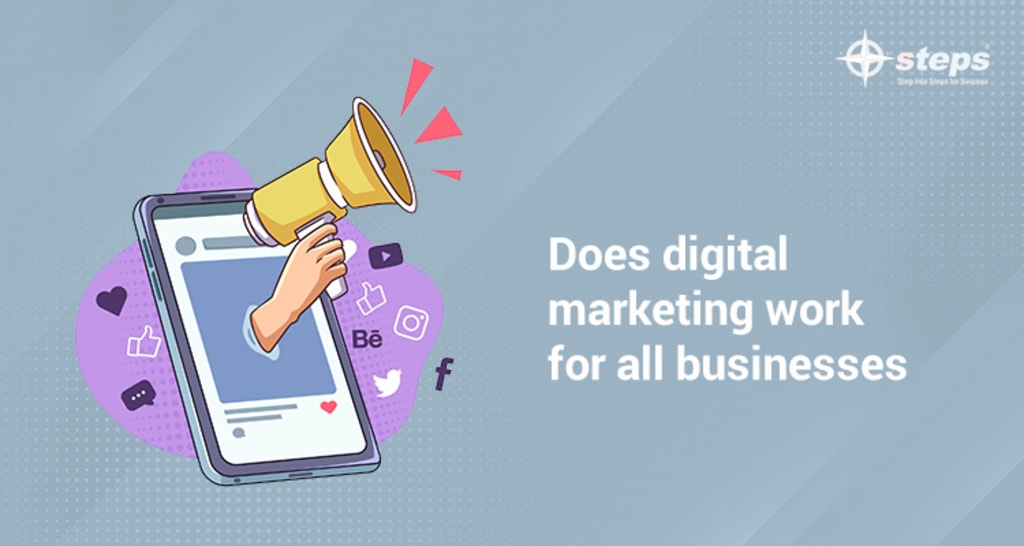 The field of marketing is buzzing with the questions on how to clamber up to the top of business. The rise of digital marketing and its mastery have changed the advertising landscape.
Businesses all over the world have made the transformative transition from billboard advertisements to digital advertising in an internet-based age where the vast majority of sales are made online. This revolutionary step brought a tremendous change to spread out, focus and capture the right audience.
Any company in any sector will benefit from digital marketing. Regardless of what your business sells, digital marketing also entails to recognize the needs of your target audience and producing useful online content. Similarly, all digital marketing strategies work together to generate traffic, create awareness and transform leads into loyal customers for the business.
What does the term digital marketing mean?
Digital marketing is the means of promoting and selling your services by leveraging online marketing tactics such as social media marketing, search marketing, email marketing etc.
Why does Digital Marketing work for all business?
To put it straight, digital marketing is a powerful link between electronic technology and marketing psychology. You must incorporate a digital marketing strategy into your marketing strategies if you want to master and handle the knowledge flowing out and into this gateway. Let's dive into why it works for most of the business.
Why Digital Marketing work for all businesses
1) Catchy and promoting materials
In any business, there is a tremendous thrust for knowledge because the business owners are focused on growth and expansion of their companies. Your services will get an active appreciation if it is capable enough to contribute to their development. You can lay down marketing material to lay out the foundation about how your product and services can save time, money and resources of your client.
Act of listing down all your services, gaining customers and eventually building up your business.
2) Ultimate goal- Reach
The most important goal of every business is to make customers aware of their presence. All business wants to showcase its target audience with all products and services, eventually making them buyers. Well, through proper understanding of digital marketing strategies, this is easy as such.
This field opens upon a lot of platforms to find your target audience. From witty usage of SEO to social medias, techniques are wide open.
3) Can build and maintain customer relationship
We can establish long term ongoing relationships with customers. This can be done through emails, blogging and other strategies. This implies that marketers can easily engage with their contacts in order to establish a mutually beneficial relationship.
4) Brand Value
Organizations aim to make a good impact on their customers by offering branded content. Customers' emotional and political responsiveness is evoked by a little piece of interesting material that we provide them with. E-Books, white papers, and other types of download, such as templates and documents, can be used to increase the value of your brand in this way.Making them catchy, countable and trustworthy is an important in digital marketing scenario.
We live in a globe connected by invisible threads of communication. Vast majority of the citizen's dependent online. Well, why shouldn't there be any other reasons to adopt internet marketing or digital marketing. To make this work for your business, you must come up with a strategy that is unique to your businesses needs.
To get a grasp into this ideology there are Digital Marketing training institute in Kochi, ready to take you into the digital world. Depending on your business category, preferred audience, business goals, and scale, you could use a few or all of the tools in your digital marketing campaign. It's normal to feel overwhelmed when learning about the world of digital marketing for the first time. Changes occur; some may work out for you or not work. Digital Marketing internship in Kochi would be an aid in about putting up strategies right through practice. Bring on the change and rise up with a difference.
list
About the author
Reader insights
Be the first to share your insights about this piece.
Add your insights