Disney plus Hotstar Free Subscription
Get Disnep plus Hotstar free subscription to Enjoy your favorite shows and Movies.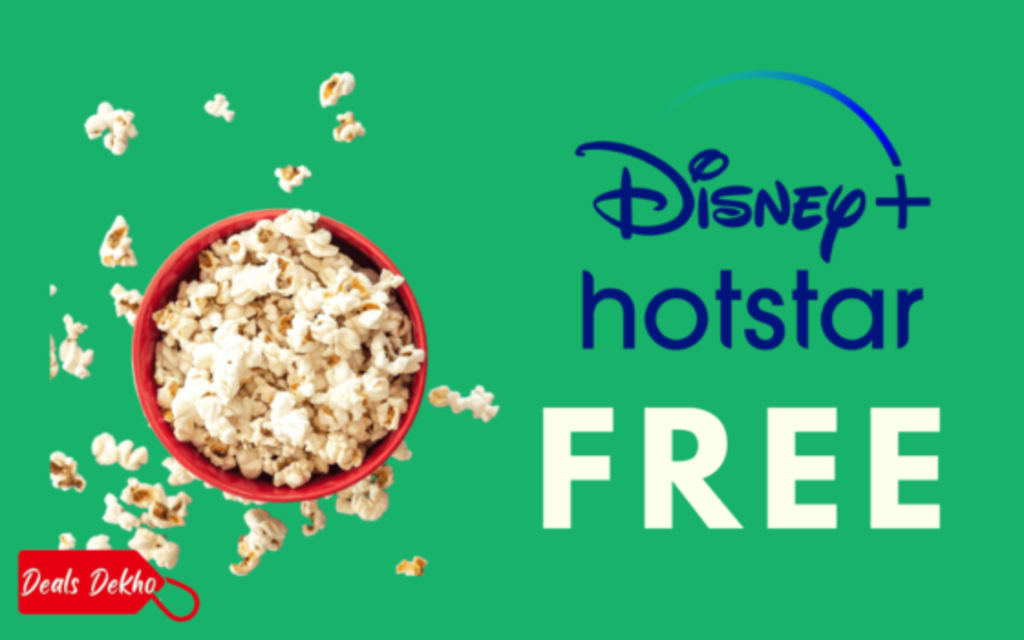 About Disney plus Hotstar
Disney+ Hotstar is a streaming service that offers a wide variety of movies, TV shows, and sports content to viewers in India, Southeast Asia, and some Middle Eastern countries. The service is a joint venture between Disney and Star India, which was acquired by Disney in 2019.
Disney+ Hotstar offers content from various sources including Disney, Marvel, Pixar, Star Wars, and National Geographic. In addition to this, it also offers a range of Indian content in several regional languages. Users can watch movies, TV shows, and sports events live or on-demand, and the service is available on a range of devices including smartphones, tablets, smart TVs, and streaming devices.
Disney+Hotstar in India offers both free and paid subscription options.
The free subscription includes access to limited content, whereas the paid subscription offers access to a wider range of content.
To get a free account on Disney+Hotstar in India, follow these steps:
Visit the Disney+Hotstar website or download the app from your respective app store.
Click on the "Sign Up" button on the homepage.
Enter your email address or mobile number and create a password.
Click on the "Continue" button.
You will be asked to enter your name and date of birth.
Click on the "Continue" button again.
Verify your account by entering the OTP sent to your mobile number or email address.
Once your account is verified, you can start accessing the free content available on the platform.
Note that the free subscription on Disney+Hotstar in India has limited content and some of the latest movies and TV shows may not be available.
To access the complete range of content, you will need to subscribe to their premium plans.
Other methods to get Disney plus Hotstar Free Subscription:
Here are some methods to get a free subscription to Disney+Hotstar:
Telecom Offers: Some telecom service providers in India offer a free subscription to Disney+Hotstar to their customers. For example, Jio and Airtel offer free Disney+Hotstar subscriptions with some of their prepaid and postpaid plans.
Credit Card Offers: Some credit card companies offer free subscriptions to Disney+Hotstar as a part of their promotional offers. Check with your credit card provider to see if they have any such offers.
Trial Period: Disney+Hotstar offers a free trial period to its new users. During this trial period, you can access all the content available on the platform without any charges. After the trial period, you can choose to continue with the paid subscription or opt out.
Referral Programs: Disney+Hotstar occasionally runs referral programs where you can get a free subscription by referring your friends and family to the platform.
Virtual Payment Methods: Some virtual payment methods like Paytm and Mobikwik offer cashback and other offers on Disney+Hotstar subscriptions. Check with your virtual payment provider to see if they have any such offers.
It's important to note that some of these methods may come with certain terms and conditions, so be sure to read the fine print before signing up.
Conclusion
Hotstar offers a limited amount of free content to its users. However, the amount of free content available may vary depending on the region and the specific Hotstar service being used.
In India, Hotstar offers a free subscription that includes access to a limited selection of TV shows, movies, and sports content. However, to access premium content such as live sports, international movies and TV shows, users need to subscribe to Hotstar's premium service, which requires a paid subscription.
It is possible that Hotstar's free subscription program may have changed since my knowledge cutoff date of September 2021. It is recommended to check the Hotstar website or contact their customer service for the most up-to-date information on their subscription plans and pricing.
About the Creator
Deals Dekho is India's fastest-growing Deal Website that helps people to select the best products. https://dealsdekho.com
Deals Dekho helps Indians Consumers in the:
✔️ Select the Top Brands
✔️ Get the Best Products
Reader insights
Be the first to share your insights about this piece.
Add your insights