'Disabling' people in the workplace
Is modern society still preventing disabled people to build a career?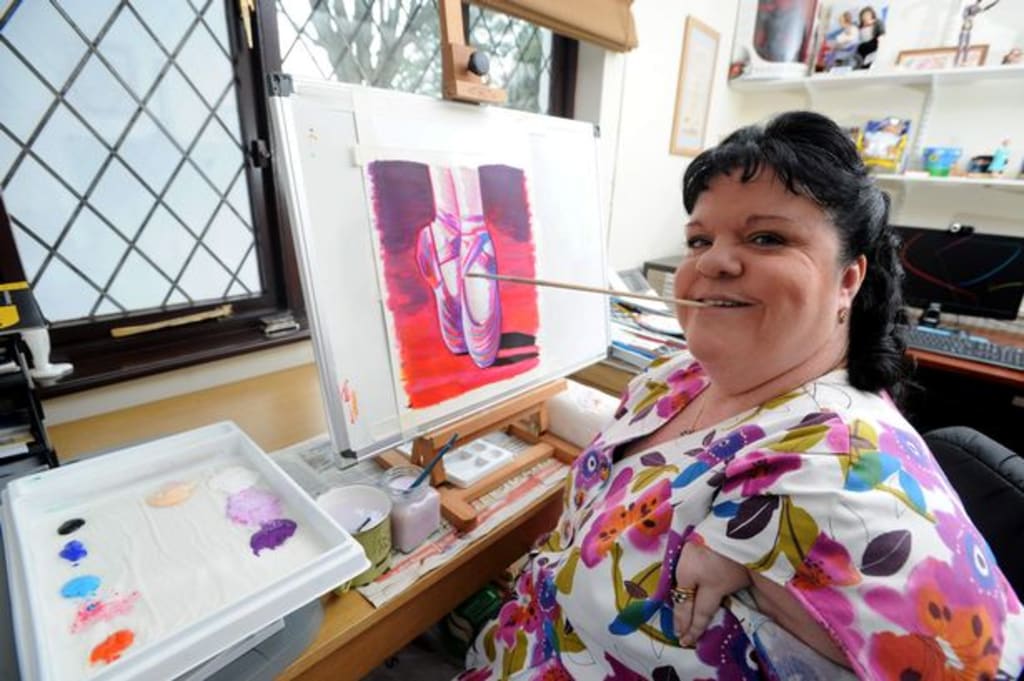 Rosie painting. Credit: Rosaleen Moriarty-Simmonds
Rosie's bright and joyful green eyes suddenly darken when she recalls her graduation.
"I thought my degree would be my passport to the world," she says, reminiscing about the hopeful and naive 25-year old Rosie.
But that wasn't the case.
When you don't have arms and legs, but four fingers and thirteen toes, the world doesn't treat you fairly, and finding a job will be a harder challenge than for any other fresh graduate.
Despite being the first disabled student accepted at Cardiff University, Rosie's first approach to the workplace was anything but positive.
She applied for 250 jobs and would systematically get a negative response or no answer at all. The reason was that she has an impairment: four-limbed Phocomelia.
"It's demoralising when people don't even bother to respond," she says with a bitter look.
Rosie Simmons graduated in 1985, but after more than thirty years, not much has changed. Employment gap is the main problem for disabled people, according to Dr. Natasha Hirst, who is conducting a research (Legally Disabled) on the barriers faced by people with disability in the legal sector. In Wales, only 48.6% of disabled people are employed, compared to 80.5% of non-disabled. That is almost half of their "abled" counterpart.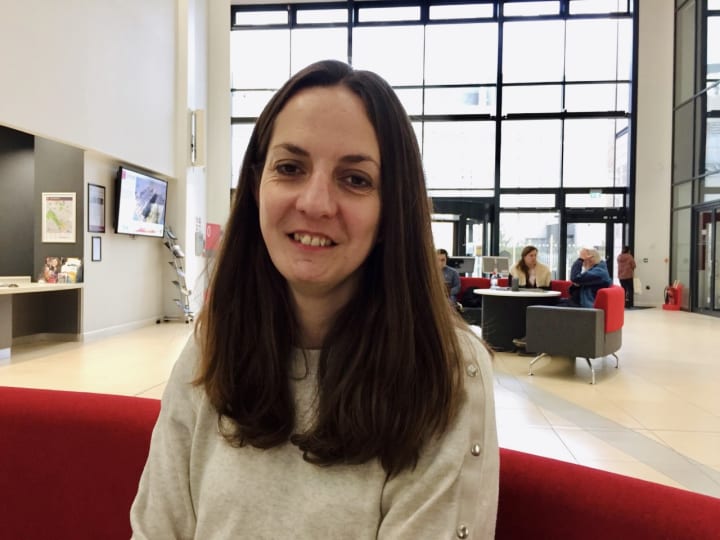 Despite the rejections, Rosie didn't give up and she finally got a job as an information officer. But a few days before starting to work, the office told her that they couldn't give her the job because she needed assistance to go to the toilet.
Frustration. There is no other word to describe how Rosie felt. Why couldn't she do the job? Was it her fault? Or was it the fault of the employer who wasn't willing to give her what she needed?
This is an example of reasonable adjustments. Daniel Holt, who is training to become a barrister, is worried because most courtrooms aren't wheelchair friendly and says the society portrays reasonable adjustments as a problem of disabled people.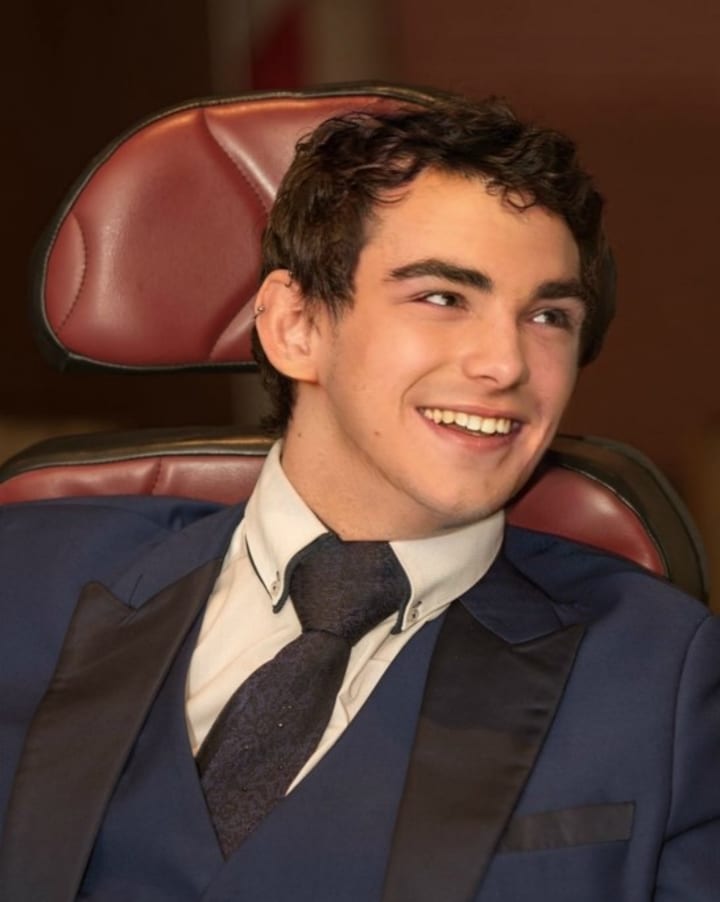 "But the problem isn't that I'm disabled. The problem is that there's no ramp," he explains.
According to the British government, reasonable adjustments are practices applied by employers to "make sure workers with disabilities aren't substantially disadvantaged when doing their jobs".
Dr. Hirst explains that people see them as a special treatment, whilst they compensate for the disadvantages that somebody has because they are working in an environment that isn't inclusive or accessible. She says the problem is the legislation, because it doesn't specify who decides what is reasonable. As a result, employers make the decision of whether to grant those adjustments.
Often, they decide not to. In fact, 26% of employers are worried about the cost of reasonable adjustments and 33% of them believe that employing a disabled person will be a risk for their business. As a result, a study by Reed in Partnership has shown that 8 out of 10 employees don't ask for reasonable adjustments because they fear being discriminated.
However, Dr. Jody Mellor assures that it isn't hard to make reasonable adjustments. She works for Disability Wales, which employs disabled students. She says most adjustments are completely feasible. For example, converting documents from a PDF to a word format for a girl who has a sight impairment. They are small changes that don't cost much to the employer (you can buy a wheelchair ramp for 50£) but make a huge difference for people who are struggling with an unfriendly environment.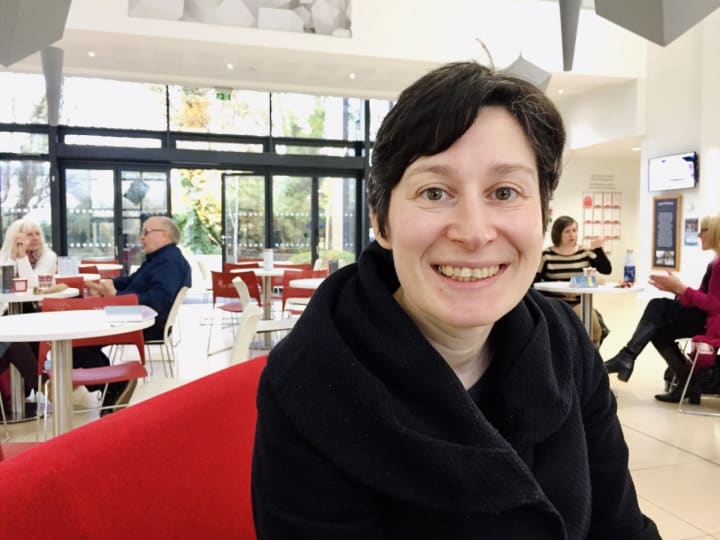 Not all the employers are like Jody. Many are still reluctant to employ disabled people. So, Rosie, despite eventually finding a job, decided to leave it and started her own business: RMS Disability Consultancy, to train employers about equality and disability.
"It was a huge risk," she admits with a smile, that reveals a sense of pride for the career she has built out of nowhere.
But success doesn't come without difficulties. In fact, despite trying to change the employers' mentality, she was still indirectly discriminated. She could perceive that people were sceptical about a disabled person managing and teaching to them.
The reason for such stigmas is the fact that it's rare to see workers with disability in high positions. In fact, in 2010 only 44% of disabled people were in high-level employment.
According to Ellis Palmer, disabled people find it hard to progress in their career because they are hardly ever given responsibility. He is a successful BBC reporter, but he still has to convince his bosses to let him go out filming. His abled-bodied colleagues don't have this problem.
Jane Hutt, the Deputy Minister of the Welsh government assures she is committed to address this issue, because if disabled people cannot progress in their careers, the pay gap issue will never be solved.
This is the second most important problem for disabled people, according to Dr. Hirst. In fact, according to the ONS, in Wales disabled people are paid 10% less than non-disabled.
The minister admits that this is a remarkable barrier. But she says that the cabinet is trying to get employers to adopt the accredited living wage, to reduce this gap.
Dr. Hirst recognises that the Welsh government, despite the limited financial resources, is looking for ways to mitigate these disadvantages. However, she says there is a deeper problem connected to policies. Since April 2017, a U.K. government regulation requires all companies with more than 250 employees to report on their gender pay gap data. According to the researcher, this legislation should also be applied to disability's pay gap.
Dr. Hirst ultimately suggests that disabled people need to be at the heart of policies and legislations. So, her research project involves disabled people to understand directly from them what challenges they face, to find solutions.
This is the same attitude that the Welsh Government is adopting, according to Minister Hutt, who launched the Action on Disability Framework in September 2019.
This is a series of plans to reduce the barriers in the workplace, but the process starts from listening to disabled people themselves. Thanks to this open conversation, the government has decided to adopt the social model of disability. This concept says that it is the society that disables people, not their impairment.
"So, we are responsible to make the society, the environment and workplace accessible," concludes the Minister.
Removing such barriers is the only way to enable disabled people to work and progress in their careers, like Rosie did. After the struggles, rejections and discrimination, she won an OBE and became the only Thalidomide impaired person to write an autobiography: one of her greatest accomplishments.
"When I finally got it from the printers and smelled it, I thought 'O I did that'. It was so exciting," she humbly says.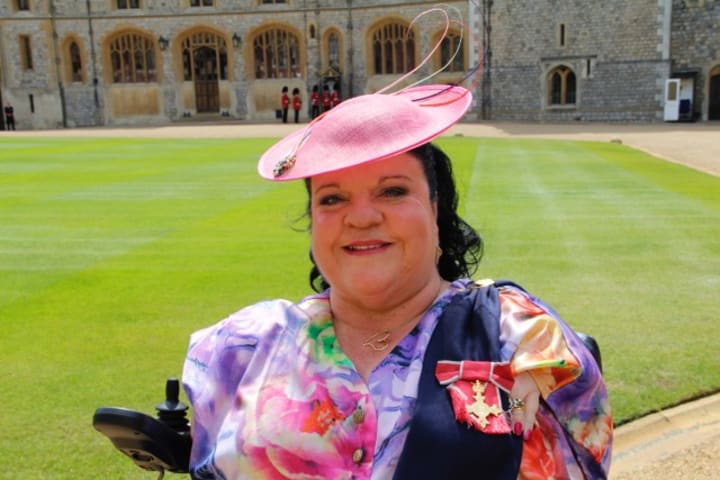 Rosie has made it, but according to Dr. Hirst, employers are missing out on thousands of competent workers, because of their mindset.
She suggests we all need to change our behaviour, because
"it's the collective's responsibility to remove the barriers in the society, so that disabled people have access and are included".
Reader insights
Be the first to share your insights about this piece.
Add your insights