Digital Typewriter Brawl
Freewrite VS AlphaSmart 3000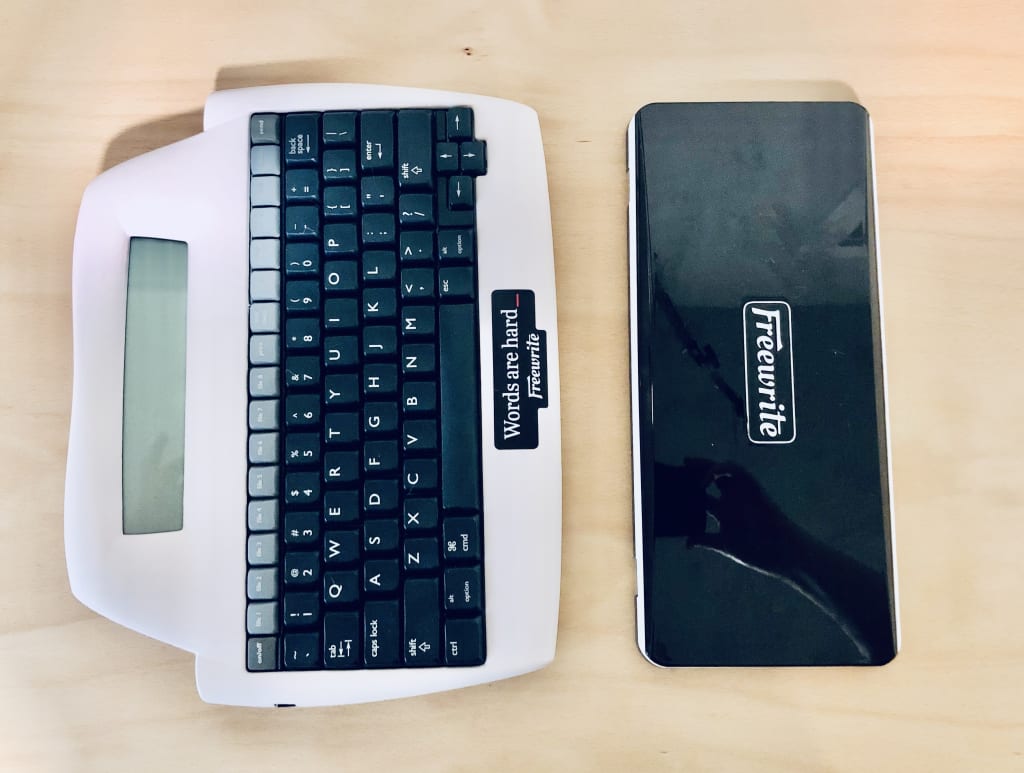 AlphaSmart 3000 (left) & Freewrite Traveler (right)
Writing a novel or publishing an article, typewriters used to be the quintessential writing companion. The typewriter aesthetic has not lost its impact, but, unfortunately, the practicality of the typewriter has left itself in the past. Typewriters are enormous, expensive, and require a lot of upkeep. As devices go, computers have taken over as the writer's best friend for its easy editing and portability. Computers are convenient, fast, and have a plethora of writing tools. Still, modern computers have abandoned the writing experience and distractions come from every push notification, making it difficult to focus.
If you have googled any writing-related questions, big brother has probably already tried to advertise to you the Astrohaus Freewrite Typewriter. This swanky bad boy looks like the answer to all your writing needs. Then you see that the price tag ranges from $430 and $550 (depending on the model). Soon you search all the loan options that exist because you want something distraction-free, stylish, and invests in your creative future.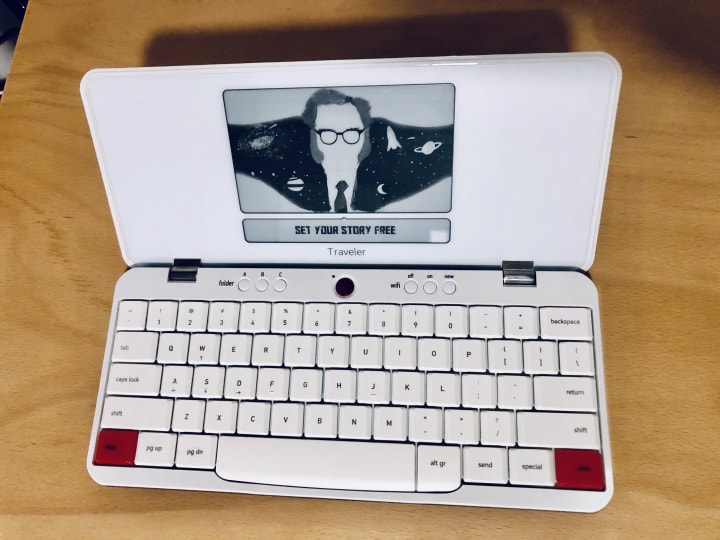 Let us remember there is a grandpa to this digital keyboard, the AlphaSmart 3000. Us 90's kids will remember using this in computer or English class. Little did we know how to appreciate this writing tool, so much so that they discontinued the product. But that doesn't mean you can't find it on eBay for around $30.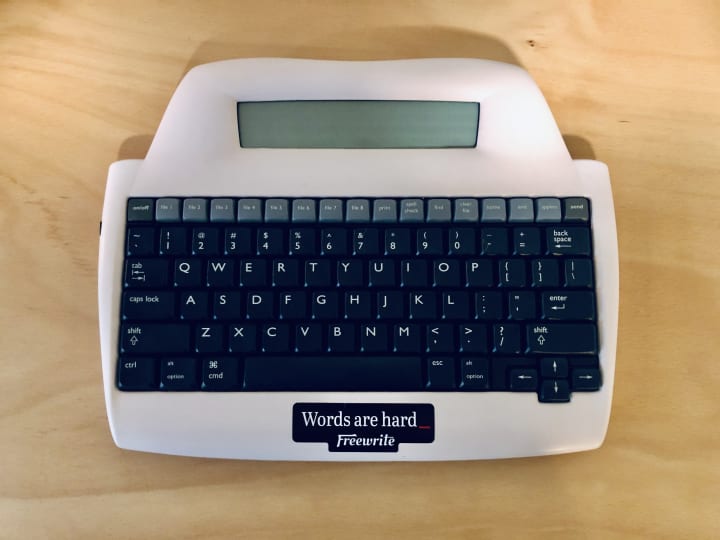 In a technological brawl, which is worth the effort to help you write your next piece?
The price is astronomically different between these devices. If you are in the market for your first digital typewriter, hopefully, I can help you decide if the specs of the Freewrite make it worth the cost.
Once again, the prices listed:
Freewrite Smart Typewriter (2nd Gen): About $550.
Freewrite Traveler: About $430
AlphaSmart 3000: About $30
Keyboard
The Freewrite offers a tactile experience, especially in the Smart Typewriter edition. For some, it may be essential to bring a satisfying clickity-clack while you work. On the other hand, the Traveler edition reduces the typewriter aspect to make it compact, making it feel like any run-of-the-mill keyboard, nothing to gawk $430 over. The AlphaSmart 3000's keyboard is ordinary in appearance and use but gets the job done in its price range.
Winner: AlphaSmart 3000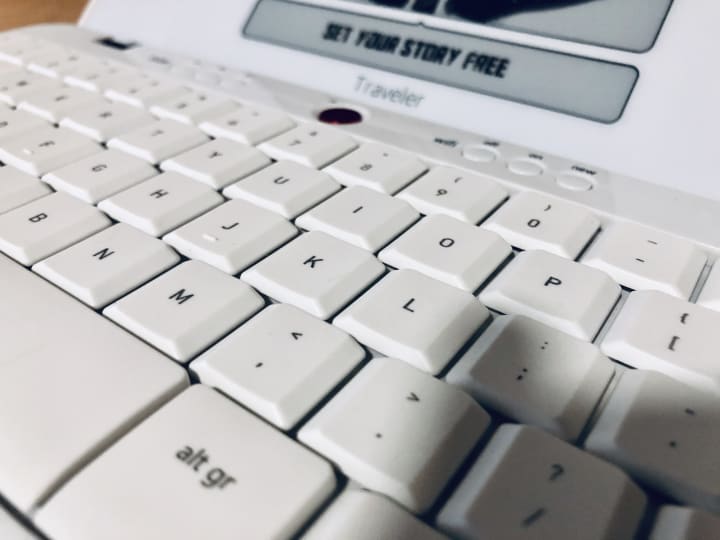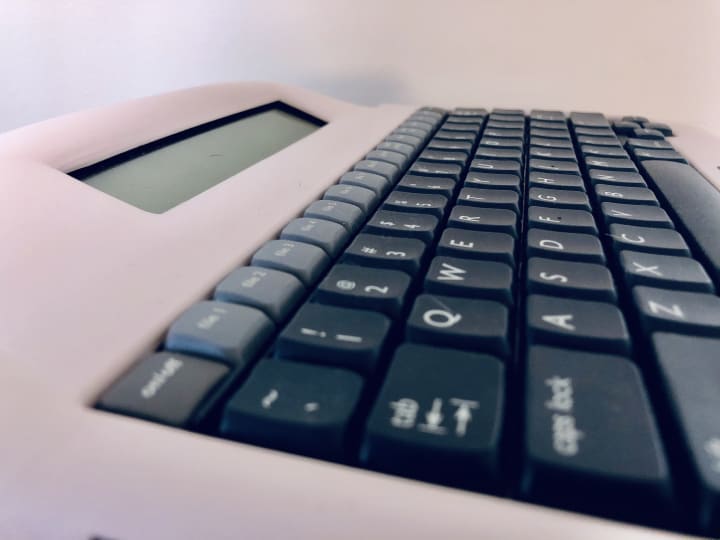 User-friendliness
I purchased the Freewrite Traveler and the AlphaSmart at the same time. The Freewrite came with a set of directions like any new technology does. Still, some of the features were not intuitive, like creating a new document or navigating up and down the page. The AlphaSmart 3000 is as straightforward as you can get. Turn it on and start writing. The arrangement of file keys at the top makes it easy to switch between projects. I was able to get started writing in second with the AlphaSmart. The Freewrite took me an entire meal.
Winner: AlphaSmart 3000
Connecting to Computer
On Freewrite, you can set up an account on a website affiliated with Astrohaus called Postbox. As long as your Freewrite is connected to the internet, everything syncs in real-time. AlphaSmart 3000 gets a little trickier. You have to have the right software downloaded to your computer and a cord, a much clunkier process.
Winner: Freewrite
Screen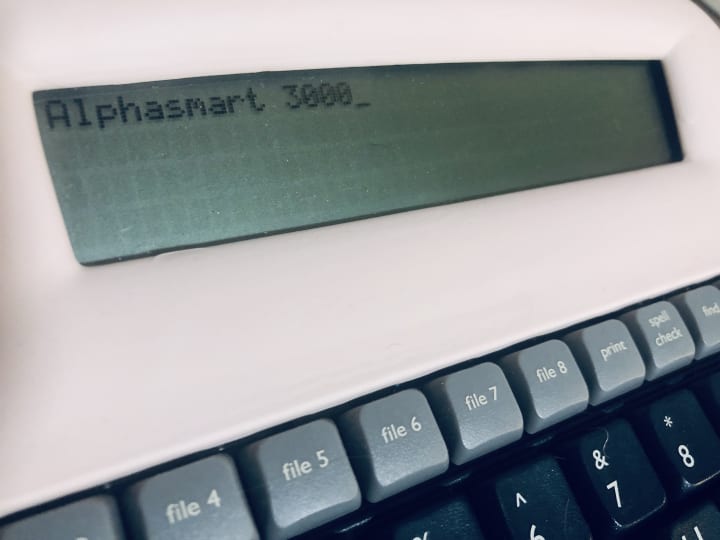 Neither screens are backlit, so you must be in good lighting to see what you are typing. If there is a lamp too close, glare is more present on the Freewrite than on the AlphaSmart. There is a lag when you type on the Freewrite due to the E-Ink technology, it took a few days of writing with it for me to adjust to the type delay. E-Ink displays a vintage and paper quality, which also helps the battery last longer. The AlphaSmart is straightforward on its display, just the words you are typing. Whereas Freewrite has a bar below your typing screen that lets you select between time, word count, reading time, characters, etc. Helpful in maintaining only relevant material in your view that lets you know how your writing is going. The screen is larger on the Freewrite while the AlphaSmart is narrow, but you have more access to make quick tweaks on your work with the AlphaSmart. The Freewrite really does not want you to edit your work as you go, which is good in practice but occassionally frustrating.
Winner: Tie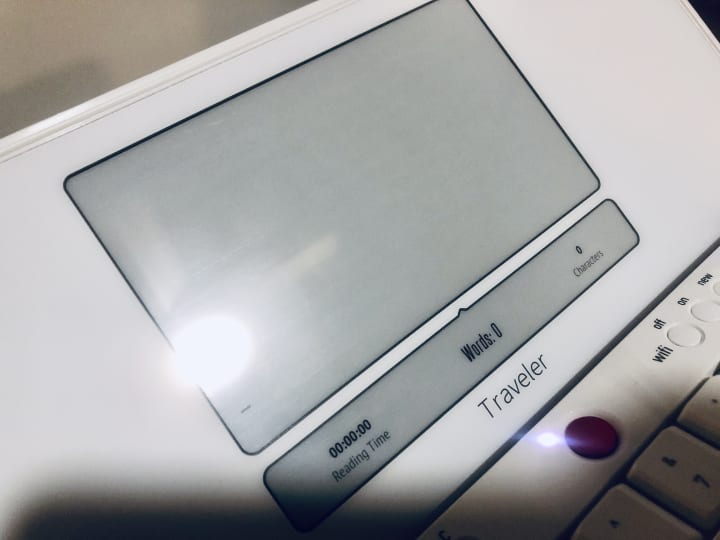 Battery
Like all modern tec, you use a charger to recharge the Freewrite. When it comes to the AlphaSmart, you need AAA batteries. Freewrite charges quickly, lasting me weeks of writing. AlphaSmart 3000, I left the original batteries in the device from purchase, and it went down by half in two months.
Winner: Tie
Aesthetic
As you can tell, I had to paint my AlphaSmart to turn it into something I would even want to create on for my next piece. The retro gameboy look of it is not very appealing (at least to me). The Freewrite brings you to that image we all see of ourselves when writing, sleek and professional. The Freewrite brings the appeal of the typewriter back to writing.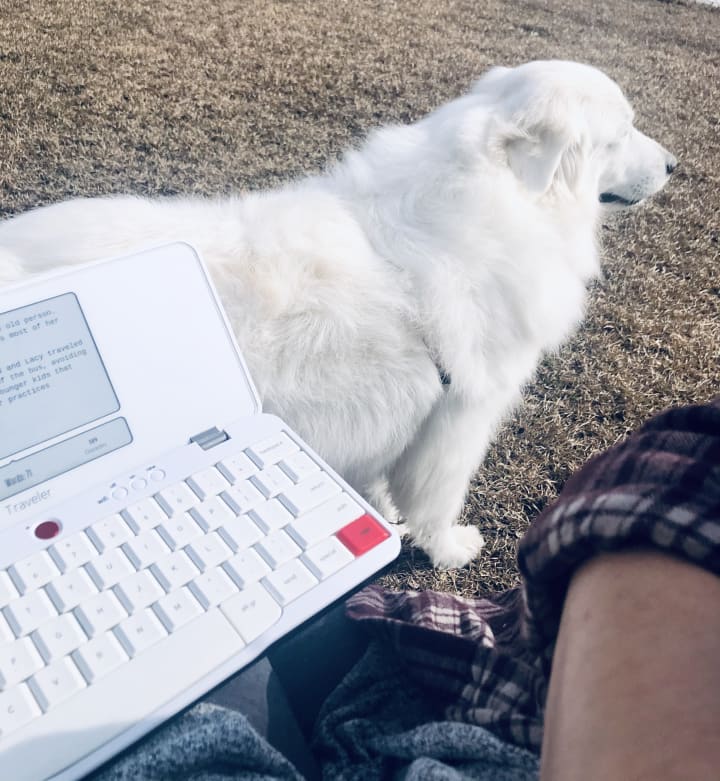 Winner: Freewrite
Portability
These devices are all light and portable, but between the AlphaSmart 3000 and the Freewrite Smart Typewriter, there is not much difference between the bulkiness. The Freewrite Traveler is as minimal as it gets, sleek and folds up. It can fit in most bags and large purses.
Winner: Freewrite Traveler*
So which is the champion?
These products all win on their delivery of simplicity to keep you writing, avoid over editing, and stay away from distraction. The Freewrite and the AlphaSmart are great tools, but none of these devices can cure any writer's block or genuinely inspire you to sit down and start creating.
This is why, for reasons of price and quality, the champion is:
AlphaSmart 3000
Well, not completely. I adore my Freewrite and use it daily but the AlphaSmart should be the first digital typewriter you purchase. You do not need the most expensive version of something to make something meaningful. If you can utilize the AlphaSmart 3000 to your fullest writing ability, forking over the money for the Freewrite later will be worth it.
Happy writing!
A small note: All of these devices run a risk of losing your material, be vigilant and save your work!