Customized MSD ELISA Assays for Specific Biologic Drugs
MSD ELISA assays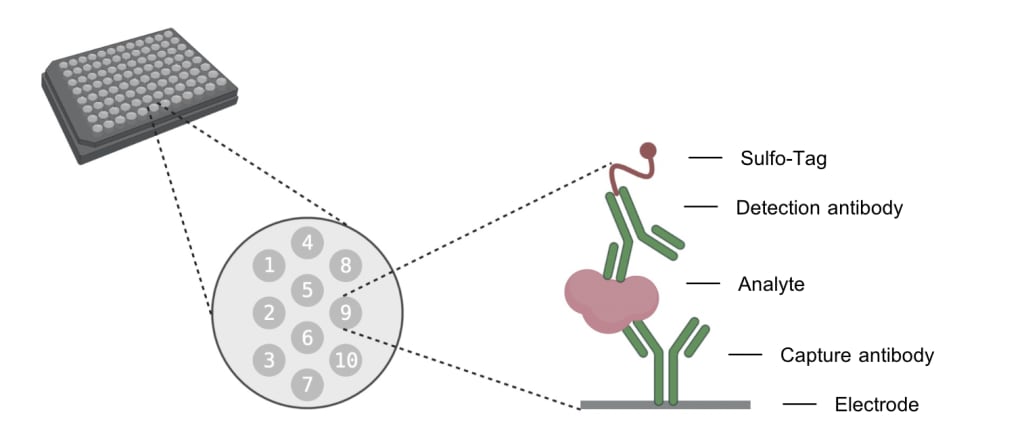 MSD ELISA assay
Meso Scale Discovery employs electrochemiluminescence detection and multiarray technology to detect analytes in complex biological samples. Combining these two robust techniques delivers high-density and rapid analysis of samples through parallel processing of biological assays. The MSD portfolio includes several assay kits and reagents for profiling biomarkers, understanding cell signaling pathways, and numerous other applications.
MSD platform is a unique multiplexed system for quantifying analytes in biological samples. With assay customization capabilities and over 400 kits, the MSD platform helps scientists determine different molecules in complex matrices. The platform delivers data in less time, is cost-efficient , and with minimal effort. These features have made MSD technology a major player among pharmaceutical companies and research organizations. The current article discusses customized MSD ELISA assays for specific biologic drugs.
MSD ELISA assay for biologic drug development
Immunogenicity assays are an integral component of biologic drug development. Stringent regulatory requirements for developing and validating immunogenicity assays require robust and tolerant bioanalytical methods. Today Meso Scale Discovery assay is prominent due to its broad dynamic range, increased sensitivity, and higher therapeutic tolerance.
Over the years, Meso Scale Discovery has worked with bioanalytical labs and researchers in the field of biotherapeutic development to meet the increasing demands of the immunogenicity community. Meso Scale Discovery offers numerous assay kits and development materials, including MSD cytokine multiplex and MSD ELISA assay. Today MesoScale cytokine multiplex assays are the primary choice of bioanalytical technique for assessing cytokines in biological matrices.
MSD product line supports each phase of immunogenicity testing by providing the following:
Minimal Matrix interference
Superior assay sensitivity
Exceptional precision
Flexible platform
High drug tolerance
Wide assay range
MSD's extensive portfolio includes plates, reagents, and assay development kits for all stages of biologic drug development. Besides, each MSD product is qualified for precision and reproducibility through multi-lot testing and exceptional inter-lot and intra-lot consistency. MSD products include:
MSD Gold Streptavidin plates - industry standard plates for consistency, convenience, and assay performance
MSD Gold Sulfo-Tag conjugates - stable, easy to prepare, and highly sensitive detection
MSD Gold Read buffer - ready-to-use buffer with enhanced lot-to-lot consistency
U-plex development and ELISA conversion packs - customized development tools to design tailor-made immunoassays
Moreover, MSD services include solutions to complex immunogenicity testing such as drug reagents, conjugated antibodies, neutralizing antibody assay, and customs assay plates.
Conjugation services - MSD services include in-depth knowledge and expertise in manufacturing reagents to conjugate biomolecules with Sulfo-tag labels or biotin. Besides, they routinely characterize your conjugates and provide certificates of analysis.
Assay development services - sponsors can explore Meso Scale Discovery assay's expertise to develop high-quality immunogenicity assays.
Prototype printing services - researchers can develop custom-designed plates printed with specific materials of their choice in a ready-to-use shipped model.
The US FDA recommends following a multi-tiered approach for immunogenicity testing of a biologic drug product. Primary screening assays must be able to detect anti-drug antibodies present at low levels. Secondly, confirmatory assays should be able to confirm positive samples and eliminate false positive data. Finally, the last phase includes characterizing anti-drug antibodies through cell-based NAb assays. Meso Scale Discovery assays have a broad range of solutions at each step of immunogenicity testing.
Read More: MSD Assay Services: The Key to Unlocking Custom Biomarker Tests
Reader insights
Be the first to share your insights about this piece.
Add your insights