Creative Employee Recognition Ideas
Employee Recognition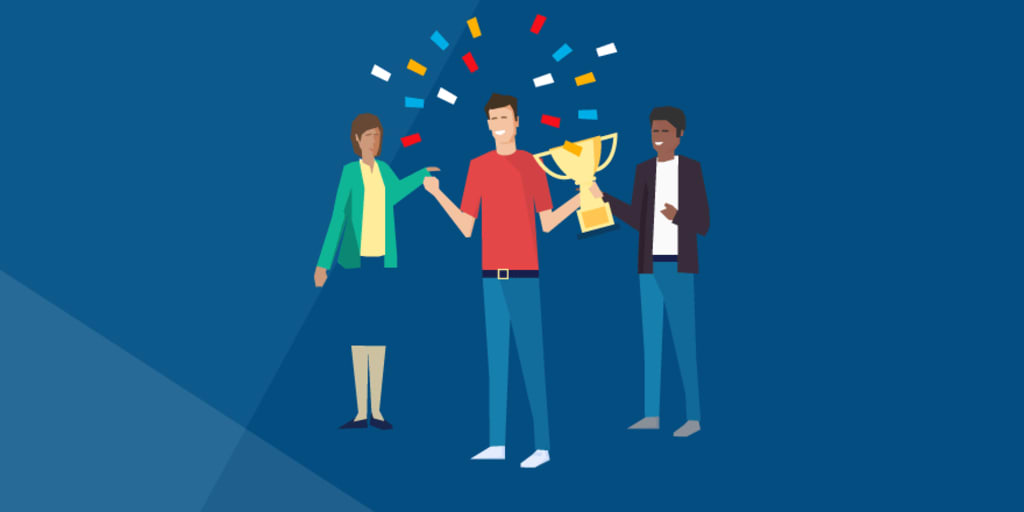 Your employees work hard for your business, and it can be challenging to develop employee recognition ideas worthy of their effort. Employee recognition programs motivate teams, increase engagement, and heighten productivity. When getting started with recognition plans, it is essential to determine what will be most effective for your team while maintaining a reasonable budget. Try these creative recognition ideas to help your team feel valued and stay engaged!
Make Recognition More Personal
Employees want to feel valued and seen as individuals with unique perspectives, skills, and ideas to bring to your organization. As your organization researches recognition ideas, involve your employees by making every touchpoint personal.
Start by meeting with your organization's leadership team to establish why employee recognition is vital. Then, make recognition feel more personal by having a C-level executive, such as your organization's CEO or COO, call an employee to express gratitude. An employee may receive a personal phone call to thank them for a job well done or congratulate them for hitting an anniversary milestone with the company. Personalized recognition demonstrates that leadership genuinely cares about employees and appreciates the work they do.
Involving leadership within the employee recognition process is critical. For recognition programs to be successful, your leadership must understand that recognition plays a significant role in keeping employees engaged and loyal to your organization.
Involve Your Team in Choosing Employee Recognition Gifts
Peer recognition can be just as important as recognition from leadership. Your team works closely together and helps each other stay motivated but deciding how to reward them can be difficult. Solicit the help of your team by bringing everyone together to discuss employee recognition ideas. Involving your employees in choosing a recognition program ensures that team members feel heard and receive the rewards they want. Their involvement will help build a strong office culture and increase engagement.
When collaborating on reward program ideas, encourage your employees to think outside of the box. For example, passing around a funny trophy to recognize a different employee every month can make the workplace feel more fun and engaging. Each month, employees can nominate a team member to receive the trophy based on specific metrics. By getting creative with recognition, you can help keep employee recognition gifts within budget.
Set a Budget for Employee Recognition
However your team decides to implement employee recognition programs, keep financial restrictions in mind. Whether you're planning office outings or giving small tokens of gratitude, recognizing and incentivizing your employees can get expensive.
Set a small budget for employee recognition and celebrations. When your team exceeds expectations, use this budget to treat them to lunch, host an office celebration, or purchase digital gift cards. Keep track of recognition gifts costs and how frequently certain employees may be receiving rewards to monitor your employee recognition programs for any red flags.
Use Digital Gift Cards
Employees like having a choice when it comes to their rewards. When considering employee recognition ideas, using e-gift cards can be an effective way to stay within budget and offer your employees a choice of rewards.
Digital gift cards through providers like Tango Card are easy to use and give employees various options. Tango Card's Reward Link® allows recipients to choose which e-gift cards they would like to receive instantly through email. By letting your employees choose their employee recognition gift, you can be confident they'll be happy with their reward.
Using digital gift cards for recognition will allow your organization to spend less time searching for rewards and keep you within budget. Many gift card solutions, such as Tango Card, have built-in reporting features to keep you on track, identify trends, and discover which employees are frequently recognized. This information can indicate it may be time for a raise or promotion or raise red flags within your program.
Use Social Media for Employee Recognition
Employees feel appreciated when publicly recognized; using social media for employee recognition can be a fun way to highlight your team and demonstrate appreciation.
There are plenty of opportunities to post about your team on social media. Consider recognizing employees for joining the team, celebrating their birthday, or honoring a workplace anniversary. Get creative by making each post unique to your employee with fun photos and why your company appreciates them. Additionally, recognition on social media offers an open forum for peers to engage directly with each other to show appreciation.
Celebrating Work Anniversaries
While being recognized on social media may excite some team members, it may leave others feeling uncomfortable. Internal work celebrations in honor of work anniversaries may be a better fit for your team.
Celebrating a significant milestone with the company could include a team lunch or a personalized gift such as digital gift cards or a gift basket. Using an employee recognition gift to highlight the time spent with your company will help your employees stay loyal to your organization. Employees who feel recognized and appreciated for their work will remain engaged and experience higher satisfaction.
As your team begins brainstorming employee recognition ideas, include company leadership and employees in the process and establish parameters for how and when employees will be recognized. Ideas to help acknowledge your employees can consist of personal touchpoints, setting an established budget for celebrations, and sending gifts. Budget-friendly gift ideas could include a team lunch or a small gift basket. Additionally, utilizing digital gift cards, recognizing employees on social media, and celebrating work anniversaries can also help employees feel valued. Whatever your company decides to use, recognition plays a significant role in keeping employees engaged.
Reader insights
Be the first to share your insights about this piece.
Add your insights