Create your Happiness
How I became friends with the creator in me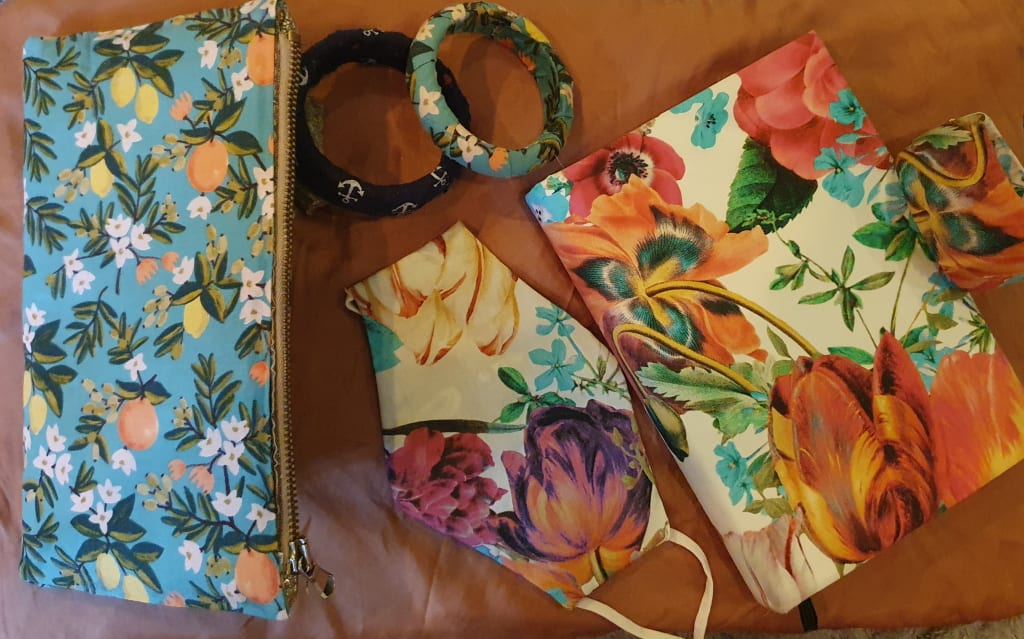 Sometimes, I get a feeling that there isn't enough time to create.
There isn't enough time to spend with myself imagining, daydreaming and writing or reading or listening to music, dancing, getting lost inside myself. Those idyllic moments when you have nowhere to be and no one around and you can be with you, truly just listening to your creative urges and where that wants to take you.
To truly listen to what's being asked then the infinite bliss as of being able to follow it and do the thing.
Brene Brown tells us that
'Creativity is the engine that drives Integration. It helps us transform Knowledge into Practice. We move what we're learning from our Heads to our Hearts through our Hands'
-Gifts of Imperfection, 10th Anniversary Edition, Note from Brene.
I read that and I liked it though it took me awhile to understand and really know what those words truly meant. Similar to the author I struggled with the idea of play for fun, just for enjoyment's sake so it took me a while to find a creative outlet, know what I wanted to create, that I wanted to create. To accept that I was creative. That I am creative.
I actaully used psychotherapy to help me understand my blocks. I hope your process was easier than mine, and if not, you're more than welcome to explore that approach and see if it works for you too. If you're reading this and it resonates, I hope you grab a pair scissors and get to creating on any medium that calls to you.
The inspiration behind my creative process doesn't come from me so my task is allow for Time and Space. Uninterrupted. Usually that means weekends where day turns into night and I barely notice. When I get so attuned or in tune that I don't know where the energy comes from but I don't need sleep and I'm up early just to start. Start listening and moving to and with my rhythm. It usually starts with music. What mood am I in? Then I change into a dress, my creatress loves being in dresses, depending on the temperature the length, short or long.
Often dancing follows as I move what needs to. Then the ideas come. I see something that needs my attention. Whether that's something in my space, redecorate my altar, change my plants around, etc.
I create beauty in my environment and items around me. I repurpose or upcycle was has already been created to make it more beautiful. I don't desire construction from the start, like sewing a dress. I leave that to the professionals. I will however delight in finding one affordably (thrift shops or eBay) and cutting, hemming, shortening long sleeves to ¾, going to the haberdashery shop and adding an edge to the sleeve or hem, making a belt, or taking a belt, and covering a bracelet so I now have matching accessories, that sort of thing.
Lately, I've been getting fat quarters and covering over journals, old bracelets, purses and making prettier masks ( attached pic)
I love it. I can't get enough of it. I'd like my whole life to be lived from this place. Oh how I'd like to live here always and in every moment. I'd like to structure my life this way but for now, I have to leave this place often and go to work. To leave the house, put on presentable clothes and you know....shoes, and go out and talk and be with people, their ideas, their stories and schedules until I can come back to mine. Be at home, And then, Bliss again. That's how I view the world now that I've found her. Found this part of Me.
I used to smoke ganja to get my body to relax and get creative, then when I finally dared to cut the addiction a new door opened for me. The one I always wanted and was searching for in other places. She, my creatrix/creatress when I listen to her, rewards me with such a feeling of accomplishment, fulfillment, of being proud of myself, or just being loved that I can't wait to give her more time. More time to create and bring her requests to life. Oh, to serve her is truly my pleasure.
I come from a lineage of slavery and indentured servitude so serving hasn't always brought up the best feeling in me. It wasn't until later in life, and esp after studying yoga, that I understood the desire to serve could be, not to one person but a community or a cause, that I could say I am here to serve. That I wanted to say I am here to be of service.
Now, I want to serve the creator in me. The place/Source in me where ideas flow from. To be my own master and servant and the self-fulfilling vessel for creativity to pour itself into and through me, to be a channel for the divine. I know, I'm such a cliche ( insert eye roll) though it doesn't make it any less true.
I wonder if that's what all of us want? To be the master and servants to our creations.
To have the time and resources to make them come alive.
To create our Happiness….
Thanks for taking the time to read this.