Creatd Q3 2020 Letter to Shareholders
A look at the previous quarter and the mission ahead of us.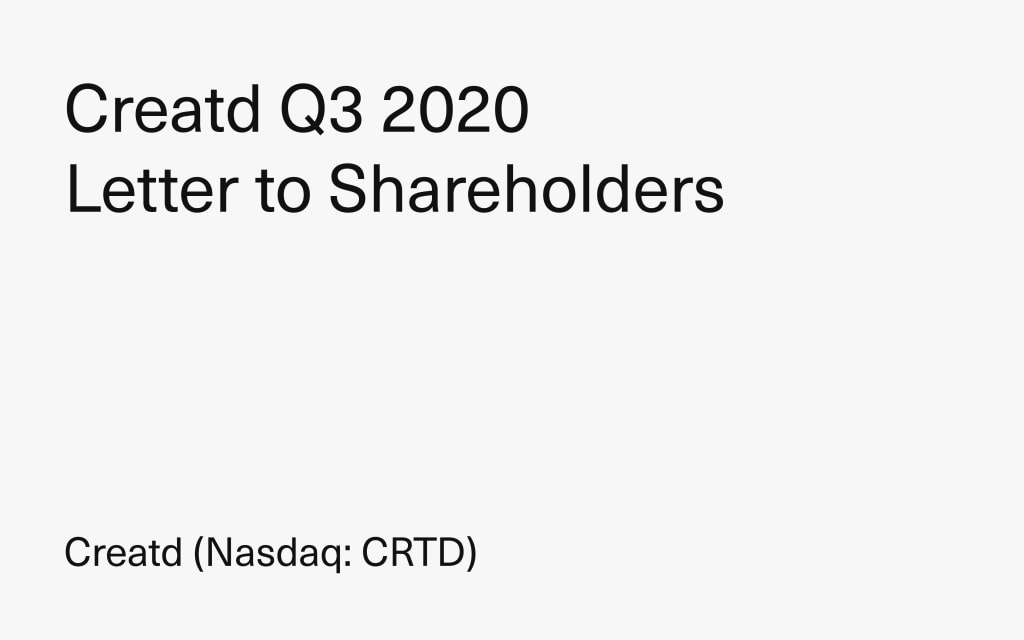 Be Vocal
Our thoughts are never far from the tragedies that continue to define the pandemic, as well as the divisiveness and growing socioeconomic divide in our country. We are evolving in ways we never could have imagined just one year ago. In these unprecedented times, Creatd's platform Vocal is providing the right service at a necessary time; it is providing the opportunity for the people to be heard.
I would like to take a moment to acknowledge and thank our CFO, Chelsea Pullano, who not only guides our team through regulatory and financial milestones such as our first quarterly filing as a Nasdaq company, but also represents the best of Creatd's culture.
Third quarter was a record for us, in revenues and in progressing our company's narrative. Looking ahead, I can confidently project revenues of between $550,000 - 600,000 for Q4, minimally a 30% increase from the third quarter, followed by even more significant growth in early 2021, with projections of between $850,000 - $1 million in Q1 2021.
Our team is rising to the challenges of a new work environment. Rotating essential staff in an agile and safe physical space creates cultural alpha. Rather than impede our productivity, we have found it to accelerate what has always been an ongoing discovery of company efficiencies.
Field and operational management are critical to our team's success and in only a few months since joining the team, our new COO, Laurie Weisberg, has proven herself more than up to the challenge. Laurie, together with my founding partner and Creatd's president, Justin Maury, orchestrate 30+ full time employees, and nearly the same amount of external segment specialists. The current business environment demands their teams to respond in-flight to the needs of creators and brands. We have hired a number of seasoned industry sales specialists that answer directly to Laurie, each of whom has the capacity to generate significant brand collaborations. Together with the rest of the management team, Laurie has done a stellar job maintaining a culture of excellence driven by work ethic, intellect, abstract thought and moral compass.
As we forge our way through the new normal, we are excited by the opportunities we see in front of us. We are inspired by the now over 800,000 Vocal creators subscribed to our freemium model and I am pleased to announce that as of this week, we have crossed 7,500 premium subscribers and can comfortably estimate exceeding our previous projections of reaching 10,000 paying Vocal+ subscribers by year-end. Equally important, we have reduced our cost of acquisition per premium creator (subscriber acquisition cost, or SAC) to a record low of $170 per paid subscriber. The SAC should continue to decrease throughout the rest of the year, and close Q4 at approximately $150 per subscriber.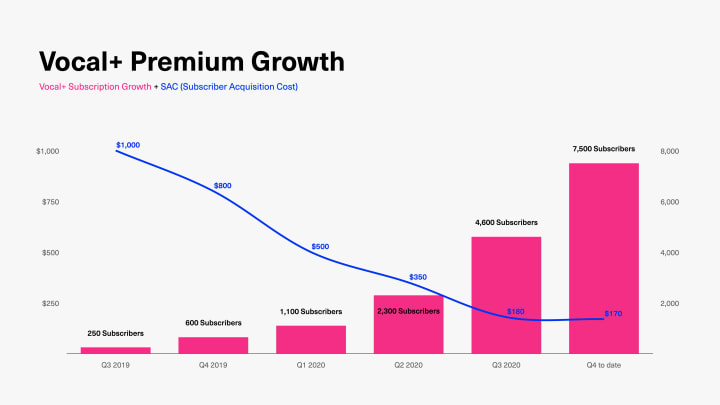 With over four year's worth of first-party data from our Vocal platform, we can now project the average lifespan of a Vocal+ subscriber to be a minimum of two years. Vocal currently generates $300 in revenue over an estimated two year lifespan (i.e. $300 LTV) per subscriber, or $150 per year, per subscriber including affiliate marketing and other applicable micro-transaction fees. As we introduce new features to Vocal, we expect that lifetime value will only increase.
Freemium to Premium
"The freemium business model stipulates that a product's basic functionality be given away for free, in an environment of very low or no marginal distribution and production costs that provides the potential for massive scale, with advanced functionality, premium access, and other product-specific benefits available for a fee."

—Eric Benjamin Seufert
Spotify is a classic example of a freemium-to-premium subscription-based business strategy, and offers a good mental model to clarify Creatd's aspirations. While the majority of Spotify's revenues comes from premium subscribers on its platform, its brand marketing business is a more recent evolving component of their strategy. Brand marketing is a valuable derivative created by accessing targeted audiences particularly of creators and influencers.
With Vocal for Brands, we apply the same methodologies we use internally to generate value for direct-to-consumer brands. Essentially, we set these brands up for success by creating a similar downward slope in customer acquisition cost, as we have done with our own Vocal+ subscription model. The math is really quite simple: for a subscription (or a direct-to-consumer business model) to succeed, the cost of acquiring a customer must be less than the expected lifetime value of that customer. Think of your own lifetime value to Amazon, Netflix and Spotify, and what they would pay to keep you on their platforms. In principle, we are no different from them.
It's important here to evaluate the economics behind subscription models. In a subscription business, customer acquisition cost occurs upfront and the revenue appears over time.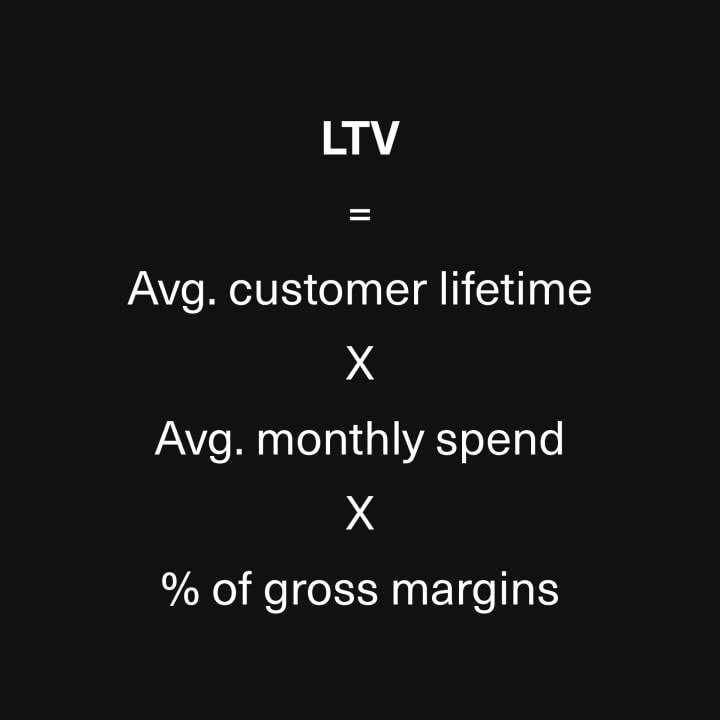 Once LTV is accounted for, the question becomes, can it scale? Specifically, as it scales, will the financial spread between lifetime value and creator acquisition cost support a fixed operational structure? If the answer is yes, as is the case with Creatd's flagship platform, Vocal, then the company can grow revenues without a significant increase in corresponding fixed costs. With a fixed acquisition cost, below the lifetime value and an improved balance sheet, Creatd is poised to leverage its growing pool of first party data and continue its proof of value. The growth opportunities at scale are even more pronounced when your total addressable market is as far reaching as ours – the entire creative community.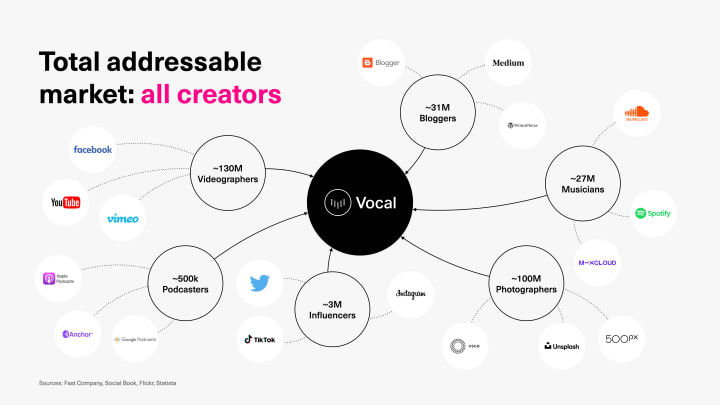 Spotify for example, was founded in 2006 and by late 2009, had already reached 7 million total freemium users, with 250,000 of them being paying subscribers. In July 2010, the company reported it had 500,000 premium subscribers, and in late October 2010, nearly 3 years from launch, it was rumored to have 650,000 paying subscribers. Roughly speaking, Spotify added approximately 41,600 new paying subscribers per month.
In 2011, Spotify received a $100 million investment that it used to fund its launch into the United States. The raise implied a one billion dollar valuation. Sean Parker, the co-founder of Napster was brought on board to secure relationships with the major record labels. By 2012, the company had raised another $100 million through Goldman Sachs and, within a few years, another $500 million. This implied a near $10 billion dollar valuation by 2014, nearly eight years from launch. Today, Spotify is estimated to have over 130 million paying subscribers, nearly the same amount of freemium subscribers, and has a public valuation of nearly $50 billion.
Patreon, another scalable creator platform, has privately raised $255 million and does $30 million in revenues annually. It was last valued at $1.2 billion at an implied 40x revenue multiple.
By comparison, Creatd has raised $36.4 million over the course of six years to build and market its flagship product, Vocal. Vocal is projected to generate at least $6 million in 2021. Creatd trades at a discounted multiple to revenue, as compared to comparably funded companies backed by private equity and VCs.
This is all to say that given Vocal's proven scalability, we spend considerably less and yield at least equal if not greater value. At over 800,000 freemium creators currently, and tens of thousands added monthly, Vocal is on pace to cross its one millionth freemium creator by second quarter 2021. On the Vocal+ subscription side, we expect to continue adding thousands of new subscribers monthly for the foreseeable future, and reach 100,000 Vocal+ creators in less than 12 months. Once we hit that 100,000 threshold, projected in late 2021, that single revenue stream would generate over $1 million per month in recurring revenues. Beyond that, in fiscal year 2022, we expect Vocal's revenues to grow exponentially.
Camus
It took over four years of resilience on the OTCQB market, let alone two years prior of research and development. The education and the experience has been invaluable. With the uplisting now behind us, we begin our journey on the Nasdaq. We have evolved our collective resources to leverage new strengths with new purpose and passion. The market is the great arbiter of value: it decides who wins and loses and defines the great corporate teams that leave a legacy of indelible success.
We look forward to growing investor awareness over the upcoming year and telling our story to a market where finding value like that underlying CRTD, is getting harder by the day. Investors are seeking new opportunities to replace winners of the last decade that now have relatively slower growth and matured valuations.
Creatd is more than just the company we steward, it is an ecosystem serving an infinitely growing community of creators. We live in a time when we can all have a voice. To be vocal is to have a voice and use it. We live in an era where our voice is a powerful instrument of change. Creativity is communication, and our flagship product Vocal, is a platform that welcomes all creators.
"To create is to live twice"

—Albert Camus
Camus believed that life was absurd, and probably meaningless. In 2020 that feeling almost feels like fact. As an artist, Camus understood that creation can give meaning to the nonsensical. To create is to find the balance needed to live both a meaningless and meaningful life simultaneously. Our Creatd team created Vocal as a tool to give meaning and purpose to the voice of a new generation.
There is power in creativity. A single individual can influence the world with that power. And while that is no longer academic, that strength has to be shared with everyone. The power to be heard is the power to be Vocal.
The next 90 to 120 days will be spent working hard to finish the most exciting year of our company's existence. I will spend a great portion of that time communicating and bringing awareness to our company's mission. I look forward to catching up with many of you personally. I expect it will be a busy upcoming quarter.
"Tell people there's an invisible man in the sky who created the universe, and the vast majority will believe you. Tell them the paint is wet, and they have to touch it to be sure."

—George Carlin
One last thought, if you did not get a chance to hear today's shareholder meeting, I invite you to listen here:
Reader insights
Be the first to share your insights about this piece.
Add your insights