Creatd Chairman Letter
Expansion Plan to positive EBITDA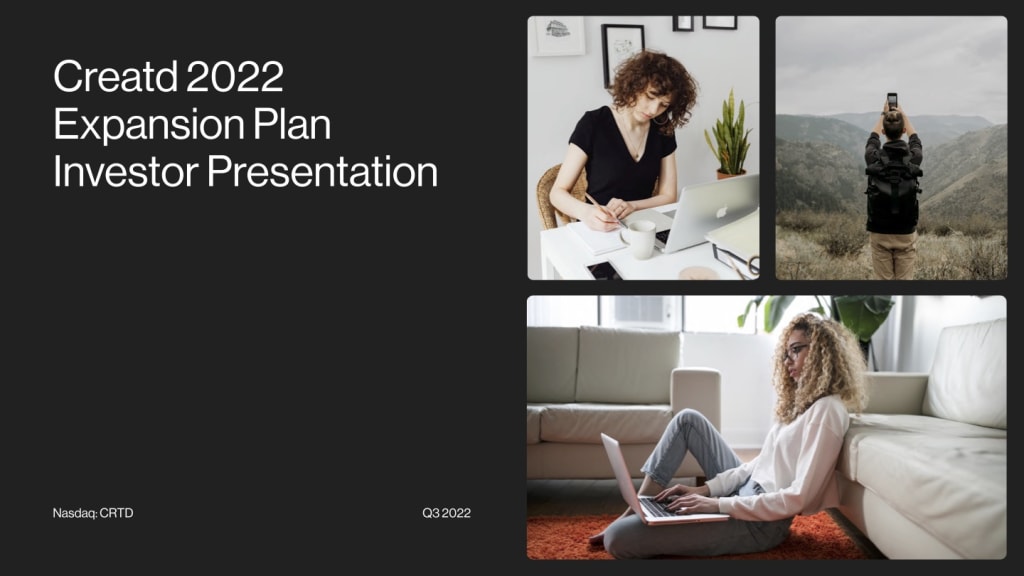 It had become apparent, in the weeks following the announcement of our Rights Offering on May 26th, that the market did not then have an appetite for the transaction we had envisioned. Context is everything and time provides for alternative opportunities. On July 29th, after careful and logical consideration, we announced that we had elected not to proceed with the offering. Since May 26th, CRTD has traded 78MM shares—nearly five times its public float of 17MM. I am confident that I, personally, count nearly half of those holders in my personal network. CRTD has traded from a recent high of $1.50 on May 26th to a historical low of $0.60. All of this has given me more confidence to move forward with our new plan of action. A team like ours must bet against the consensus and be right.
I am proud to say that our Second Quarter 2022 financials, which we filed last week, marked our 25th quarterly filing as a public company, and in it we reported:
Gross revenues increased 45% YoY
Net revenues increased 67% YoY
Operating expenses decreased 10% YoY
For the coming quarter, negative cash flow from operating activities is anticipated to be approximately $4.5MM, better than our original internal expectations, bringing us towards the lower end of the $4.5MM-$5.5MM range that has been maintained since the first quarter of 2021. I expect that metric to keep improving.
Our net revenue projections for the second half of fiscal year 2022 are expected to be between $3.5MM and $5MM, before accounting for additional growth related to potential expansion financing, with between $15MM and $20MM in gross revenues for the full year. Our monthly burn should decrease to less than $1MM a month and, more importantly, the Company will generate a greater than 1X Return on Ad Spend (ROAS) by the end of fiscal year 2022, allowing the Company to be more predictive when it comes to projecting positive cash flow, or EBITDA. Our management team continues to project cash flow break-even for Q3 2023.
Today we announced our intention to initiate a new Rights Offering. The success of our new rights offering will determine the size and scope of our expansion plan. Gross revenues, assuming various degrees of success, can grow from $20MM to as high as $40MM for fiscal year 2023.
Participation is available to all Creatd securities holders as of the to-be-announced Record Date.
The terms of the Rights Offering are as follows:
For each share of Common Stock or share which may be acquired via conversion or exercise of preferred stock, warrants, options, or convertible notes, a holder will receive 2 subscription rights to purchase 1 Unit, with a maximum of 20MM Units sold.
A Unit consists of 1 share of Common Stock and 1 non-tradeable 5-year Warrant to purchase a share of Common Stock at $1.00.
Each Unit will be priced at the volume-weighted average price (VWAP) for the trading days between the S-1 effective date and the Record Date.
The availability of basic subscription rights and over-subscription privilege will be subject to certain terms and conditions, including pro-rata adjustments (if any), to be set forth in the offering documents. This, again, creates a true democratic process for investors who put in the work and understand our narrative.
In my opinion, this is the most attractive financing opportunity we have ever offered investors. The Rights Offering process allows for a fair and equitable means to raise capital, safeguarding the interests of retail and minority shareholders in particular. Given that we are offering a Warrant struck at $1.00, it was imperative to me to exclusively offer this package to investors directly. That is why we are not using traditional structures such as PIPEs and other alternative funding packages offered by the small-cap banking community. Long-term investors, many of whom are part of that personal network, now truly stand the most to gain, and fast money is not rewarded for its risk.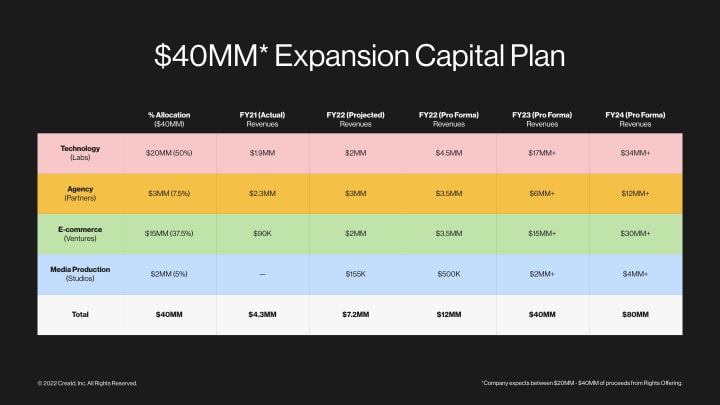 I encourage you all to read Creatd's Expansion Plan. Our updated deck includes a discussion of our growth and expansion plans across our four pillars. Important to note is the highly scalable nature of our technology (Creatd Labs) and e-commerce (Creatd Ventures) pillars, thus warranting higher levels of capital infusion as compared to the agency (Creatd Partners) and media production (Creatd Studios) pillars. The latter two businesses, while inherently less scalable in their own right, drive significant value for their highly scalable sister counterparts. The projects and brand partners in those pillars help us penetrate new markets and untapped audiences for Vocal and our CPG subscription businesses.
See Creatd's 2022 Expansion Plan presentation here.
After many years, our company has reached an inflection point in its business model, culture, and evolving shareholder base. We have endured the pain of developing our assets and are now in a unique position to leverage them for rapid revenue expansion. At the same time, we face some of the most challenging headwinds that I have seen in the technology space in the past decade. Throughout my career, I have seen that this set of circumstances often leads to great upside for those who can weather the storm. We are at a tipping-point moment, in which I am committed to securing funding for the company that lets us take full advantage of the opportunity to ignite our expansion plan and grow exponentially. For every dollar we spend above our fixed operating expenses, we receive a multiple in return, the same should hold true for shareholders when investing in our stock; today's announcement makes that possible.
Reader insights
Be the first to share your insights about this piece.
Add your insights