'Covid' Ops: Poor Richard turns 70 today
Six titans born on 18 July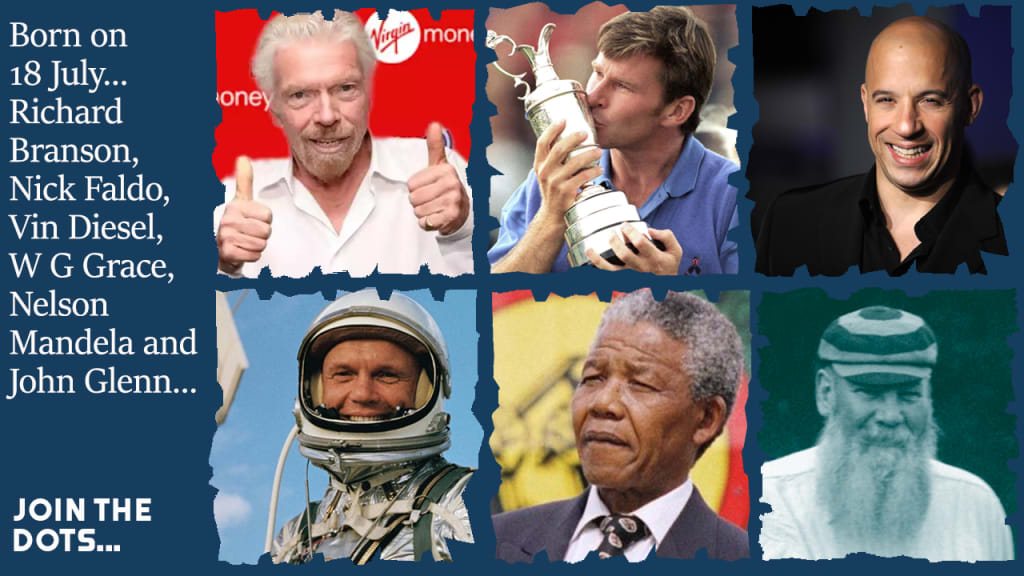 It's said that all people are six, or fewer, social connections apart but you don't need that many steps to connect former South African president Nelson Mandela, astronaut John Glenn, golfer Nick Faldo, actor Vin Diesel, the grandfather of cricket W G Grace and billionaire entrepreneur Richard Branson.
In fact there's just one thing that connects these six titans of their fields… they were all born on 18 July.
English cricket all-rounder and captain Grace was born in 1848 and scored 54,896 runs over a record 44 first-class seasons that saw him play in 22 Tests before his death in 1915, three years before father of modern South Africa Mandela was born in Mvezo, Umtatu, in 1918.
Three years on again and the first American to orbit the earth came into the world in Cambridge, Ohio, Glenn later going on to become a Democratic senator for his home state.
There's a jump of 29 years then before Virgin founder Branson, himself a pioneer of space travel, was born in London, not too far from where six-time Major winner Faldo was born seven years later in Welwyn Garden City, Hertfordshire.
And the last of the sextet, Diesel? He came along 10 years later… in Alameda County, California.
Billionaire Branson has been much in the news recently, the troubles of his Virgin Atlantic airline due to the Covid19 crisis the subject of much media attention.
The tycoon, celebrating his 70th birthday today, has been an entrepreneur since he was a teenager, founding his first magazine at the age of just 16, and is now one of the richest men in the world… although he still felt the UK and Australian governments should come to the aid of his struggling carriers, just a small part of his Virgin Group empire, which also includes a Caribbean island.
The tycoon even offered to mortgage the island, Necker, in return for new investment for his airlines.
But his request for UK government money was rejected, leaving Virgin Atlantic in a race against time to secure new financing or follow Virgin Australia into administration.
Somehow though Branson conjured up some capital from somewhere and Virgin Atlantic recently finalised a rescue deal worth £1.2bn that the mogul hopes will protect thousands of jobs, his own Virgin Group willing to inject £200m into the airline with additional funds provided by investors and creditors.
And Virgin Australia too has managed to strike a deal, bought up by a US private equity group.
The Virgin Atlantic deal includes funding from US hedge fund Davidson Kempner Capital Management, along with the postponement of about £450m in payments to creditors.
Virgin Atlantic said the refinancing covered the next five years and paved the way for it to rebuild its balance sheet and return to profitability in 2022. The Virgin Group owns 51% of the airline, with the rest held by US carrier Delta Air Lines. The airline still has to cut 3,500 staff, but a further 6,500 jobs should be secure.
Virgin Group raised money for the investment from the sale of shares in the Virgin Galactic space tourism company.
"We have taken painful measures, but we have accomplished what many thought impossible," said chief executive Shai Weiss. "The last six months have been the toughest we have faced in our 36-year history."
The company had hoped the government would step in with up to £500m in bailout loans, but ministers made it clear taxpayers' money could only be considered once all other options had been exhausted... Branson coming under pressure from Parliament to use his net worth to bail out his businesses, with criticism over his tax status and residency in the British Virgin Islands playing on minds.
Virgin Australia, which had been struggling with long-term debt of £2.55bn even before the pandemic struck, has been bought by US private equity group Bain Capital.
Australia's second biggest carrier had been owned by a number of major shareholders including Branson, but the airline's administrators Deloitte have announced Bain will become the new owners, with the deal expected to be completed by the end of August.
Apparently Branson is worth about US$4.9bn according to Forbes, who lists him at 565 in its billionaires rich list.
His business interests have included airlines, radio stations, health clubs, hotels, nightclubs and his space tourism venture Virgin Galactic. He also founded Virgin Records, the label that was home to the Rolling Stones and the Sex Pistols.
Branson is the sole owner of Necker, a 30-hectare island in the British Virgin Islands just north of Virgin Gorda and a short hop from another much-publicised Caribbean retreat, Little Saint James, the former playground of convicted sex offender Jeffrey Epstein, who is alleged to have committed suicide in a New York prison while awaiting a trial that could have had far-reaching repercussions in society circles.
Branson's entire island is set up as a resort, accommodating up to 30 guests, and was bought from John Lyttelton, 11th Viscount Cobham, for $120,000 more than 50 years ago. It now houses a Balinese-style villa, with 10 bedrooms, all with open walls so that guests can get a 360 degree view of their surroundings. But it's a retreat for the rich and famous only, apparently it can be rented for a whopping $77,500 a day.
Most recently Branson entered into the cruise business, launching Virgin Voyages, a Flordia-based operation. In all the Virgin Group has in the region of 30 subsidiaries and investments ranging from space travel, communications, publications, hospitality, banking and motorsport.
As well as its Virgin Atlantic and Virgin Australia investments, the group's list of entities includes Connect Airways, Virgin Active, Virgin Balloon Flights, Virgin Books, Virgin Care, Virgin Experience Days, Virgin Galactic, Virgin Holidays, Virgin Hotels, Virgin Hyperloop One, Virgin Limited Edition, Virgin Limobike, Virgin Media, Virgin Megastores, Virgin Mobile, Virgin Money, Virgin Oceanic, Virgin Orbit, Virgin Pulse, Virgin Racing, Virgin Radio, Virgin Rail Group, Virgin Sports, Virgin Trains USA, Virgin Unite, Virgin Startup, Virgin Vacations, Virgin Voucher and the recently-launched Virgin Voyages.
It's an impressive list for a guy who sought bailouts when two of his operations turned a bit sour, but, in fairness, it was the "industrial-military complex" running the show in the world right now who caused his airline traffic to fall.
But in the world of high finance those calling the shots generally look after themselves... I'm sure that given his muscle they'll see to it that Branson comes out of it all right, they might even spend a bit of time on his Caribbean island to show there's no hard feelings!
About the Creator
From Covid to the Ukraine... nothing is as it seems in the world. Don't just accept the mainstream brainwashing, open your eyes to the bigger picture at the heart of these staged productions.
JOIN THE DOTS: http://not.wildaboutit.com
Reader insights
Be the first to share your insights about this piece.
Add your insights