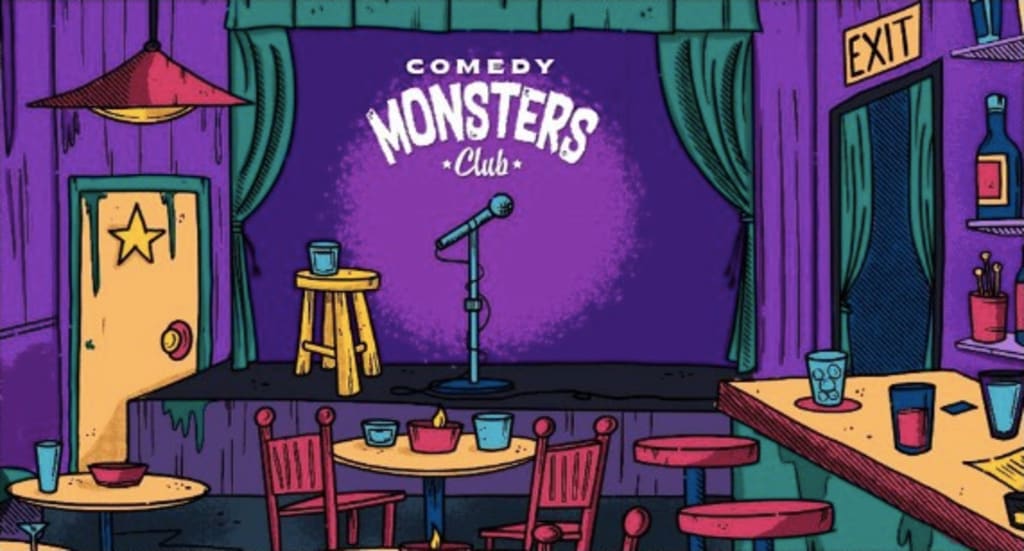 For several days, social networking site Twitter has been the place where investors in the Comedy Monster Club collection of non-fungible tokens (NFT) began to express their disagreement with the project's leadership.
The initiative was in the hands of Venezuelan comedian Roberto José Cardozo, known as Bobby Comedia, and two people, one of whom calls himself JD, in charge of the NFT marketplace development David Roa on the financial side.
Comedy Monster Club was born in November 2021 as a collection of 10,100 NFTs priced at 0.10 Ether (ETH) each, the native cryptocurrency of the Ethereum network, as listed on their website.
Collectible owners will have access to comedy events, an exclusive podcast with guest comedians, financial benefits, and more.
However, according to several members of this community, the path of the project is nbsp; started going wrong last February — or at least that's what Twitter user @epodotcom thinks, according to his account.
"February for me was the month when the problems started, because 3 months after the launch, the full house was not reached, and this is death for the NFT project. Owners are starting to ask questions and many are left unanswered," @epodotcom explained on Dec. 12.
As the months go by, NFT owners start asking questions about the future of their investments, and some are kicked out of the Telegram group run by the Comedy Monster Club founders, according to @epodotcom.
For @epodotcom, non-compliance by the people behind the project comes when there is a "leak of funds from the project's community wallet". According to investor testimony, the founders of Comedy Monster Club embezzled 239 ETH, which is $304,000, according to CriptoNoticias price calculator.
"That's not counting credit card transactions, which are estimated within the community to be about $1.5 million, which has never been declared," the investor said.
For his part, user @AleReyes indicated that the roadmap was not completed as promised. "The podcast, after all, wasn't exclusive to the holders to sell more, so without NFTs, they could enjoy (the show)."
Comedy Monster Club Fights Back
Given the wave of complaints and complaints about the allegedly fraudulent project, Venezuelan comedian Bobby Comedia has decided to issue a statement in which he claims that he has fulfilled part of the obligations undertaken by the Comedy Monster Club.
In principle, he mentions that he has been left alone in charge of the project since November 9 last year by agreement with two other partners.
On the other hand, he assured that the club is "bound to comply" with the roadmap. As mentioned in the text, 7,660 of the 10,100 available NFTs have been mined. With the help of which a podcast was made, a comedy show in Caracas, a show in Colombia, contests and games in which 50 ETH were to be distributed, of which 14 ETH were delivered.
The comedian explained that only two items in the roadmap were omitted — nbsp; because not all NFTs were sold.
Bobby Comedy concluded the statement by stating that his intentions have not changed since the launch of the project and are to "unite Latin America through humor".
you migt also be intrested in nft maketplace development service :
From a digital ticket office to monster NFTs
Bobby Comedia is a longtime comedian in Venezuela. He was one of the first generations to do stand up in the country, he had a career in the media and participated in several comedy workshops that trained several successful comedians.
All this experience has helped him to weave a good network of contacts that he has used for his ventures.
One of them is GoLiiive , a digital ticket office that grew strongly in the pandemic thanks to the fact that it was in charge of carrying out the event of the Venezuelan podcast Escuela de Nada that put thousands of people in a stream.
The success of GoLiiive made Bobby begin to rub shoulders with other investors in the region, a fundamental factor in creating his new project. And it is that the comedian was desperate to innovate. He wanted to start something new and couldn't find what to get into and David Roa just appeared.
David is a Venezuelan investor dedicated to the crypto world who, in a business meeting, meets Bobby and, after gaining confidence, explains how NFT and cryptocurrencies work .
This is where it all starts. Bobby has the idea of ​​combining NFT marketplace platform development with comedy and decides to pitch the idea to David and JD. After perfecting some details, Comedy Monster Club is born, a club based on NFT in which holders would receive benefits and could revalue their NFT over time.
Reader insights
Be the first to share your insights about this piece.
Add your insights