Complete Understanding: Leverage Managed Cloud Service
Leveraging a managed cloud service provider is a smart way to get the most out of your investment in the cloud. Know what you need and what to expect.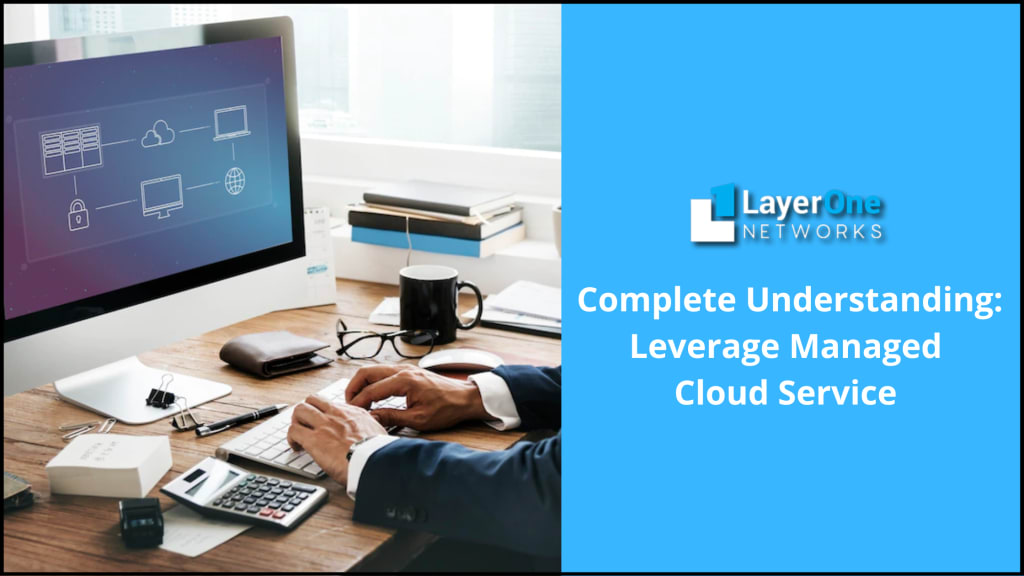 Cloud computing is a framework that enables ubiquitous, convenient, on-demand network access to a shared pool of configurable computing resources. This technology allows enterprises to scale up or down their IT infrastructure according to their changing business needs.
The cloud is the only way forward, and you migrate some workloads to the cloud. However, there are many complexities around managing the cloud infrastructure. It's not because of your inability to run and manage the cloud but due to the nature of technology. The skill sets aligning and the best practices are different from on-premises and managed cloud services.
Why Cloud Management isn't Straightforward
Moving to the cloud is a Herculean task by itself, and the management part of it is different from what you are familiar with. But the cloud is just the tip of the iceberg. The real challenge lies in cloud resource scale, diversity, and transient nature.
It is far more difficult to maintain control over cloud resources than it is to do so for on-premises infrastructure. The cloud resource landscape is constantly changing, with new services and features continually being added. Keeping track of these changes and ensuring that the cloud infrastructure is always up-to-date can be daunting.
In-House Cloud Management Challenges
Keeping up with the newest cloud technologies advancements, innovations, and updates
Changing IT operations in a way that they are cloud-friendly
Keeping track of usage restrictions, standards, and guidelines for cloud and associated resources to prevent overuse or under-utilization.
Using cloud cost optimization techniques, you can efficiently monitor cloud usage and reduce costs.
Coordinating the various cloud solutions employed by teams for varied purposes from multiple locations
Improving the handling of sensitive data and providing users with specific rights and responsibilities.
How Managed Cloud Services Help
The cloud has revamped the way businesses operate and has made it possible for organizations to be more agile and responsive to change. Technology has made it practical for businesses to scale quickly and efficiently, but the cloud can be complex and challenging to manage.
But the question arises when and why do we need managed cloud services? Although the cloud makes it possible for businesses to be more agile, the cloud can be complex and difficult to manage. This is where managed cloud services come in. It requires backing an expert team with the right mix of technical expertise, industry experience, and process maturity.
Many organizations are turning to managed cloud service providers to keep the constant deluge of changes under control and govern the cloud in a way that is aligned with business objectives. However, any inexperienced team or organization will not suffice. If you want to grow your business with the help of the cloud, you need to invest in a managed cloud service provider that can take your business to the next level.
How to Leverage Managed Cloud Services for Company Development
Stabilize IT Costs
IT infrastructure is expensive. Setting up and keeping an on-premises IT infrastructure can be prohibitive for many small and medium-sized businesses. Cost is a pain point for every organization. Nobody wants to overspend on IT, but at the same time, you need to have a reliable IT infrastructure that can support your business.
With a managed cloud service provider, you only pay for your services. Therefore, there is no need to lend in expensive hardware and software that you may not need.
More Adaptability
The cloud is constantly changing. New features and services are included all the time. It can be difficult for businesses to keep up with the changes and ensure that their cloud infrastructure is always up-to-date.
Managed cloud service providers have the expertise and experience to keep up with the changes and ensure that your cloud infrastructure is always upgraded.
Superior Future Proofing
Your clients' data and apps will always be on the most up-to-date platforms when their IT resources are in a managed cloud. Having a challenging conversation about obsolescence and end-of-life with clients can be difficult, but it's a lot easier when you don't have to deal with the actual migration. There's a dedicated
Tighter IT Security
Shifting infrastructure and applications to the cloud can make it more difficult to protect data and maintain compliance. However, enterprise-grade managed security services give you the peace of mind of knowing that your data is secure and compliant.
Managed cloud solutions providers make it their business to stay up-to-date on the latest security threats and compliance requirements. They have the expertise to implement the best security solutions for your business.
Economies of Scale
A managed cloud service provider can pool resources from multiple customers to achieve economies of scale. It allows them to offer a wide range of services at a lower cost. You can get everything from storage and bandwidth to computing power and security at a lower price. Go toe to toe with the big competitors with a managed cloud solution from a service provider that offers you economies of scale.
Expertise On-Demand
An IaaS model can give you the flexibility to scale up or down as needed. In addition, your customers only pay for the resources they use. But managing a cloud infrastructure can be complex and requires a certain level of expertise.
A managed cloud service provider can give you the expertise to fully leverage the cloud's potential. They can help you evaluate your needs and recommend the best solutions for your business.
Final Thoughts
When you move to the cloud, you must have a plan to manage your cloud infrastructure. The cloud is changing the way enterprises operate and how IT is delivered. To fully take advantage of the potential of the cloud, you need to invest in a managed cloud service provider. Getting an IT consulting service can help you assess your needs and recommend the best-managed cloud service provider for your business. Make a move to the cloud confidently, knowing you have a partner you can trust.
business
About the author
We are IT Consulting Firm that helps to upsurge your business growth with our highly skilled team of IT experts. We provide the best IT support such as firewall protection, cloud services, VoIP, help desk, and server support.
Reader insights
Be the first to share your insights about this piece.
Add your insights