Coach David Parker on Knowing When You're Ready to Launch Your Own Business | Shanghai, CN
Coach David Parker | Shanghai, China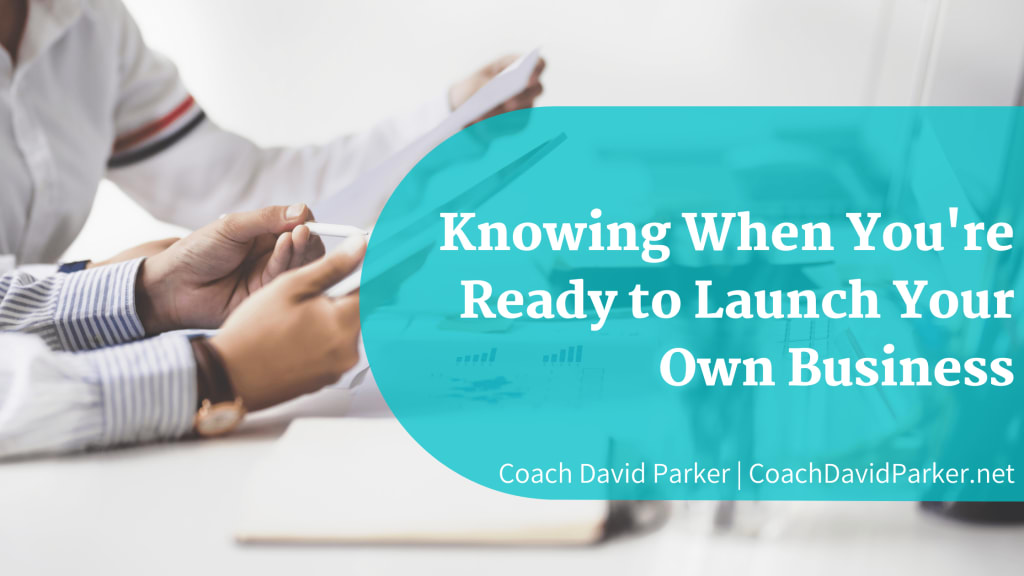 https://coachdavidparker.net/knowing-when-youre-ready-to-launch-your-own-business/
Developing your own startup business or even becoming self-employed requires planning and preparation. There are a few steps that you can take to ensure that you're ready to launch your own business.
Feeling Motivated
Getting motivated to start a new business can be a great feeling, but it's also important to remember to refrain from setting unrealistic goals. Before you start working on a business plan, make sure you clearly understand what you want to achieve.
Financially Ready
Before you start working on a new business, it's essential to determine if you can handle the financial aspects of it. One of the most critical factors you should consider is whether or not you can afford to cover the start-up costs of your new company. Having a budget will allow you to meet these expenses.
You should have at least a couple of months' worth of income saved up for emergencies, as a failure to launch can affect your financial situation. Many new entrepreneurs tend to put all their savings into their business pot, thinking it will take off. Unfortunately, this approach is not a good idea since there is no way to predict your company's future.
Gained Proper Knowledge
Knowledge of the industry you are entering will give you an advantage. You can also find helpful advice from others in the same field by reading articles and consulting suppliers. Besides researching competitors, you should additionally look into shipping options and other business-related topics.
Time to Invest
Even part-time businesses can take a long time to get off the ground. If you cannot dedicate enough time to your business, then it's time to make some changes. One of the easiest ways to do this is to establish a schedule that includes a set of dedicated hours. This will allow you to keep up with your business and keep improving. Some people contribute more to a company than others, and it can work around other commitments.
Boss Mindset
Being an entrepreneur requires a specific type of person to take on the responsibility of running a business. Having this type of independence allows you to make all of the decisions that will affect your company's success. You also need to be confident in your own ideas and be able to get the job done.
ABOUT COACH DAVID PARKER
David Parker has a long history of working as a performance coach for athletes. This includes strength and power conditioning, sports performance diagnostics and evaluations, speed development, and rehabilitation. When it comes to his teams and the sport of track and field, those who have worked with David know how dedicated he is. In addition to his many other talents, David Parker is a very effective facilitator, workshop trainer, and public speaker. He also serves as a dedicated mentor and collaborator.
David worked as a Strength & Conditioning Coach/ Fitness Instructor for three years at the Powerbase Gym within Loughborough University, followed by years as the Lead Strength & Conditioning Coach for the British Volleyball/ British Handball teams within the English Institute of Sport (EIS). Throughout his tenure with the EIS, David focused on building a diverse coaching portfolio encompassing track & field, rugby, boxing, badminton, volleyball, handball, diving, BMX, pentathlon, and specialty fields such as wheelchair basketball and wheelchair rugby. David continued his work with the EIS as the Senior/ Lead Strength & Conditioning Coach for the British Diving/ England Rugby League.
David currently works as the Chinese National Men's Head Javelin Coach and the Head Javelin Coach of the Shanghai Provincial Track & Field Team. The reigning Chinese National Champion, Xu Jiajie, who threw 84.54 meters in 2021, is among the athletes he mentors.
About the Creator
David Parker works as the Chinese Athletics Association's National Men's Javelin Coach and the Shanghai Track & Field Team's Head Performance Javelin Coach. He is also a Co-owner and Director of The Javelin Throw and Sightline Performance.
Reader insights
Be the first to share your insights about this piece.
Add your insights