Coach David Parker on How to Find Your Niche as an Entrepreneur
Coach David Parker | Shanghai, China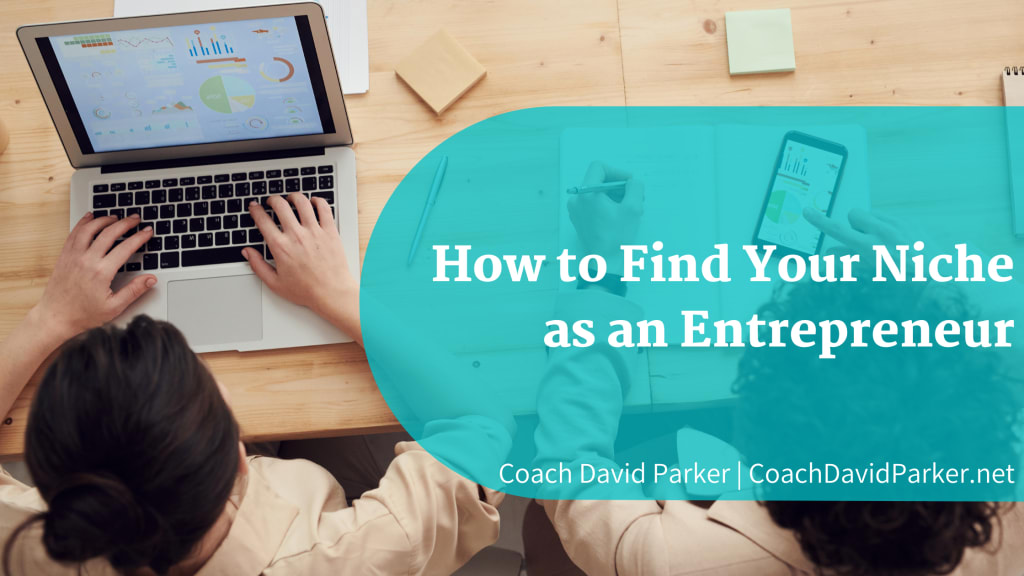 https://coachdavidparker.net/how-to-find-your-niche-as-an-entrepreneur/
One of the most important factors businesses need to consider when establishing and running their operations is knowing your ideal clients within your specific niche. A clear understanding of your niche will help you identify which ones are most likely to be interested in your product or service. Choosing your niche should not be underestimated, so here is how to find your niche as an entrepreneur.
Evaluate Your Passions
To choose a niche, you must first determine what you're good at and passionate about. This will allow you to monetize your skills and passion, and together, they will help you build a solid foundation for your business. Being passionate about something will keep you motivated and allow you to keep going no matter what.
Solve a Problem
Understanding the goals and problems of your target audience will help you build a successful business. Having the necessary knowledge will allow you to identify the areas of your business that need to be improved. Before you start working on your marketing efforts, it's essential that you first be aware of the issues that your potential clients are facing.
Researching Your Competition
Through competitive analysis, you can identify gaps in the market and determine if the market is oversaturated. This will allow you to develop a unique value proposition and improve performance. A well-rounded understanding of your competitors will allow you to outsmart them and improve your chances of succeeding.
Profitability
Before you start conducting market research, it's crucial that you have an idea of how profitable your niche will be. Having an evergreen industry will allow you to keep thriving in the market. Due to their evergreen nature, some markets perform better than others, so demand is always in these areas.
Validate Your Niche
You can validate your niche by running a test. You can use a crowdfunding platform such as Kickstarter to help raise funds for the development of the product. You can also start collecting leads by creating a landing page on MailChimp.
Build a Solid Foundation
Despite the tediousness of conducting competitor analysis and market research, every startup should build a solid foundation. Understanding your competitors and customers is crucial to continuously improving your marketing efforts. Doing so will allow you to strengthen your brand and make it stand out from the crowd.
ABOUT COACH DAVID PARKER
David Parker has a long history of working as a performance coach for athletes. This includes strength and power conditioning, sports performance diagnostics and evaluations, speed development, and rehabilitation. When it comes to his teams and the sport of track and field, those who have worked with David know how dedicated he is. In addition to his many other talents, David Parker is a very effective facilitator, workshop trainer, and public speaker. He also serves as a dedicated mentor and collaborator.
David worked as a Strength & Conditioning Coach/ Fitness Instructor for three years at the Powerbase Gym within Loughborough University, followed by years as the Lead Strength & Conditioning Coach for the British Volleyball/ British Handball teams within the English Institute of Sport (EIS). Throughout his tenure with the EIS, David focused on building a diverse coaching portfolio encompassing track & field, rugby, boxing, badminton, volleyball, handball, diving, BMX, pentathlon, and specialty fields such as wheelchair basketball and wheelchair rugby. David continued his work with the EIS as the Senior/ Lead Strength & Conditioning Coach for the British Diving/ England Rugby League.
David currently works as the Chinese National Men's Head Javelin Coach and the Head Javelin Coach of the Shanghai Provincial Track & Field Team. The reigning Chinese National Champion, Xu Jiajie, who threw 84.54 meters in 2021, is among the athletes he mentors.
David Parker is devoted to his wife and son and wholeheartedly admits that everything he does in his life is to make the world a better place for them. Another joy in his life is supporting the premier league Liverpool Football Club. In addition to being a season ticket holder for over five years, David proudly displays the team mantra #YNWA (You'll Never Walk Alone).
About the Creator
David Parker works as the Chinese Athletics Association's National Men's Javelin Coach and the Shanghai Track & Field Team's Head Performance Javelin Coach. He is also a Co-owner and Director of The Javelin Throw and Sightline Performance.
Reader insights
Be the first to share your insights about this piece.
Add your insights