Coach David Parker on Creating a Website for Your Small Business
Coach David Parker | Shanghai, China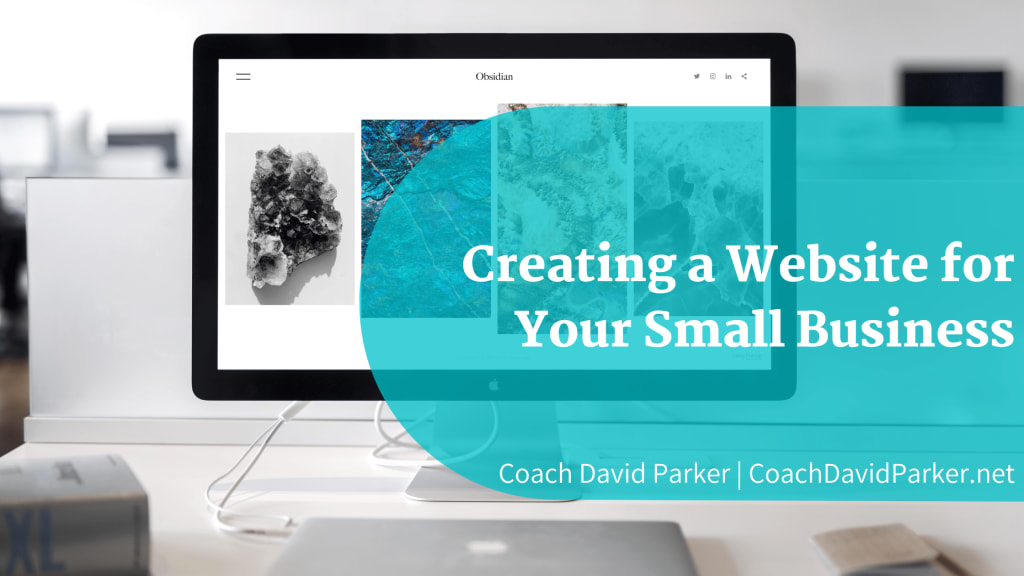 https://coachdavidparker.net/creating-a-website-for-your-small-business/
Operating a business without a web presence is no longer feasible. Today, consumers look for products and services from the internet, and a well-designed website can help you stand out from the crowd. A well-designed website can also help you expand your reach and attract more customers.
Today, it's easy to start a website design project without coding knowledge. With the help of web design software, anyone can create a functional and attractive site. Here are a few steps to take when creating a website for your small business.
Purpose
A business website often provides information about your company or an e-commerce platform. Regardless of the type of website you create, the most essential thing that you should do is to provide clear and straightforward terms about your company.
Domain Name
Your domain name is the one thing your website will use to promote and share information about you and your company. It should be easy to remember and contain no numbers, abbreviations, or acronyms. Also, ensure that your new domain name does not violate the copyrights of others.
Web Host
A website needs a host, a server that stores all of its data to be accessed at any time. Having your website can be costly for small businesses. You can usually find an external host for your needs. There are two different types of web hosts that you can choose from: shared and dedicated. The latter is more expensive, but it allows you to get a private server and maintain a high-speed connection without competing with other sites. Some popular web builder platforms, such as Wix and Squarespace, provide monthly hosting plans.
Build Pages
A well-designed website should be able to provide multiple pages that are dedicated to your company's various aspects. These pages should include a variety of information about your products and services, as well as a blog section to keep up with the latest developments in the company. Ensure that your website's main page supports the business's primary goal and has a call to action that directs to the next step.
Payment System
Although this step will only apply to some websites, businesses that want to allow their customers to pay using electronic means will need to integrate payment systems. One of the easiest ways to do this is through e-commerce software or a credit card processing solution.
Some web hosts provide an integrated shopping cart or an e-commerce program. Before choosing a payment system, make sure it's flexible and easy to use.
ABOUT COACH DAVID PARKER
David Parker has a long history of working as a performance coach for athletes. This includes strength and power conditioning, sports performance diagnostics and evaluations, speed development, and rehabilitation. When it comes to his teams and the sport of track and field, those who have worked with David know how dedicated he is. In addition to his many other talents, David Parker is a very effective facilitator, workshop trainer, and public speaker. He also serves as a dedicated mentor and collaborator.
David worked as a Strength & Conditioning Coach/ Fitness Instructor for three years at the Powerbase Gym within Loughborough University, followed by years as the Lead Strength & Conditioning Coach for the British Volleyball/ British Handball teams within the English Institute of Sport (EIS). Throughout his tenure with the EIS, David focused on building a diverse coaching portfolio encompassing track & field, rugby, boxing, badminton, volleyball, handball, diving, BMX, pentathlon, and specialty fields such as wheelchair basketball and wheelchair rugby. David continued his work with the EIS as the Senior/ Lead Strength & Conditioning Coach for the British Diving/ England Rugby League.
David currently works as the Chinese National Men's Head Javelin Coach and the Head Javelin Coach of the Shanghai Provincial Track & Field Team. The reigning Chinese National Champion, Xu Jiajie, who threw 84.54 meters in 2021, is among the athletes he mentors.
David Parker is devoted to his wife and son and wholeheartedly admits that everything he does in his life is to make the world a better place for them. Another joy in his life is supporting the premier league Liverpool Football Club. In addition to being a season ticket holder for over five years, David proudly displays the team mantra #YNWA (You'll Never Walk Alone).
About the Creator
David Parker works as the Chinese Athletics Association's National Men's Javelin Coach and the Shanghai Track & Field Team's Head Performance Javelin Coach. He is also a Co-owner and Director of The Javelin Throw and Sightline Performance.
Reader insights
Be the first to share your insights about this piece.
Add your insights