Chris Buckner on Creating an Engaging and Memorable Showroom Experience for Customers
Chris Buckner, former showroom manager for Jonathan Adler, shares how to create an engaging and memorable showroom experience for customers.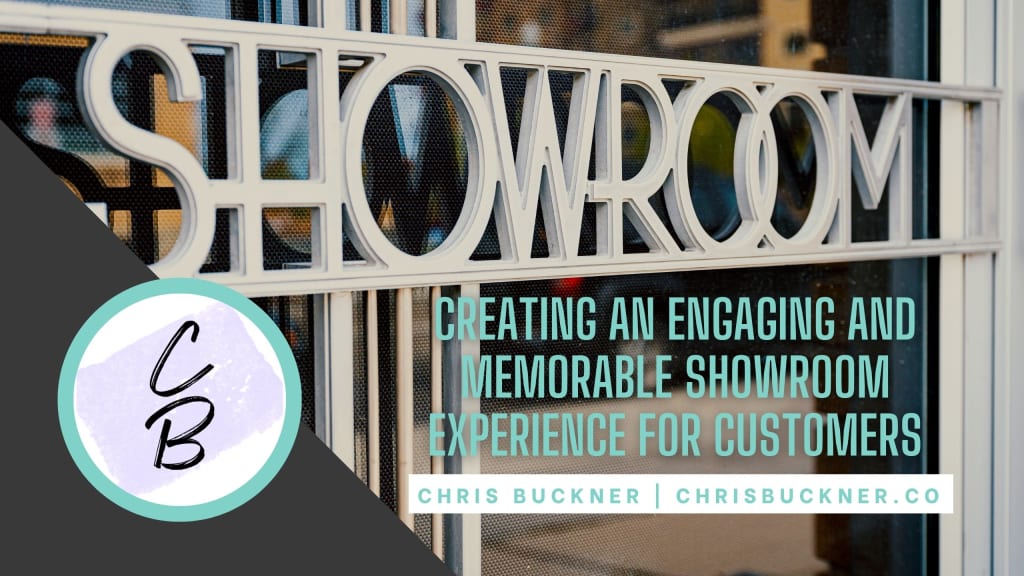 https://chrisbuckner.co/creating-an-engaging-and-memorable-showroom-experience-for-customers/
As a showroom manager, you create a showroom experience that engages customers and makes them feel welcome, informed, and inspired. An excellent showroom experience can lead to increased sales, repeat customers, and positive word-of-mouth marketing. However, creating an unforgettable showroom experience can be challenging. It requires a combination of creativity, attention to detail, and exceptional customer service.
This blog post will provide tips and strategies to help you create an engaging and memorable showroom experience for your customers. From creating a welcoming atmosphere to using technology to enhance the experience, we will cover all the key elements of a successful showroom experience. Let's get started!
Create a Welcoming Atmosphere
The first impression is crucial for creating a positive showroom experience. Make sure that your showroom is well-lit, clean, and welcoming. Greet customers with a smile and make them feel at ease. Offer them a drink or a snack, and tell them you're there to help.
Showcase Your Products
Your showroom is a physical representation of your brand, so ensure you're showcasing your products in the best possible way. Use creative displays, lighting, and signage to highlight your products and their features. Make sure that your showroom is well-organized and easy to navigate.
Make it Interactive
An interactive showroom experience can be a great way to engage customers and keep them interested. Incorporate interactive displays, demonstrations, or virtual reality experiences to create a unique and memorable experience.
Provide Exceptional Customer Service
Excellent customer service is critical to creating a positive showroom experience. Make sure that your staff is knowledgeable, friendly, and helpful. Train them to anticipate customer needs and go above and beyond to make their experience exceptional.
Use Technology to Enhance the Experience
Technology can be a powerful tool to enhance the showroom experience. Use digital displays, touchscreens, or even augmented reality to provide customers with more information about your products. Provide free Wi-Fi and charging stations to make the experience more convenient for customers.
Offer Incentives and Promotions
Offering incentives and promotions can be a great way to entice customers and keep them coming back. Offer discounts, free samples, or even loyalty programs to reward customers for their business.
Follow Up After the Visit
Following up with customers after their visit can greatly show that you value their business. Send a thank-you email or a personalized video to show you appreciate their visit.
Creating a memorable showroom experience for customers is essential for any successful showroom. By creating a welcoming atmosphere, showcasing your products, making the experience interactive, providing exceptional customer service, using technology to enhance the experience, offering incentives and promotions, and following up after the visit, you can create a showroom experience that customers will remember and want to return to.
ABOUT CHRIS BUCKNER
Even though he now resides in New York City, Chris Buckner is a proud son of Knoxville, Tennessee. After graduating high school, Chris attended the University of Tennessee-Knoxville, where he received his Bachelor of Arts in Communications and Public Relations. Known colloquially as Tennessee's university, UT started as a small college in 1794 but has since grown to become the state's flagship university and top public research facility state-wide. In addition to its impressive curriculum, the school boasts 225 years of volunteerism, both within Tennessee and around the world. The university's space and agricultural institutes have a long history of educating residents and visitors and making a difference in people's lives via research and engagement projects.
Chris Buckner was assigned a team of workers for the installation of the flagship furniture store when the business opened an NYC site. As Showroom Manager, Chris managed Jonathan Adler's Lexington Avenue storefront for several years, consistently boosting sales and claiming yearly rises of up to 80%. Despite his managerial rank, Chris Buckner maintained customer service standards that transformed every client visit into a heightened, opulent VIP encounter.
About the Creator
Chris Buckner is a customer service professional and retail expert who has over twenty years of experience in the industry. Now residing in NYC, Chris is originally from Knoxville, Tennessee. Learn more by visiting chrisbuckner.org.
Reader insights
Be the first to share your insights about this piece.
Add your insights