Can You Use Fansly Without a Debit or Credit Card?
Can you watch videos or pictures of Fansly creators without paying? Using Fansly using a Credit or a debit card is possible? Answering questions of Fansly users or fans.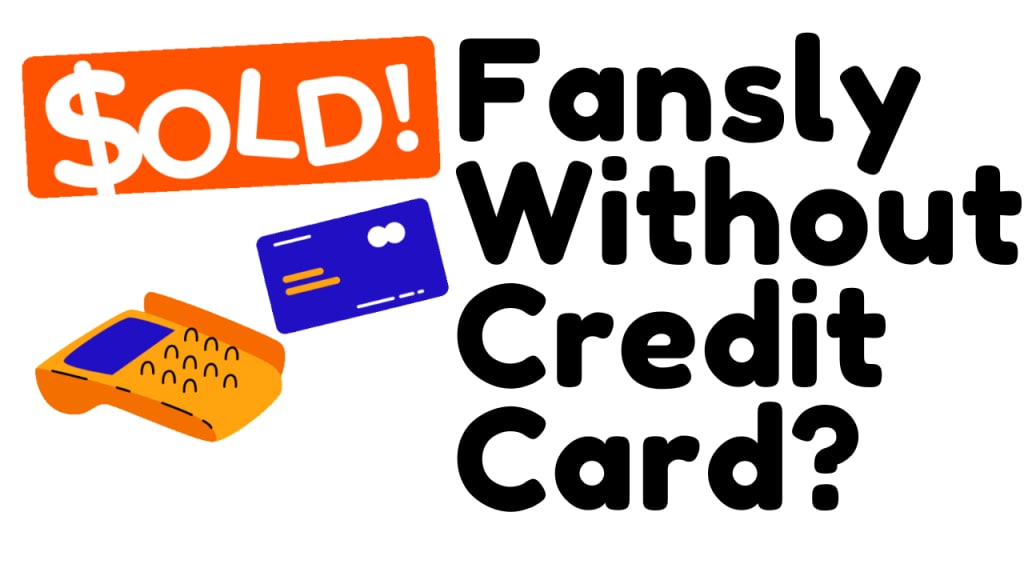 Can you use Fansly as a credit or a debit card? / Picture created by the author
Fansly is an adult subscription platform that lets creators make money through subscriptions and offers other features like selling Pay-Per-View-based videos or getting tips. There are some users or fans who don't want to pay Fansly creators and want to see the content without subscribing to them. Previously I have an article about Can I Use Onlyfans Without a Credit Card? but in this article, we discuss some issues that Fans or users face when they want to get content from Fansly creators without paying any money? We also discuss is this even legal or if this falls under moral issues?
In Fansly, you can pay creators through credit or debit card but if you are someone who is looking to follow creators without paying there are some ethical ways to get the content of the creators you want to follow.
In Fansly, there are different types of pages; free and paid. On Free Fansly pages, anyone can follow that creator, and on paid Fansly page, you have to pay a subscription fee in order to follow a creator. But, if you don't have the money to support adult content creators on Fansly or have no money in your credit or debit card, we are here to give you some ideas as well as a system where you might see free limited content or you start generating money.
Follow Fansly creators on platforms where they publish free content like Reddit:
I was an avid Redditors for a long time but never discovered the NSFW side of Reddit. There are a lot of NSFW subreddits where prominent top 1% of creators publish their short version of the content for free. Why creators are sharing their free content on these NSFW subreddits; one reason, marketing their Fansly or Onlyfans. Onlyfans or Fansly is bad at marketing so Onlyfans creators use it to reach more creators by sharing their vertical short videos on these subreddits.
Note: Not all of them are Onlyfans or Fansly creators, some of the people doing it with no money in their minds.
If you don't have the money to support Fansly creators, go follow these NSFW subreddits and enjoy a free short version of content directly from the creators.
Make money creating content in order to pay adult content creators on Fansly:
If you searching for the terms like; how do I pay Fansly creators without credit or debit card or how to view Fansly creators without paying, the best way to do it is to recognize where the problem is. The problem is you don't have the money. So, to solve the problem, you can start putting in extra work of one hour every day and at the end of the month will have enough to support at least one creator.
You can either create content on platforms like Medium or Vocal and make money. You can record a video every day and start making money. You can either start a blog or make money. I started my online writing journey to support my Netflix subscriptions and it changed the whole thing.
Is it is moral to watch the content of Fansly creators without paying them?
No. These sex workers have no business running because of the pandemic and if you are interested to watch their content, paying $5 for 30 days isn't a big amount.
It is highly unethical to watch the content of a creator where the content is uploaded to a platform without their permission. What you can do? You can either join these NSFW subreddits and get content directly from these adult content creators or you make more money and use that money to support Fansly creators.
PS: How you can use Fansly without a credit or a debit card?
There are two types of accounts on Fansly, paid Fansly pages and free Fansly pages. You can follow free Fansly pages without having a credit or a debit card attached to your Fansly account. But for paid Fansly pages, you need to pay a subscription fee to view the content of the creators you are opting for, and for this purpose, you need to add a credit or debit card to your fansly profile.
Disclosure: There is no illegal or harmful thing is shared in this article. I helped the users to live a proactive life instead of involving in illegal and immoral content viewership.
how to
#Howto articles #Guides and helpful content for readers. I love writing on Vocal. We publish content about diverse topics. https://www.aamirokamal.com
For business inquiries: [email protected]
or Twitter: twitter.com/@_aamirkamal