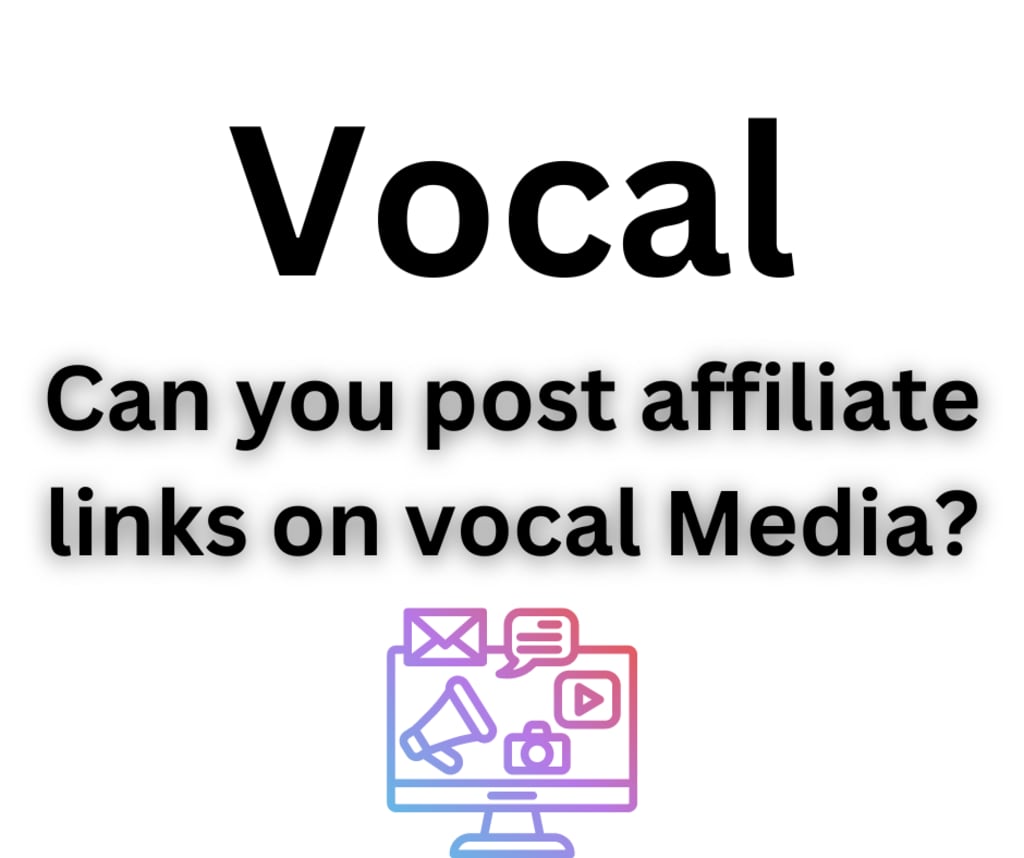 Affiliate marketing has become a popular way for people to make money online. With the rise of social media and content platforms, it's become easier than ever to share affiliate links and earn a commission on sales. Vocal Media is one such platform where creators can share their content and potentially earn money from it. But can you post affiliate links on Vocal Media?
The short answer is yes, you can post affiliate links on Vocal Media. However, there are some guidelines and restrictions that you need to follow to ensure that your content is not in violation of Vocal's terms of service.
First and foremost, Vocal Media requires all affiliate links to be disclosed in the content itself. This means that you must make it clear to your readers that you are including affiliate links and that you may earn a commission from any sales made through those links. Failure to disclose affiliate links can result in your content being removed and potentially lead to the suspension or termination of your Vocal Media account.
In addition to disclosure, Vocal also prohibits certain types of content that are deemed to be spammy or misleading. This includes content that is created solely for the purpose of promoting affiliate products or links, as well as content that uses deceptive or manipulative tactics to encourage clicks on affiliate links.
To ensure that your affiliate marketing efforts on Vocal Media are successful, it's important to focus on creating high-quality content that provides value to your audience. This can include product reviews, tutorials, and other types of content that help your readers make informed decisions about the products and services you are promoting.
It's also important to choose affiliate programs and products that align with your audience's interests and needs. This can help to ensure that your content is relevant and valuable and that your readers are more likely to click on your affiliate links and make a purchase.
In terms of specific affiliate programs, there are many options available depending on your niche and interests. Some popular affiliate networks include Amazon Associates, ShareASale, and Commission Junction, among others. These networks offer a wide variety of products and services that you can promote on Vocal Media and earn a commission on any resulting sales.
Overall, posting affiliate links on Vocal Media is allowed as long as you follow the platform's guidelines and create high-quality content that provides value to your audience. By focusing on providing helpful and informative content and choosing affiliate programs and products that align with your niche, you can potentially earn money through your content on Vocal Media.
One way to make sure you are not violating any of Vocal's guidelines is to clearly disclose your affiliate relationships in your post. This can be done by including a disclaimer at the beginning or end of your post stating that you may receive compensation for any purchases made through your affiliate links.
Another thing to keep in mind is to ensure that your content is not solely focused on promoting products or services, but rather provides value to your readers. You can do this by creating informative and helpful content that includes affiliate links as a supplement, rather than the main focus.
It's also important to avoid deceptive or misleading practices, such as falsely claiming that you have personally used and tested a product when you have not. This can erode your audience's trust and lead to negative consequences for your reputation.
In summary, while it is possible to post affiliate links on Vocal, it's crucial to follow their guidelines and ensure that your content is both informative and honest. By doing so, you can create a mutually beneficial relationship with your readers and potentially earn income through affiliate marketing.
About the Creator
Gemologist Unveiling Earth's Jewels Explore the world of gems with me! I'm passionate about uncovering the secrets and stories behind these precious treasures.From their origins to their allure,let's dive into the sparkling world of gemolo.
Reader insights
Be the first to share your insights about this piece.
Add your insights