Brian Ghannam on Industrial Products and Manufacturing 2023 Trends | Atlanta, GA
Brian Ghannam goes over manufacturing trends we expect to see this year.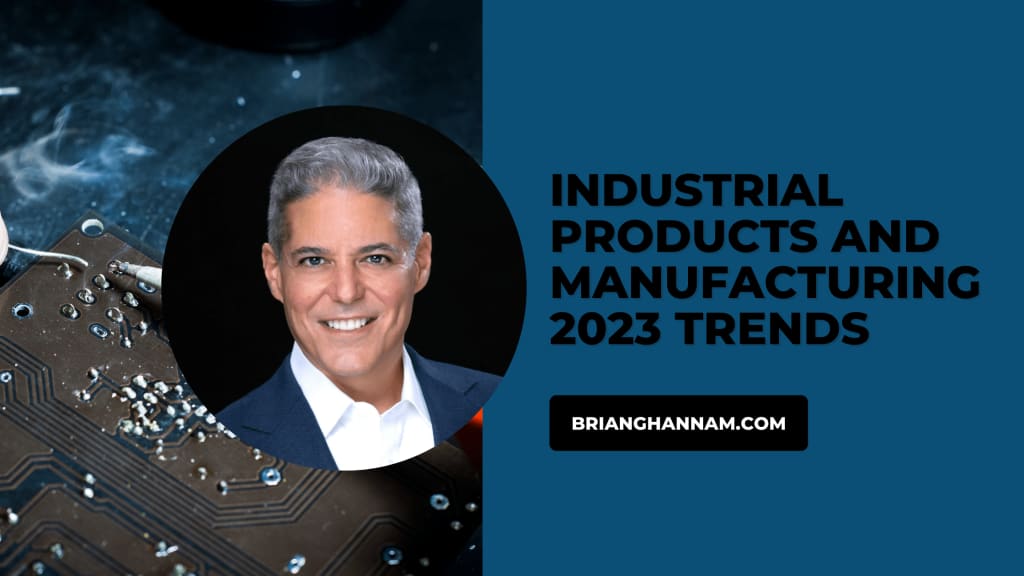 https://brianghannam.com/industrial-products-and-manufacturing-2023-trends/
As the manufacturing industry continues to face challenges due to the emergence of new supply chain models, such as direct-to-consumer and in-sourcing, it's becoming more critical that organizations rethink their software ecosystem. This blog contains the various trends affecting the manufacturing industry in 2023.
Demand for Better Work Conditions
Due to the current state of the economy, many people are looking for better work conditions in manufacturing. This is why many companies are implementing new programs and policies to improve their employee experience. These include higher pay, flexible work hours, and wellness programs. Besides attracting new talent, these programs aim to retain the existing workforce and improve employees' work-life balance.
Industrial IoT Visibility
The Industrial Internet of Things (IIoT) will be a leading technology trend for the next few years. Due to the emergence and evolution of new use cases, IoT is expected to continue to be a significant factor in the manufacturing industry.
Through the IIoT, manufacturers can make informed decisions and improve efficiency by monitoring and controlling their devices. This technology has allowed them to achieve various goals, such as reducing costs and enhancing safety.
The Arrival of Predictive Resolution
In the early stages, manufacturers are starting to adopt predictive resolution, which is a process that involves analyzing and resolving issues related to equipment performance. This concept goes beyond traditional predictive maintenance and provides technicians with a deeper understanding of the root cause of their problems.
Predictive resolution can improve the efficiency of a manufacturing facility by allowing technicians to identify and resolve issues on the first try. It can also help reduce costs and improve the first-time fix rate.
Supply Chain Solutions
Due to the increasing number of companies choosing to outsource their fulfillment needs, some manufacturers are also choosing to acquire logistics firms instead of relying on third-party providers. This eliminates the need for them to spend a lot of money on maintaining and improving their supply chain.
The traditional multi-channel sales model is also starting to shift. Instead of having a multi-level distribution channel, manufacturers are now focusing on a direct-to-consumer model. This eliminates the middleman and allows them to control their pricing and brand image.
About Brian Ghannam
Brian Ghannam is an Applications Sales Manager with Oracle, one of the top purveyors of cloud-engineering and database management systems worldwide. Brian has spent over two decades in leadership roles within the world of tech sales and business development. One of the many ways in which Brian stands out from his competitors is the ease at which he performs in various settings. He is similarly at ease helping start-ups gain a foothold as he is with launching products for the world's most reputable technology companies. Throughout his career, Brian has helped businesses thrive from the ground up and guided C-level executives through product launches and marketing strategies. His diverse skill set encompasses a wide range of technical areas, including SaaS, ERP, inventory management, business analytics, human resource management, customer relationship management, supply chain management, and financial reporting.Brian Ghannam received his Bachelor of Science degree in Packaging Engineering from Michigan State University, located in East Lansing, Michigan. While at school, Brian played for the Michigan State Golf Team. His love of golf has stayed with him ever since.
Brian's first job after graduation was with Berlin Packaging. Brian exceeded his sales quotas as a sales representative for the Chicago and Atlanta teams. Following this position, Brian became the National Account Manager of Enterprise Solutions for MASTECH Digital, a staff enhancement firm. While employed, Brian Ghannam consistently proved his sales acumen by exceeding sales quotas yet again.
As an Account Executive for J.D. Edwards, Brian spent several years learning the ins and outs of ERP and SAP solutions and how they consolidate all aspects of a business. Brian closed over $500K in professional services and exceeded sales goals by 50%. During this time, Brian Ghannam also oversaw the launch of J.D. Edwards in the Southeast Region.
About the Creator
Brian Ghannam attended Michigan State University and received his bachelor's degree in Packaging Engineering. During his time at college, Brian was actively involved in golf & fraternal organizations. He immediately began a career in sales.
Reader insights
Be the first to share your insights about this piece.
Add your insights