Brave Hearts; Our Midwives
Thank you, real life-savers!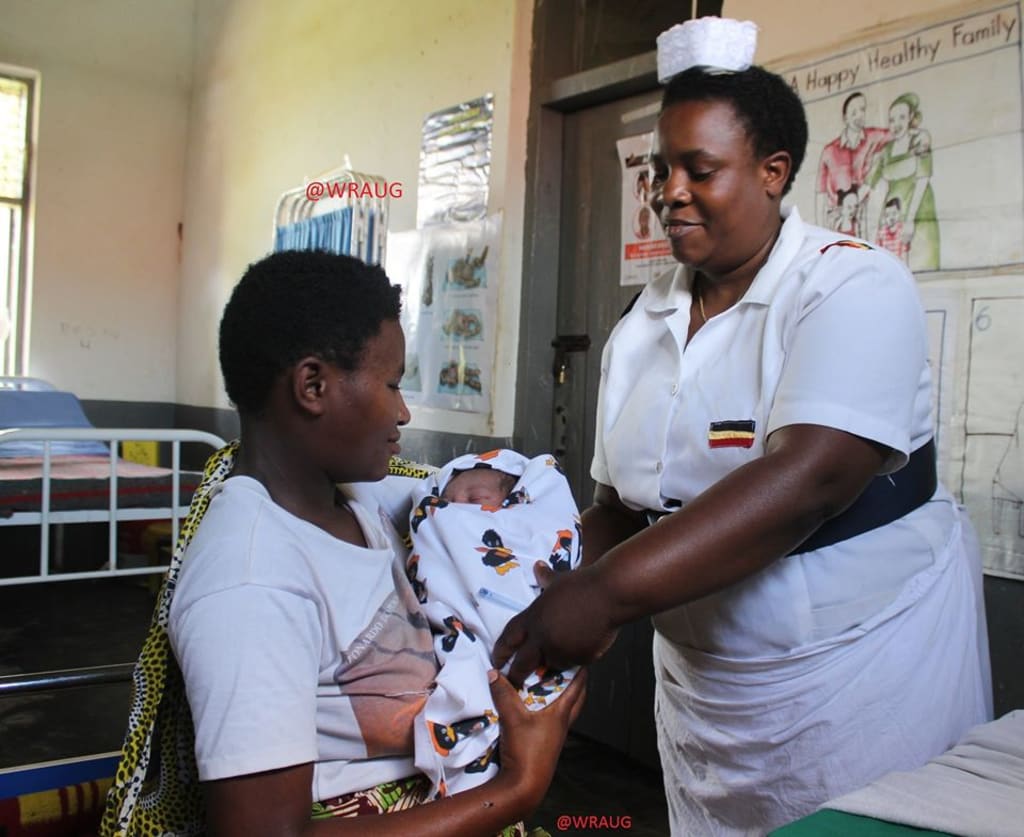 Photo: Courtesy of WRAUg
The COVID-19 pandemic has taken its toll on us and we are all rightly worried and hoping that it ends soon. Several people have stepped up to support people through this situation and among the silent front-liners that have done a commendable job are our courageous midwives and nurses. Not even the COVID-19 can halt women's basic reproductive right to giving birth, this makes midwives and nurses one of the most essential workers at all time because women need professional support during this hard time. The lives of midwives and nurses are no different and COVID-19 affects them like any other person but they continue keeping close distance with pregnant women in need because there is no other way to ensure a safe motherhood experience other than being close to their patients. The COVID-19 pandemic has proved fatal even in countries with stronger healthcare systems, were health workers including midwives have access to Personal Protective Equipment (PPE) unlike in Low and Middle income countries were they are at times forced to see patients without standard protective equipment due to stock-outs; this puts not only their lives at risk but also their families especially during pandemics like the COVID-19.
Amidst the poor working conditions and the low pay, Midwives and nurses haven't held back on being professional and they have tried to do their best to save lives. In some areas, they are scorned for being late with medicines, yet they are holding their bladders because they don't have time to use the rest room, starving because they missed lunch while attending to a mother in the labour suit, bled on, yelled at and end up missing their families because they are busy taking care of ours. They worry and wish well for the women they support even when they know nothing about them. In this very minute your reading this article, there is a midwife and a nurse risking their life supporting a completely unknown woman to have a safe motherhood experience.
Though they rightly have a choice to keep safe, they have chosen to work with the fear within them and continued seeing women from all walks of life. They have taken steps to reach-out to women who can't access Antenatal care due to restrictions put in place to fight the pandemic and in this way; they have put in more hours of work and movements so that they are able to provide essential healthcare services to women and their newborns and saving their lives.
As most of us retreated for safety to our homes, midwives and nurses ran towards the line of danger to support and protect pregnant women who needed help; this might not be the kind of battle they signed up for, but they wholeheartedly rolled up their sleeves and taken on the fight regardless. They've made hard decisions for any human being, choosing selflessness over self-preservation and not just during the current fight against the invisible enemy that is COVID-19, but every time they step into their scrubs. Thank you for choosing to serve and care for those that might be afflicted with the virus, even though the mere act of caring for them may put yourself and your loved ones at risk.
To all midwives and nurses who super-ceded their COVID-19 fears and continued to save lives of unknown women and their newborns, thank you. You will always have a special place in our hearts and we can't reward you enough because there is nothing we can do to satisfactorily show our gratitude for you sacrifices. Your role as front-line health workers in this COVID-19 pandemic fight is awesome and highly appreciated. Thank you for your compassion, selflessness service, empathy, and commitment and we hope that you don't lose that in your hearts.