Books That All Entrepreneurs Should Read | Joe Kelly OTC Global Holdings
Joe Kelly of OTC Global Holdings shares his expert advice on books for entrepreneurs who are looking to grow in their position.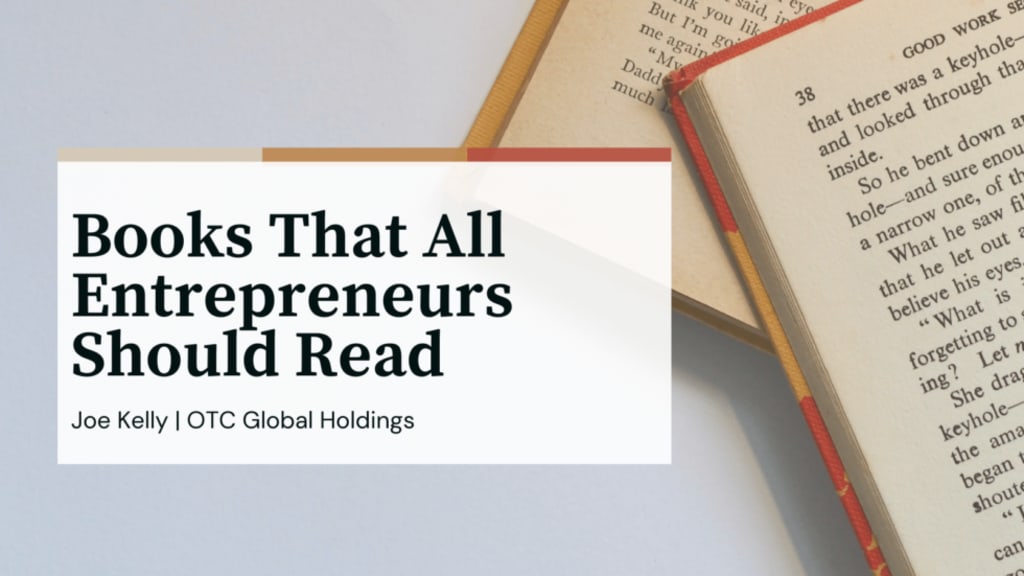 Choosing the best books for entrepreneurs offers an embarrassment of riches. So many great titles, so little time! But if we must select just a handful, these would be on our list:
Linchpin by Seth Godin
Seth Godin is something of a legend in penning books about business and marketing. That's because he knows what he is talking about and his book deliver the goods. In Linchpin, he offers the premise that a third distinct group has emerged within companies that adds dimension to the traditional "management" and "labor."
He calls them Linchpins. Godin defines this group as people who "invest, lead, make things happen and produce order" when chaos arises.
Linchpin is a substantive and absorbing read.
Delivering Happiness by Tony Hsieh
Mr. Hsieh was the founder of the Zappos shoe selling company that leveraged innovative online marketing strategies to achieve amazing success. A central premise of Hsieh is that "happiness" should be a core value of the company, both for employees and in terms of customer satisfaction.
Hsieh died tragically in a house fire in 2020. By some accounts, he was a troubled person and, ironically, not so happy himself. However, when examining his business skills and ideas, one can't argue with success. Delivering Happiness is a must-read for aspiring entrepreneurs.
Rework by Jason Fried and David Hansson
The author purports to show readers a "better, faster and easier way" to get ahead in business. Their premise is that "all the other" business riders are hacking away on the same old topics, such as "writing a business plan" and "courting investors."
Yes, these authors make the bold assertion that a business plan may actually damage your chances of success and that sucking up to cash-rich investors can create more problems than they solve. For a real contrarian take on business success, give Rework a read.
Smarter, Faster, Cheaper by David Siteman Garland
This book is subtitled: "Non-boring, fluff-free strategies for marketing and promoting your business." Like Rework mentioned above, this book offers a new kind of approach to business success that breaks a lot of molds.
The author uses case study examples of exciting entrepreneurs like "Nametag Guy" Scott Ginsberg and self-made wine magnate Gary Vaynerchuck to show all of the rest of us how we can leapfrog our way to fast business success.
-
-
About Joe Kelly
Joe Kelly is the president and Co-CEO of OTC Global Holdings, the largest Independent Inter-dealer Broker of Commodities in North America and Europe. Joe has years of experience in commodity brokerage, specifically natural gas and oil. Joe Kelly's zest for life, sense of collaboration, and ability to see the big picture are just a few reasons he is so successful in his endeavors. His contagious enthusiasm also generates a company culture that's a uniquely positive experience.
Joe graduated from Seton Hall University with a Bachelor of Arts in Finance. He began his career on the New York Mercantile Exchange floor, working for ED&F Man. During this period, Joe learned the ins and outs of commodity futures and the value of a diverse derivatives marketplace. In addition to his work, Joe Kelly's other great passion is the sport of rugby. In addition to the mental and physiological benefits, Joe sees it as a sport that shares many of the same rules as business. When OTC Global Holdings formed their first international office in London, Joe relocated and was instantly smitten by the spirit of the sport and the guiding principles of the game. Unlike American football, rugby has a lack of physical support for players, making communication and synergy all the more invaluable. Much like in business, everybody has an important role to play, not just for the protection and success of their teammates but for the club as a whole. Visit his websites to learn more!
About the Creator
Joe Kelly operates one of North America's and Europe's largest independent interdealer brokers of commodities as Co-CEO and President of OTC global holdings (OTCGH). Discover more at https://joekellyotcglobalholdings.net/!
Reader insights
Be the first to share your insights about this piece.
Add your insights