Blogging 101
What you need to know.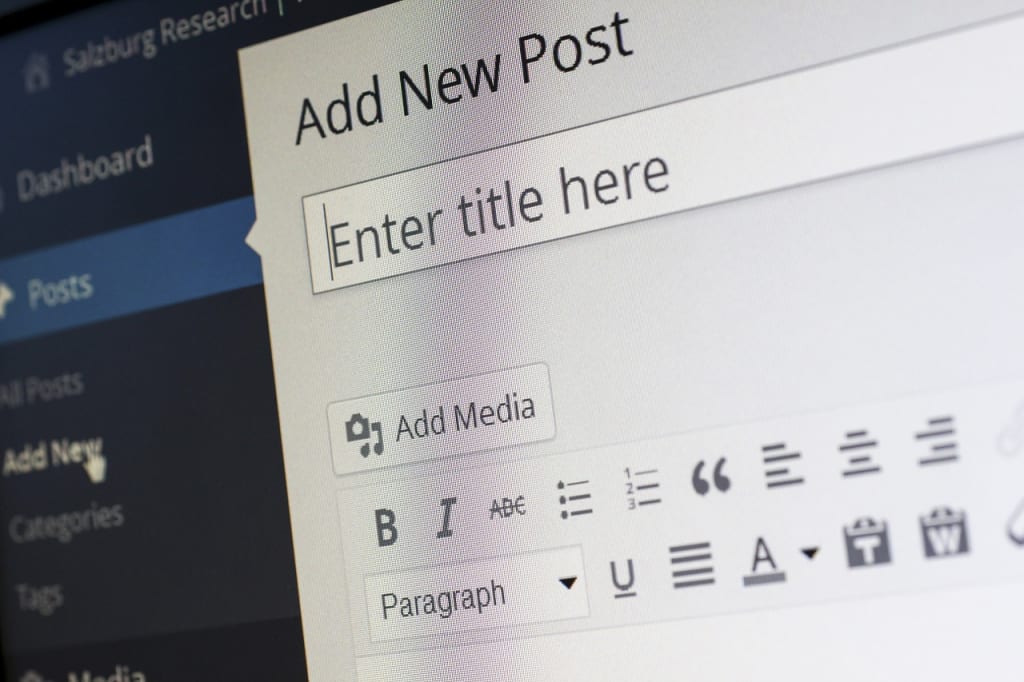 Blogs are so far out of fashion people are starting to forget what they are, but they're still there, and they're still going strong. The average blog has evolved along the way. They've moved from being straight line journals into personal websites. Some have turned into Vlogs; video blogs. Even social media "influencers" are running a type of blog with their pictures, and short shout outs.
That's not really what I'd like to cover though. I just want to throw out a few basic steps on starting and running a successful blog. There are a few things you should consider before starting something like this, so let's jump right in.
Why Blog?
Before you start looking at hosting sites, and planning out the next year of posts, ask yourself why you want a blog. Is this personal blog about your life? Are you going to focus on one topic, or sporadically branch out to lots of topics?
What's your goal with the blog? Blogs are often started as a way to create "passive income," but others are started just to spread awareness for different causes. Some of my personal favorites are creative blogs sharing webcomics, chapter by chapter stories, artwork, and just about anything artistic.
Once you've figured out these answers you can start Googling and find a starting point.
Where to Blog
There are tons, and I mean tons, of free hosting options for your blog. From Google's Blogspot to WordPress, these sites offer affordable choices for your beginner blog. Typically free hosting sites offer a free domain name connected with the sites. For example: A blogspot free domain would read http:// yourblog . blogger . com. Remove the spaces of course.
There are also paid options. GoDaddy is a big player in the paid hosting game, but Blogspot and WordPress both offer a paid version that can be customized to your needs/wants.
If you're running a non-profit blog, a free hosting site would be best for at least the beginning, if not for the long term too. Free hosting would also be a great place to start a blog if you've never done it before. This lets you experiment with different ideas.
For those looking to start with a bang, a paid hosting choice would be best. Readers have a tendency to look at these well-put-together sites with more respect. Of course, it's going to take a bit more planning and design to start with a bang.
Planning a Blog
Alright, you've figured out what you're going to blog about, and where you plan to post it, at least for the first little while. Now it's time to plan out your posts. Before starting your blog you should have at least a month's worth of posts. This ensures you have content that can keep readers coming back.
How often you post is completely up to you. Some people throw up content daily, and others only post a few times a month. A great middle ground is weekly. That's just four or five posts a month. If you're going this route you should consider having up to ten pieces written before making the first post.
Go ahead and start thinking about the images you want to use on your blog. If it's a cooking or crafting type of blog, you're going to add pictures of the process. You can take these yourself more often than not. There are also free stock pictures you can find to add color. Pixabay and Pexels are two nice sites to start with.
You'll want the pictures to help retain readers. They respond best to content with visuals.
Getting Readers
Finally you've made the first post, and you've got a backlog of content to help keep the blog going. So, how do you get people to your site?
This is perhaps one of the worst problems bloggers have faced over the years. The number of readers you get dictates the success of your blog. After all, you're putting these posts out there for them to be read, right.
Here comes the leg work. Of course, share those posts on all your social media, Facebook, Twitter, Pinterest, SnapChat, and wherever else you frequent. These will hopefully bring in some traffic. You can also look for blog hops. These are events where many different blogs that share a theme get together, and share links between posts. It's a great way to find new readers.
Reddit and SlideShare are other great places to grab a handful of readers.
Best of Luck!
how to