Blog post #42
Or "Lives saved on the job".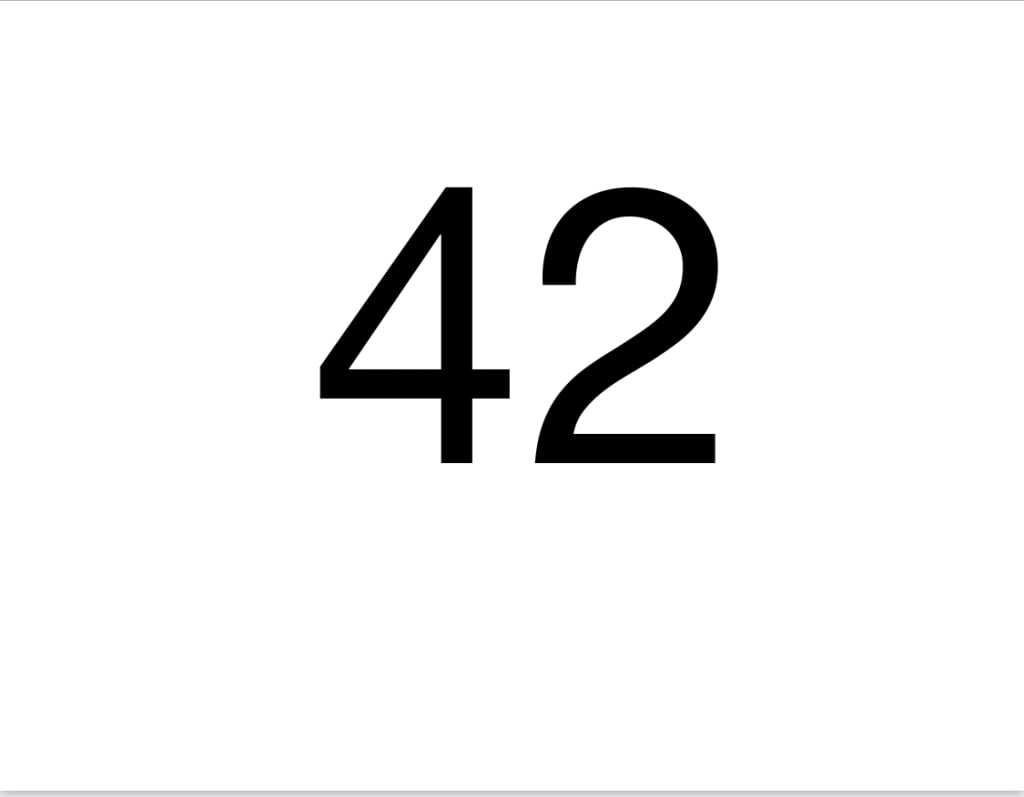 The late, great Jackie Robinson's number. Also, the channel number of SiriusXM's awesome reggae station, The Joint.
Rumor has it that "the answer to the ultimate question is '42'". Of course, only the creator of "The Hitchhiker's Guide to The Galaxy", and his BFF (Best Friend Forever), who's sworn to secrecy, actually know what that particular question is.
At any rate, I've saved lives a minimum of thrice while working hard and hardly working. Regrettably, at least one of those scenarios is slightly more questionable, and might could have been avoided altogether with an extra measure of situational awareness from my ugly self.
Before I forget: The title of this 42nd piece by me is heavily influenced by the TDE (Top Dawg Entertainment) rapper Ab-Soul and "Track Two" off of his sophomore album, Control System (2012). Another major influence was the also critically acclaimed Hip Hop artist, Noname (formerly Noname Gypsy) and her "Song[s] 31-33".
In any event, I'll start by going back to the very first time that I remember saving a life while on duty and work my way up to the most recent. I haven't reflected much on these matters much since they took place; just to caveat.
Some 15 odd years ago, I was integrated into the workforce as a shallow water lifeguard. I believe that I was making minimum wage and definitely disillusioned as well as disgruntled; especially when I received no recognition for saving the life of a random Hispanic girl, who was obviously too young, in addition to unmistakably too short for the waterslide under my watch that day.
I used to do push-ups on my 30s (30 min breaks), and eat pb&j's washed down by bottles of water, if memory serves me right. I'm figuring that the regular exercise, along with the protein, and years of experience on the track/cross country teams, gave me the strength and swiftness to lift that little one up out of the water and quickly carry her to safety.
Doubling back for a New York minute: I remember being incensed upon learning that my ex-BFF (I know; I know), at the time worked in rides and/or games, though still out earned me by pay scale. Then again, maybe saving lives in pools is less important than sales and such at every amusement park.
Last bit of deets on this particular anecdote: The child's nose was bleeding a smidge when I finally made my way to her and removed her from the small pool. Also, I'm pretty sure that just about any lifeguard trained in a halfway decent manner would have done exactly the same as I did and/or considered making the Youngling's older brother(?), who sent her down the nearly fatal slide, "catch some wreck", as the cool kids say.
Random: I wonder if she's not considering being the very first female of the ultra elite Navy SEAL teams, wherever she is in the world, seeing as how almost drowning is supposedly a minimum requirement during the infamous 24-week BUD/S (Basic Underwater Demolition/SEAL) training. Speaking of the wonderfully random mission that I did with the SEALs, some ten odd years ago, while deployed in Iraq for just a day shy of exactly 12 months, I'm going to go on and dive right into the second time that I more or less saved a life or two.
Back immediately before I was relegated from the driver of sniper section's Stryker (armored personnel carrier [APC]), to the machine gun on the rear of their truck, I fouled up. Not long after that, I was dismissed from my unit's Recon platoon altogether.
Random deets notwithstanding, I somehow managed to get my vehicle halfway on the road and partially on the adjacent dirt. As a result, I was directed to go completely against all logic, in my book, and slowly bring our vehicle to all wheels back on the road.
Needless to say, I counted to three quickly, in my head, and jerked us fully onto pavement as smoothly as I could. You wanna talk about a Brotha being confounded upon the essentially predictable admonishments and animosity and whatnot?
Speaking of my almost constant time on the road since coming "Back to The World": The last time that I know for sure I saved a life, I was "playing taxi" in my hometown of The DMV (the DC, MD, VA area). It was pure luck by and by.
I just happened to have a homie desperately in need of a ride to work, and an intuitive, as well as attractive young lady who wanted to ride shotgun. She just so happened to notice a young girl attempting to fly out of a random third story window, evidently due to peer pressure.
I all but immediately honked my horn upon hearing my PYT (Pretty Young Thing)'s shriek and seeing the small leg emerging from the window. There was a general consensus that we would've been hearing about them children on the news rather than seeing them outside, playing, whilst the three of us made a return trip later that same day.
Well, I'm ~250 or so words over what I planned on being for this post. Tl;dr- Be strong, know when to ignore your superiors, and stay vigilant.

Darrius Dickerson
A Grunt that's been stuck in traffic for the past 15+ years, it seems; from DC to SEA & Iraq, to back in The District. I love my Little Monsters more than life itself. Born Day: 4/20.
P.S.- My Drumpf posts were prev. posted w/ diff. pics.
See all posts by Darrius Dickerson →