Best Ergonomic Keyboards and Mice to Prevent Wrist Pain
Constantly typing on the computer can lead to multiple ailments. Here are the top ten ergonomic keyboards and mice to prevent wrist pain.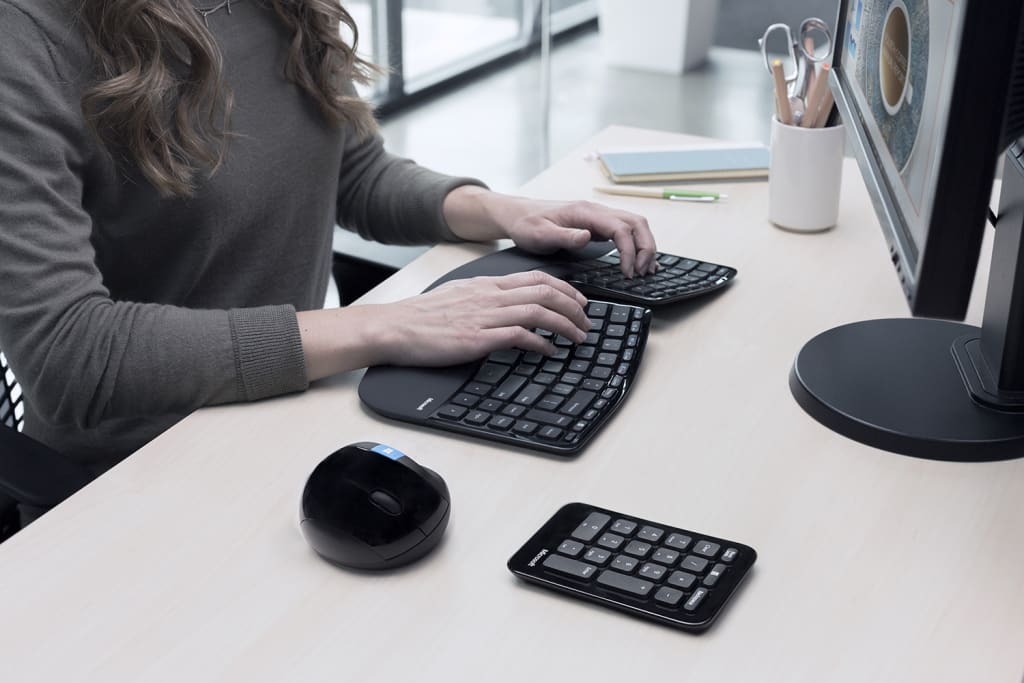 If you spend a lot of your time in the office sitting at a computer, I'm sure you're used to pain in your hands and wrists. Consistently typing with your fingers can eventually lead to carpal tunnel syndrome or arthritis. Thankfully, there are a number of different ergonomic keyboards and mice that can help. Although we've seen computers change over the years, we've now finally begun to see keyboards and mice adapt to people's needs. With their new sleek designs and methodology, here are the top ten ergonomic keyboards and mice to prevent wrist pain.
The Matias Ergo Pro utilizes the split keyboard design, which makes it easy for users to decide where to place their hands. This design helps improve body posture, in addition to relieving stress from the wrists. Included with the Matias Ergo Pro is a slightly tilted padded palm rest that's adjustable. This keyboard is also quieter when you type, requiring less pressure and impact than others, great for quiet offices.
Along with Apple, Microsoft is one of the most trusted names in technology and has some of the best ergonomic keyboards and mice available. The Microsoft Sculpt's keyboard is designed on an angle so your hands feel more natural instead of keeping them straight, which can put stress on your wrists. Another great feature of the Sculpt is that its sloped board is adjustable, depending on your hand size. Though it may seem odd at first, you'll soon notice less pain in your fingers and wrists with this wireless keyboard.
Here's another keyboard that's better for your budget, available on Amazon for under $40. The Fellowes Microban keyboard uses a pattern that's designed to be more natural and comfortable for your hands. This keyboard also includes antimicrobial protection, so it stays cleaner. Included in the Microban are seven different hot keys, so you can control multimedia with just a push of a button.
Kinesis is leading the way in ergonomic keyboards and mice and took their Freestyle2 keyboard to the next level. Using a split keyboard allows users to adjust their hand positions and is easy to use for any body type or hand size. The keys itself are very light and sensitive, so you'll never have to add too much pressure or stress from your fingers. While the Freestyle2 is not wireless, it's still pretty simple and small enough to fit in tighter office spaces.
One of the more inexpensive options is the Adesso Tru-Form Wireless Keyboard. Although it has a different design than most keyboards with its angular keys, it's actually very basic, without any of the palm rests or adjustability seen in other keyboards. In addition to its sloped board which relieves pressure from your wrists, this keyboard also includes 19 different hot keys, making it even quicker to type with.
While some ergonomic keyboards and mice can be bulky and large, the Goldtouch Go!2 Mobile Keyboard folds in half, making it easy to pack with you. The keyboard itself is Bluetooth activated, and connect to just about any device. You'll be able to adjust the Go!2 Mobile Keyboard from 0 degrees to 30 degrees vertically or horizontally, making it a simple, highly customizable option for people who have to travel for work.
Vertical mice like J-Tech Digital's Scroll Endurance allow you to use your whole arm, instead of using your wrists. This vertical mouse feels more natural and comfortable in your hand, relieving tension from your wrists and shoulders. While the Scroll Endurance mouse is not wireless, all you need to do is plug in the USB cable. This mouse also includes a removable palm rest so you can decide what feels best.
This wireless keyboard from Logitech has a soft, padded hand rest, keeping your wrists comfortable. In addition to its wavy keyboard, the K350 feels comfortable under your hands, requiring little movement. Relying on batteries, this keyboard is a great option if you're on the go or traveling for work. You'll be able to sync it up with any wireless mouse and easily bring along wherever you go. Logitech is heavily involved in developing inexpensive ergonomic keyboards and mice. The K350 is priced just under $40 on Amazon.
This keyboard is revolutionary. It has been proven to relieve symptoms of carpal tunnel or tendonitis and potentially cure it! The Advantage2 is perfect for programmers, receptionists, or anyone that types on a computer for a long period of time. The keyboard's unique design helps to reduce the movement of your arms, reducing any strain on your wrists and fingers. The keys are placed in different, more natural angles so your hand feels more comfortable and requires little movement. While the Advantage2 is a little pricey, coming in just over $300 on Amazon, it's cheaper than multiple doctor visits.
This sleek-looking mouse is one of the most interesting and advanced ergonomic mice. The SlimBlade's trackball is proven to relieve symptoms of carpal tunnel, as it vastly reduces the amount of movement from your arms. Using laser technology, the SlimBlade is fast and offers accurate scrolling, while taking the pressure off your wrists. Kensington's ergonomic keyboards and mice are specifically designed for efficiency, using new technologies.