Awesome Visual Content Ideas For Your Blog Posts
This article will help you find out how to write a good blog post. Let's explore the best blogging ideas about visual content and content creation in general.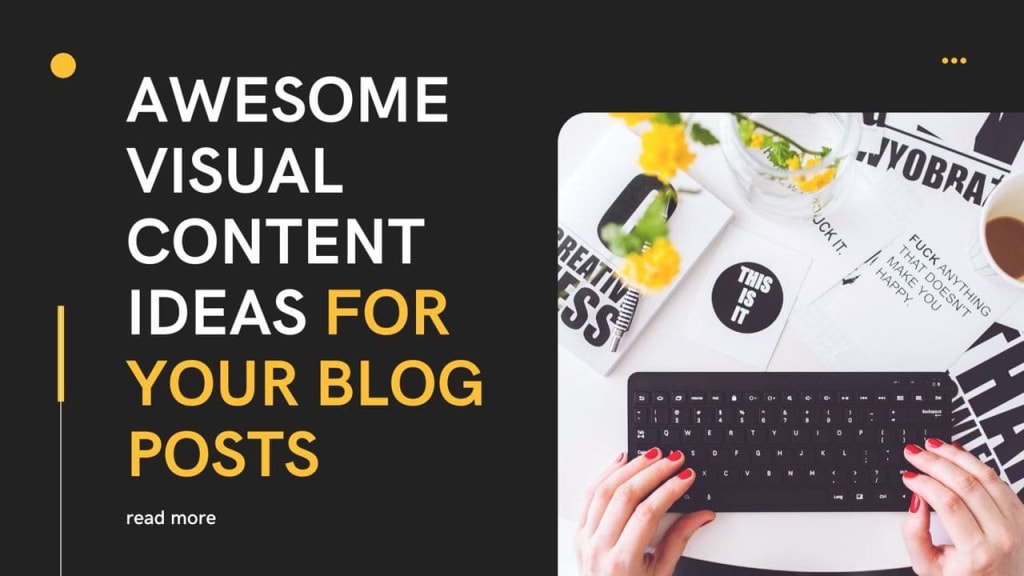 Combining high-quality written content with stunning visual content is the best way to stand out from your competitors. These days, there are plenty of content creation tools that can help you do just that. However, content creation can be challenging if you are a beginner and do not know the basic rules.
For this reason, this article will help you learn how to write a great blog post. We will also identify the most popular niches, formats, and platforms. Then, we will explore why visual content is just as important for your blog posts.
Likewise, by the end of the article, you'll know what are the best types of visuals to include in your blog posts.
How to Write a Good Blog?
Writing a good blog post can be intimidating. However, it should not be. All you need to do is follow some fairly simple steps. This way, you will quickly create quality written content.
Choose your topic: Choosing an interesting topic to write about is the first thing you need to do. You just need to make sure that the topic you choose is relevant to your blog's niche and get creative.
Do your online research: Even if you have the most fun topic and you come up with so many ideas, research is crucial. Reading what other people are saying about a topic can help you develop ideas and understand the topic better.
Start by writing a layout: Creating the structure of your article will help you write down and organize all your ideas. This part is also important for SEO purposes.
Write the blog post: Once you have followed the above steps, you are ready to start writing the post. This part may be difficult for you in the beginning. However, the more you write, the better (and more interesting) it will become.
Revise, edit and proofread: After you have written the post, it's time to revise, edit, and proofread it. Start by reviewing the layout of the post in general. Then look at each sentence and finally check it for grammar, spelling and punctuation errors.
Blogging Ideas in 2021
Most Popular Niches
If you have not started your blog yet, it's important to know what the most popular niches are right now. It all depends on what you want to write about. Nevertheless, the most popular blog post niches for 2021 are:
Finance
Food
Business and marketing
Parenting
DIY
Health and wellness
Blog Post Formats
Once you have decided on your blog's niche, you can start thinking about blog post formats. There are several formats you can choose from or combine to create a high-quality blog, from "how-to" posts and "why" posts to "list" posts and "infographic" posts, the list goes on and on.
Blogging Platforms
The last thing you need to do before creating your blog is to choose the right blogging platform. Although most blogs are created using WordPress, Web.com and Wix are also brilliant solutions for bloggers.
The Importance of Visual Content
There's more to a top-notch blog post than just the written content. In fact, more than 49% of marketers believe that visual content is critical to any digital marketing strategy. But what does that mean for your blog?
Well, visual content improves the look of your blog posts. But it's not just that. Visual content greatly increases engagement with your audience and is a great way to promote your posts via social media.
That being said, Google's algorithm is designed to consider visual content in blog posts. This means that blog posts with images, videos, or any other type of visual material is more likely to rank higher on Google.
Therefore, let us examine the most efficient visual elements you should implement in your posts.
5 Best Visuals to Include in Blog Posts
1. Images
Stock images are the most common type of visual for blog posts. Whether you choose a stock photo, a branded photo, or a photo from your personal collection, images help your audience interact with the topic and understand the post.
There are numerous online platforms, such as Canva that can help you to create and edit photos in a snap.
2. Videos
Videos are a fantastic addition to any blog post. Google encourages bloggers to use videos, and therefore they are a powerful SEO tool. Plus, videos help you stand out from your competitors.
If you do not have any video editing experience, you do not have to worry. In fact, there are online video editors like Movavi Video Editor Plus that can help you create top-notch video content.
3. Infographics
Another innovative way to spice up your posts is to add relevant infographics. An infographic is a combination of a visually captivating photo with important written information.
Therefore, if you use them to research topics and create reports, infographics are a brilliant way to interact with your target audience.
4. Charts and Graphs
As with infographics, charts and graphs are also a clever way to illustrate your research. Creating such a graph is not as hard as it may sound. Software like Excel or Word can help you create charts and graphs easily.
5. Animations
Although most people think that creating animations for blog posts is very challenging, this is no longer the case. Of course, you cannot create professional animations with software like Canva.
Still, this is a great way to experiment with the amazing world of animated gifs and animation in general. When it comes to blog user interaction, it just doesn't get any better than animations.
The Bottom Line
In this article, we have looked at the basic tips and tricks that will help you create amazing blog posts. We also found out why visual content should always be included in your blog posts.
By using images, videos, graphs, infographics and animations, you will automatically increase your blog's SEO and interaction with visitors.
how to
About the author
Content manager. Specialize in researching complex topics of marketing, social media and blogging to make them easy for other people.
Reader insights
Be the first to share your insights about this piece.
Add your insights