Amir Shemony Shares Why B2B Brands Are Utilizing Influencer Marketing
Amir Shemony gives insight as marketing strategy expert on why more B2B brand are turning to influencer marketing.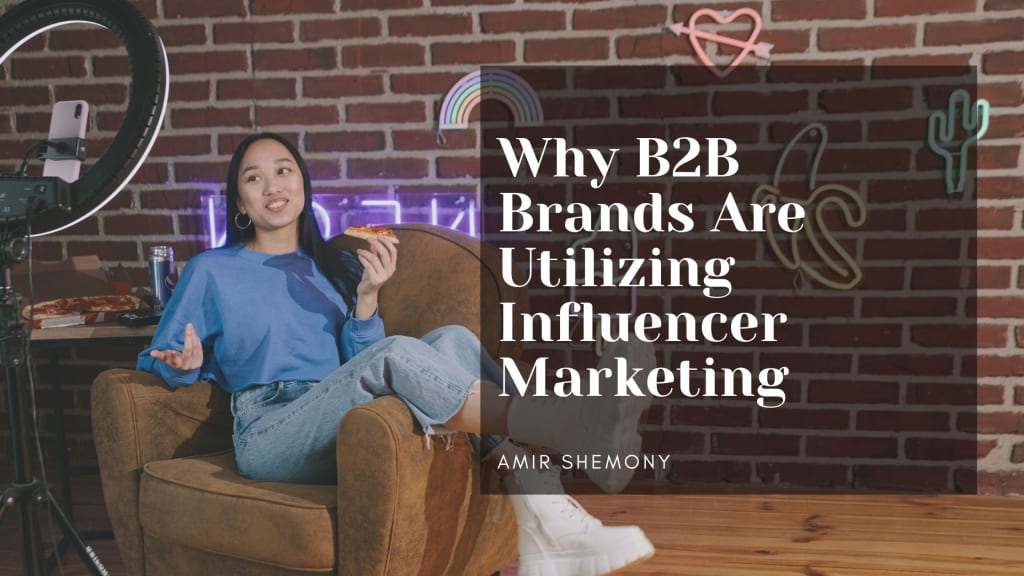 https://amirshemony.com/why-b2b-brands-are-utilizing-influencer-marketing/
Today's consumer and corporate decision-makers are more demanding than ever before. They are more likely to be influenced by digital factors and trends. The rise of digital advertising has caused people to become more susceptible to it. Traditional marketing strategies can no longer work effectively with today's digital-savvy consumers.
Many B2B companies successfully use influencer marketing. This type of marketing can help boost a brand's reputation and increase sales. Aside from being effective, it can also help promote a company's brand awareness.
Understanding What B2B Influencer Marketing Is
Essentially, B2B Influencer Marketing is a type of marketing that involves using prominent individuals to promote a brand message. Unlike traditional marketing, this method doesn't include selling directly to a group. Instead, it allows companies to hire and pay market influencers to promote their products and services.
In addition to being able to promote a brand message, influencer marketing also involves using social media and content marketing. Because of how important content is nowadays, you must develop effective marketing strategies. It's important to find individuals with deep industry knowledge who can seamlessly tap into conversations between corporate buyers and executives.
The Pros of B2B Influencer Marketing
There are various advantages to using B2B influencers as part of your marketing strategy. B2B influencers can provide you with a unique perspective that can resonate with your target audience. They can also provide you with authentic thought leadership. These types of individuals can help you build a more substantial brand presence.
One of the essential advantages of using B2B influencers is their access to valuable networks. These individuals can help you connect with your target audience and provide valuable insight into their pain points.
The Cons of B2B Influencer Marketing
Unfortunately, there's a growing trend of users losing confidence in influencers. This is due to various issues, such as poor judgment and criminal behavior. Working with individuals in this spectrum can be detrimental to a brand. Big influencers are known to leave users with a bad taste in their mouths due to their actions and earnings.
Getting caught up in the ongoing research into finding an ideal influencer can lead to costly mistakes. For instance, if you spend a lot of time looking for an influencer with nasty tweets, you might end up with someone with a criminal record who doesn't support your brand.
You often leave most of the marketing to the influencer, which can be tricky. Influencers can make mistakes and post content that doesn't perform well. Some of the most common mistakes an influencer can make are not disclosing their sponsored content, botting to boost their following, and ignoring FTC guidelines.
Final Thoughts
Through influencer marketing, businesses can earn a lot of money for every dollar they spend. According to the 2020 Benchmark Report of the Influencer Marketing Hub, companies can earn around $5.78 for every dollar they spend on this type of marketing.
The high ROI of influencer content is due to how it stands out in the crowd and how effective it can be when promoted within the influencer's network. This content is also beneficial for businesses as it allows them to connect with their target audience and provide them with the latest information.
ABOUT AMIR SHEMONY
Amir Shemony's personality is best described as a perfect equilibrium of work and play. He is ambitious and hard-working, yet also knows the importance of savoring life outside the office. Amir practices mindfulness on a daily basis and works on being present wherever he is. When it's time to work, he does more than roll up his sleeves; Amir also demonstrates humility in everything he does. This includes giving credit to his teams and supporting their individual successes. He truly believes that investing in others is the most rewarding investment one can make. This also applies to the efforts he puts into his community. Amir Shemony donates his time, money, and resources whenever possible to help those around him.
About the Creator
Amir Shemony is an up-to-date marketing and technology expert based out of Cincinnati, Ohio. Check out AmirShemony.net to learn more about his work in business!
Reader insights
Be the first to share your insights about this piece.
Add your insights